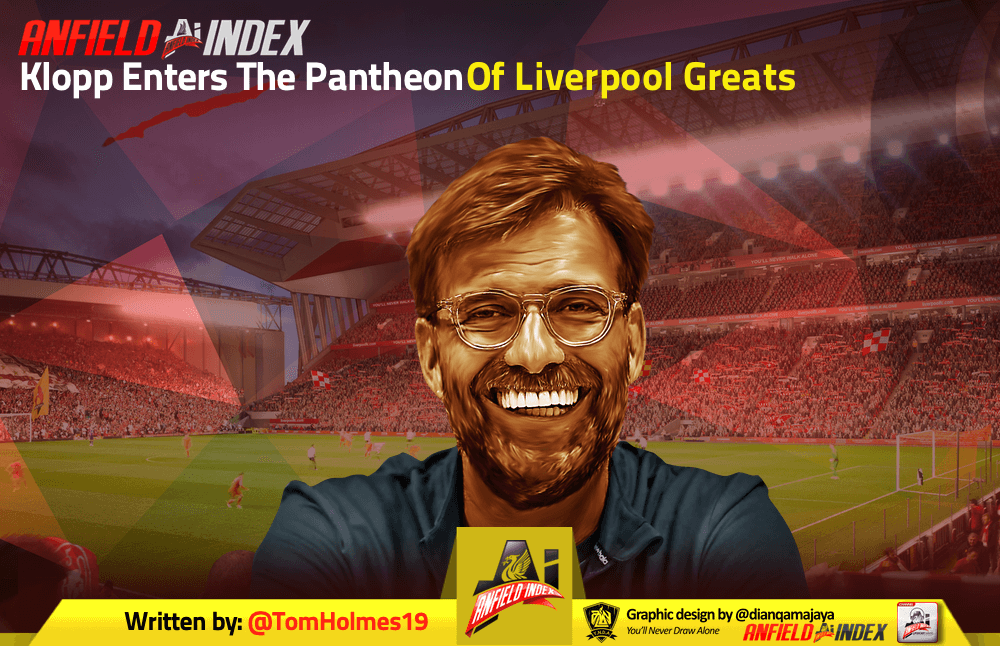 Klopp Enters The Pantheon Of Liverpool Greats

What a night. Liverpool are the Champions of Europe for the 6th time, following a hard-fought, stoically defensive 2-0 win over Spurs. This is a night that will go down in the history of the club, and a night that finally breaks Jürgen Klopp's duck as Liverpool manager, winning his first trophy for the club.
There have been several seminal moments in Klopp's tenure. I've spoken before (including at the time) about Liverpool's 4-1 defeat to Spurs as a pivotal moment in his Liverpool career, but this one feels like an absolutely massive one.
So much has been made of Klopp's record in finals in particular, including two previous Champions League final defeats, that there was a lot of added pressure on him going into this one from certain corners of the media and fandom.
But all questions asked of this Liverpool team all season have been robustly answered, and now, finally, they've robustly answered the biggest question of them all? Where's the trophy? When's the parade? Well we've won a trophy, and we've had a parade, and 750,000 people turned up. Liverpool have now won Europe's top competition on six occasions, more than any team in history not named Real Madrid or AC Milan, twice as many as any other English club, and more times than the rest of the top six put together.
So whilst it feels callous and unnecessary that Klopp needed to win a trophy to stave off the wolves, as far as a sizeable portion of English football was concerned, now that he has delivered the biggest trophy on the planet back to Merseyside, one of only four managers to do so, we can stop talking about what Klopp has to do to prove himself, and start talking about Klopp as being amongst the pantheon of Liverpool greats.
Look, this really is a dual-edged sword. On the one hand, it's clear to see that Klopp has taken Liverpool from out of what was close to the gutter for a club of this stature to right back to the top of the entire European ladder. Liverpool didn't need to win the Champions League to demonstrate that they were back well and truly amongst Europe's elite and that in itself is a huge testimony as to how far they've come under a manager who has rebuilt the club.
But on the other hand, great managers will always be defined by what they won, and one of the reasons that Klopp was already considered one of the best managers in Europe before he joined Liverpool was the Bundesliga double he had under his belt. Whilst the greatest symbol of a top team isn't always their trophy cabinet, it certainly doesn't hurt to have something in the silverware cabinet.
As I've eluded to above, this trophy doesn't necessarily drastically shift how Klopp should be viewed in the context of Liverpool managers of history, but the reality is that he wouldn't be in the conversation that I'm attempting to have now if he hadn't brought home six. Again, this isn't necessarily about what's fair or even what's right, but perception.
What I find interesting is that Klopp's triumph is so utterly different to the last time that Liverpool won the Champions League in 2005 with Rafa Benitez. What made Benitez's Liverpool's triumph so incredible was that they had a squad of largely decent players, but their only real world class players were Gerrard, Alonso and probably Hyypia. The players around them, the likes of Traore, Kewell, Baros and others, just weren't Champions League winning calibre.
The 2005 triumph was a feat of incredible tactical management from Rafa, the sheer force of will from the greatest centre-midfielder of his generation, an absolute fuckton of luck, and a set of players who took in turns to play well above what could possibly have been expected of them.
Klopp meanwhile, hasn't taken a decent but inconsistent team and won the Champions League, he's built a team that can win the Champions League by being the best team in the competition, and arguably without playing at their best throughout the competition. The group stages were patchy, the first legs against Bayern and Barca were frustrating, and the final itself was an excellent defensive game from Liverpool, but none of the front three were able to make a significant impact from open play.
If you look at Liverpool's team now, there are very few standout individuals, and even those who are standout are not that much better than their teammates. What I mean by that is that if you look at the 05 side, you could instantly see who the key players were – Gerrard, Alonso, Carra, Hyypia. Whereas if you look at the team that Klopp has built, Alisson, Trent, Robbo, VVD, Fab, Sadio and Mo are all candidates to be amongst the best in Europe in their position, and that's without even talking about two of the Reds' most important players: Gini and Bobby.
None of this is to take anything away from the 05/06 team, who pulled off a singularly incredible feat, making them undeniable legends, with Rafa at the heart of it all. But that team also finished 5th in the Premier League and needed a real overhaul in terms of its starting eleven with the likes of Mascherano, Torres, Kuyt, Reina all improving the team over the next few years, and 6 new starters by the time Liverpool reached the final again in 2007.
Conversely, Klopp has already built an elite team, making the prospect of future Champions League (and Premier League) triumphs incredibly plausible, maybe even probable.
As such, trying to judge Klopp's place in Liverpool history is clearly going to be tricky, since this doesn't feel like the culmination of a team, but the beginning of a dynasty – indeed there's already talk of nailing him down to another new deal for five years. Whether Klopp can penetrate the top three Liverpool managers of all time is tricky to say, but now it's clear and beyond discussion that he's put himself amongst the top tier of Liverpool managers, and he's only going to climb higher and higher.
Perhaps the biggest test of Klopp's tenure will be whether he can deliver the Premier League back to Anfield, but that will be the question for next season. For now, Liverpool can just sit back and relax, enjoying the gloss of the fact that they've once again delivered the biggest trophy in European competition. I'm sure Klopp won't take more than a few days off (although even he needs to recover from the colossal hangover he's surely got to be nursing after the parade) but for the fans, it really is a chance just to reflect on far we've come in such a short space of time, how far we can still go, and how much of that is down to one of Liverpool's greatest ever managers – Jürgen Norbert Klopp.