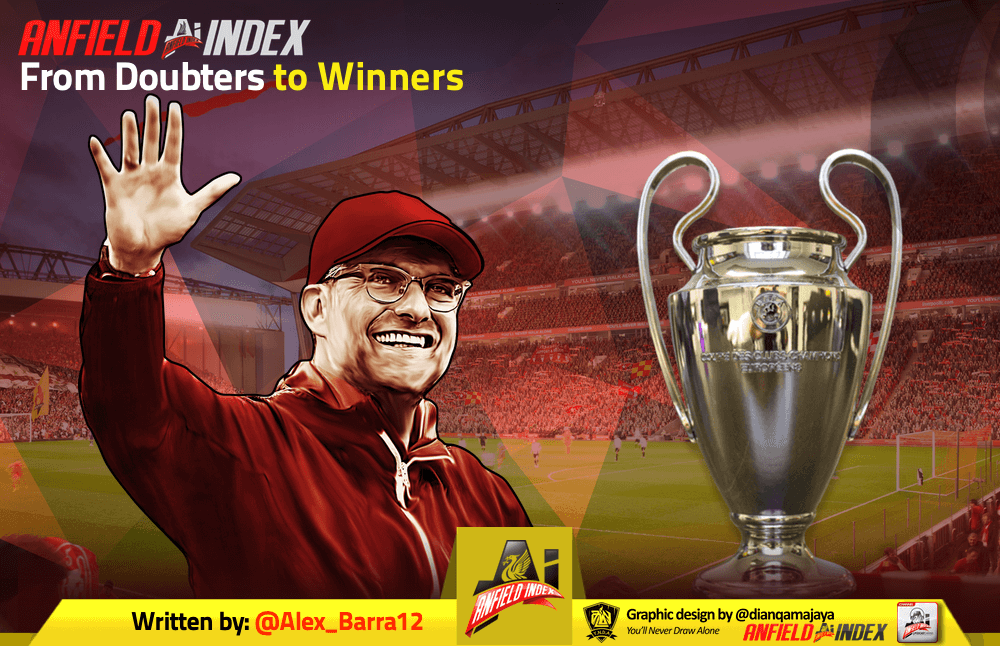 Liverpool Fans: From Doubters to Winners
It's always different than how you imagined it. Because imagination can't possibly predict every emotion. The almost-overwhelming nerves in the build-up, the way your eyes close when the first rendition of You'll Never Walk Alone resounds throughout the Wanda Metropolitano, the sensation of suddenly being eight feet in the air when the ref blows for the penalty.
Words fail supporters of football clubs at those kinds of moments, and for Liverpool, a team so bound by fighting the unwavering tide, supporters who lived through their team's near-bankruptcy and subsequent near-misses, words seem to fail all the more greatly. The feeling of winning that sixth Champions League final seemed other-worldly.
But make no mistake, that Liverpool victory came from this world. From the world that Liverpool had lived in for an entire season. The world dedicated to winning.

This season was different. The often-lazily repeated "heavy metal football" gave way to pragmatism and purpose. The blistering counter-attacks came, but they were accompanied by quick crossing and impregnable defending. None of it mattered, only that this was a team built by clever people in clever ways to achieve one thing only. Winning.
The culmination of last season was not the consequence of a carefully designed undertaking, not in the Champions League anyway; Klopp engineered his side to their target; another top-four finish, even if it did come on the last day of the season. Their swash-buckling, vivacious run to Kyiv, however, was the work of emotions and flurries and storms. It was the ending to an emotional rollercoaster, and almost inevitably it wasn't a happy ending. In fact, it wasn't an ending at all, not when Klopp was out at 5 AM the next morning, singing with fans about how they'd bring the European Cup back to Anfield.
A day later, Liverpool had Fabinho in a Liverpool shirt. Weeks later, the key missing component in Kyiv was slotted in for a then-record fee; the same component that made every save look so easy in Madrid. And so this undertaking was ventured upon; make Liverpool winners. Not aesthetically pleasing, not the winners of hearts and minds, but pure winners.
As time currently sits now, they now have a European trophy, the third highest points total in English top flight history and a favourite to place top three in the Ballon d'Or.
Five years ago, after a similarly heartbreaking end to the season, culminating from emotions and storms and flurries, Liverpool had an ageing Rickie Lambert up front. They had Jose Enrique at left back and Glen Johnson at right-back. They had their only spark in the game, Lazar Markovic, sent off for pinching the nose of an opposition player. They had a single Steven Gerrard free-kick to give them hope of progressing out of the Champions League group stages.
And then they didn't have any hope at all. Because they couldn't beat Basel.
So, of course, Manchester City will laud their own beautiful football, as if it were blessed by some divine entity. And of course, they'll complain when the media doesn't laud them equal measure, because they don't understand that when you buy and pay for a machine, you can only be impressed with it doing what it was designed to do for so long. They don't understand that their club has no shred of soul. But they don't care, because they're winners.
Of course, neutrals won't hold back in castigating the lack of excitement in Saturday night's final. Justifiably so too, given it took seventy minutes for Spurs to have a shot on target and Liverpool didn't fashion a clear-cut chance until James Milner's near miss. But Liverpool fans won't care about that. They won't care that last season their team had more games where they scored four or more goals, they won't care that they had Mo Salah scoring nearly twice as many goals as he did this season because they have a centre back who hasn't been dribbled past once. They won't care, nor should they, because they're winners.
This final was not Kyiv. It was not ruled by emotions; it was ruled by one thing and one thing only.
The desire to win. The same desire that's been prevalent all season, in those scrappy 1-0 wins at Huddersfield and Brighton, in those fortunate moments at Newcastle and Spurs, in the ruthless displays in Munich and Porto.
After all, the Reds gave the world their emotional assault in the semi-final. Klopp's men fed off of intensity and vigour and made a world-class football team look meagre and insipid. They turned a towering colossus into a crumbling mess, and they did it amidst the greatest atmosphere Anfield's ever known.
That atmosphere came again, this time on a Sunday afternoon when 750,000 people flocked to the red-painted streets of their city and celebrated the achievement their team so thoroughly deserved. Not because they played the most attractive football, not because they were so devastating or lethal in the final, and certainly not because they were aesthetically pretty during the season. Because Liverpool turned themselves into winners.