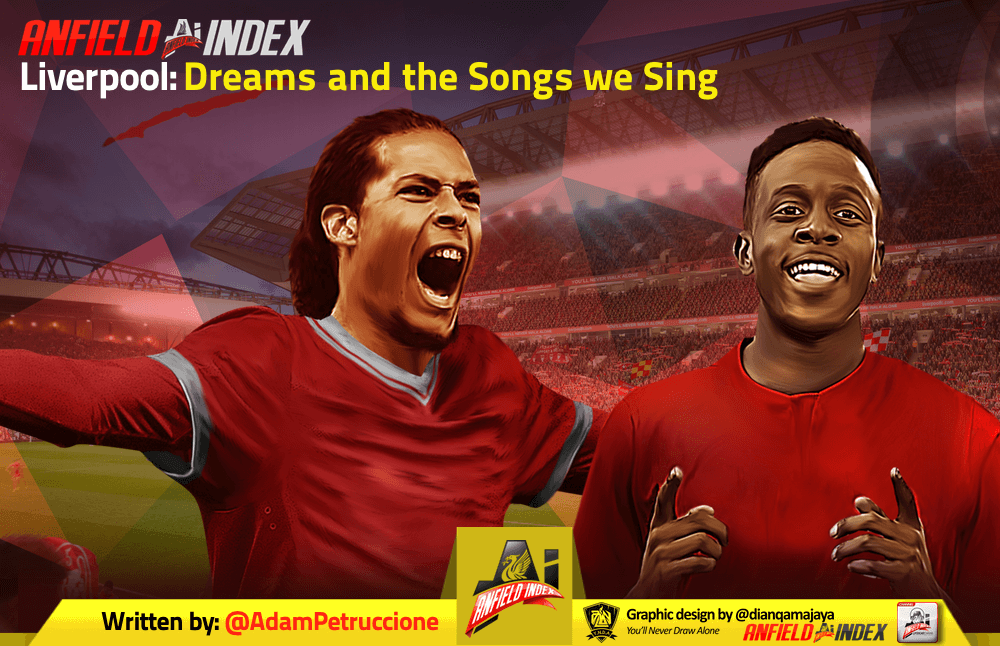 Liverpool: Dreams and the Songs we Sing

Why do we sing our songs? Is it for nostalgia. Is it to give confidence to the players, to reassure each other? Is it to intimidate the opposition?
Maybe it's all of those things, but after taking the title back to Anfield, we sing because it's fact. Again.
We conquered all of Europe, would be met with an eye roll a couple of seasons ago. Liverpool living in the past. Now, shouting ALLEZ, ALLEZ, ALLEZ, is effectively a public service announcement. Perhaps there are people out there who didn't know that we were never going to stop. They need to be warned. Yesterday I provided this service to an old man and nearly scared him into traffic.
My podcast colleague, Tom Holmes, has often told me, "this club was built to win trophies." A statement that could only be muttered under your breath after losing 6-1 to Stoke in Steven Gerrard's finale or going out to Aston Villa in the FA Cup semi's. You would be forgiven if you thought that we would never get back here, if you thought it impossible that you'd ever see Captain Hendo lift a major trophy. But we made it. Singing all the way.
This latest title leaves us with the third most Champions League trophies of all-time and we will no doubt go into next season as favourites to win it in Istanbul. The Charity Shield, Super Cup and the Club World Cup will be on the table for Liverpool in the coming months, in addition to all of the domestic trophies. Would a couple of astute signings and another year under the belt of our Academy stars provide the required depth to see us through the early rounds of the domestic cups? Would you doubt it as you look at the club today?
Back to back Champions League appearances and one title has returned Liverpool to the European throne; royalty once again. Of course it's not all good news. So many songs will have to be re-rhymed. Revising We've won it five times, might take all summer.
And let's take a second and pour one out for everyone that has to get a tattoo redone, a logo redrawn or a new company name filed. Cheering for Divock Origi to slot home our second on Saturday night (and we like the way he moves) was all fun and games, but wait until you got the bill from your graphic artist to add an extra star to all of your stationary.
There will be new songs based on the heroics of this team if Jamie Webster has anything to say about it. Perhaps there'll be a line about the ticketless crowds that filled Madrid or the manager nearly falling off the parade bus. The point is, these won't be songs about things we want to be true, to things we hope will be true one day, they'll be facts, about present day Liverpool. European Royalty. The club that conquered a continent. The club built to win trophies. The best football team in the land.
We've won it six times! Up The Singing Reds!