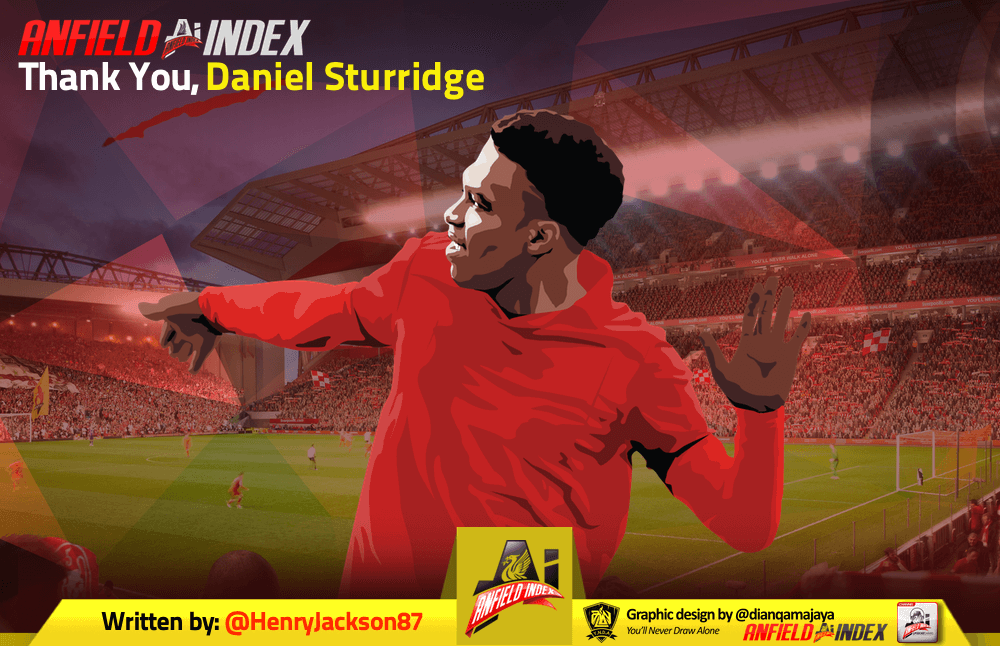 Thank You, Daniel Sturridge
I'll never forget the first time I spoke about Daniel Sturridge at length.
I was on holiday with my family in 2008, and in true father-son fashion a footballing debate was going on.
My dad was adamant that the state of English football was in a bad way – he was probably right, in hindsight – with no talented teenagers coming through at time when the 'Golden Generation' were not getting any younger.

I spent my time singling out two individuals, one of whom was Jack Wilshere, which has admittedly turned into a terrible shout.
The other was Sturridge, who at that point was a prodigiously gifted youngster at Man City, having made his debut at the age of just 17 and played for England from U16 level upwards.
I had only seen the emerging striker a handful of times, but there was something special about him: a star quality that made it hard to take your eyes off him.
In the several years that followed, Sturridge showed smatterings of class but also failed to kick on in the manner I had predicted.
It didn't work out for him at City, due in part to a new-found wealth allowing them to spend vast sums of money on world-class players.
A move to Chelsea came his way in 2009, but much like Mo Salah's time at Stamford Bridge, he wasn't mature enough to flourish and found himself at a club where promoting youth is at the bottom of their priorities.
Fast forward to January 2013 and news of Sturridge's arrival at Liverpool dominated the headlines, with some of the reaction bordering on negative.
Here was a 23-year-old who seemingly hadn't reached his potential, with his 'difficult' personality apparently a key reason for it.
I was delighted to see him move to Anfield, though.
He needed a bright young manager who played attacking football to take him under his wing, and Brendan Rodgers was that man.
The former Liverpool boss has plenty of faults, but bringing Sturridge to the club (if it was his choice) and using him the way he did were both inspired decisions.
It didn't take long for Sturridge to prove his worth, scoring in each of his first three Reds appearances, matching a feat previously set by Ray Kennedy in 1974.
Those quick feet, that silky left foot and the ruthlessness in front of goal made him an instant favourite and he was one of the first of many flamboyant attacking players to join Liverpool in the post-Roy Hodgson era.
I could go on and chronologically document how Sturridge's Liverpool career unfolded, whether it be the magical 2013/14 season, cruel luck with injuries or bowing out with glory in Madrid, but we all know how it has panned out.
The point of this article is to say thank you, in the week when it was announced he would be leaving the Reds this summer.
It's no surprise and it makes total sense, but it doesn't make it any easier to accept.
There have been few more gifted footballers to play for Liverpool in the last decade, in terms of natural talent and an eye for the spectacular.
At his best, when his body wasn't failing him, he played with sheer instinct and could produce moments of genius that most mere mortals could only dream of.
The chip against West Brom; the lob against Everton; the outside-of-the-foot finish in the 2016 Europa League final; the stunning late equaliser at Chelsea – there have been so many moments to treasure.
There would have been more, of course, had fitness issues not got in the way, and to have made just 160 appearances over the course of seven seasons is a travesty.
To put that into context, Roberto Firmino has played 192 times for Liverpool to date, despite arriving two and a half years after him.
An infuriating aspect of Sturridge's career has been the criticism surrounding his aforementioned 'poor' attitude, which is utter nonsense.
The fact that he is a vibrant character never short of confidence seems to have been unfairly mistaken for arrogance, when that is a characteristic Sturridge isn't close to possessing.
You only have to look at the well wishes in his direction from teammates to know that he is a special individual whose company has been cherished.
He has gone out of his way to put others first, often acting as a father figure to younger players, from Raheem Sterling to Rhian Brewster.
I could talk about there being a more deep-rooted problem behind this lazy opinion, and why he was never universally loved by the masses, but that is worthy of a whole article in itself.
Perhaps Sturridge's greatest appeal, on top of the world-class ability and the likeable personality, is a vulnerable edge that makes him feel more real than others.
It is something that made Steven Gerrard the person he was – for all the match-winning moments, leadership and adulation, he was a tortured soul. Sturridge is no different.
He has done everything his own way, from interviews to celebrations to dress sense, and it has separated him from the crowd, especially before Jurgen Klopp and this brilliant Champions League-winning team emerged.
So this is it, the end of a seven-year love affair with Sturridge, and a decade-long one for me personally, during which time he has entertained us all so much, at one point being an elite striker in Europe.
It hurts deeply that he wasn't able to double the number of matches, score many more goals and remain an important figure to this day, but football can be unfair. It's been a joy, nonetheless.
Thanks, Daniel – I'm delighted you got to have one last dance in front of the Liverpool supporters in Madrid.
Now go and make yourself loved elsewhere else.