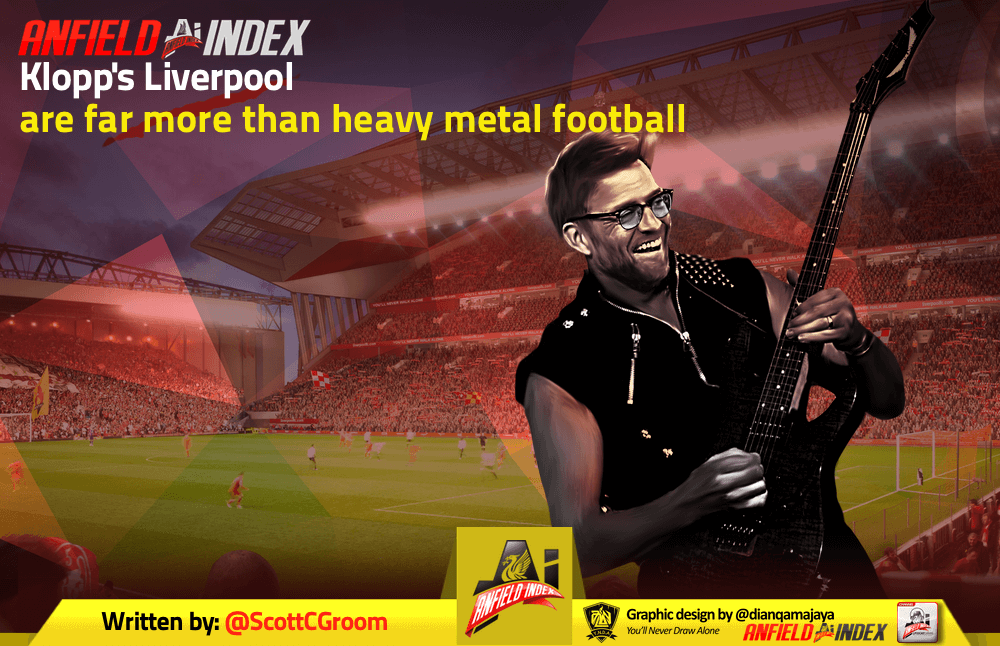 Klopp's Liverpool are far more than heavy metal football
Jürgen Klopp said once that he likes his sides to play heavy metal football.
We have had many, many examples of this over the past three-and-a-bit years of his reign as Liverpool manager, with some incredible and memorable performances along the way.
We all remember some of the roller-coaster games of Klopp's Liverpool; Norwich 4-5 Liverpool in 2016, the incredible comeback against his former side Borussia Dortmund – and while we're on the subject of European comebacks, how can we not mention this year's Champions League semi-final second leg demolition of Barcelona?

All of these games and many more spring to mind when you think of Klopp's heavy metal mantra, but in the wake of leading his side to their sixth European Cup and their performance in the final, we can all now appreciate that Klopp's Liverpool are far more than a thrashing rock and roll thrill ride.
Until this last 18 months or so, it seems as though Klopp has relied a bit too heavily on the heavy metal style to pull his side through due to their inadequacies defensively.
Liverpool were suspect at the back when Klopp was appointed back in October 2015, and it took a while for the German maestro to put an end to that issue.
He did make improvements gradually, but the fruits of his labour have finally come to bear in the last year-and-a-half, with his side now imperious and a near impossible side for almost every team in the world to score against.
Klopp has also totally remodelled his midfield and attack which has helped to provide a better, more efficient first line of defence further up the field, but they perhaps form more of the part of his heavy metal tendencies than his more classically composed defence.
This season has seen a real mix of those two styles, the pragmatic approach used effectively where necessary, and the hell for leather, all guns blazing approach equally so – but there is another way in which Klopp's side showed that they can win against Spurs in Madrid that very few Liverpool sides have been able to do in the past decade.
Winning ugly.
If we're being totally honest, the performance against Spurs was an abject one (albeit their's wasn't much better) and was perhaps a little anticlimactic for a Champions League final.
The game itself was low on quality, but none of that matters as the trophy belongs to Liverpool and that's all that really matters.
But the performance against Spurs was strangely reassuring. It showed that, even when Liverpool are the polar opposite of their dynamic, explosive best, they can still stifle teams and squeeze the life out of the game, keeping a clean sheet and their opponents at arm's length the whole time.
I'm sure I was one of many fans who thought when Mo Salah tucked away that penalty in the second minute that we'd scored too soon and there was a good chance Spurs would get on the score sheet.
But the longer the game went on, the less that thought passed through my mind. It was never in doubt.
The Reds completely bossed the game, dictating to Spurs how it was going to be played and never really looking very troubled by Pochettino's side.
The old saying goes that it's the sign of champions that you can win when you're not playing to the level everyone expects of you – and this couldn't have been truer than when analysing Liverpool's performance.
For too long before now, Liverpool have always been a threatening side for others to come up against, but you feel that they always thought that they might have a chance, no matter what.
That isn't a reality any more. When Liverpool are good, you can't get the ball off them and it's just a matter of how many goals they beat you by.
But now, even when they're bad, teams are going to be scratching their heads wondering just how they are going to even get a goal, let alone pull off their own David and Goliath story.
So perhaps it was fitting then that the finest example of this new side to Liverpool was demonstrated in full bloom on Europe's biggest stage.
The world has seen Liverpool roll Barcelona over, brush both Manchester clubs aside and send the Moneyball of PSG packing from Anfield with their tails between their legs – and they've also seen us roll our sleeves up and get our hands dirty when it mattered most.
Europe will be fearing Liverpool Football Club for many years because they're far more than just heavy metal football.