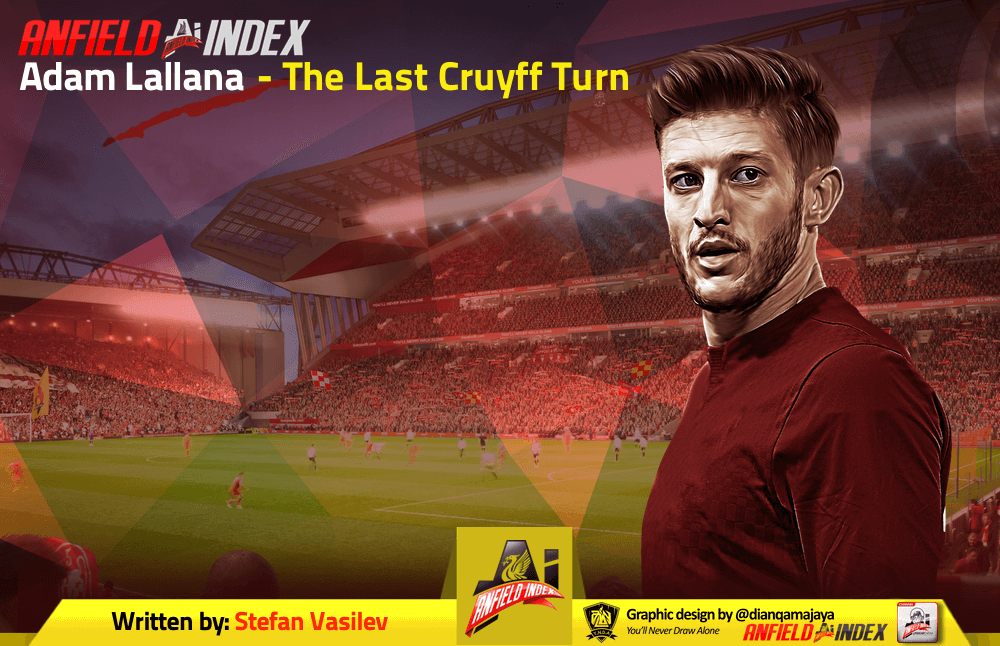 Adam Lallana - The Last Cruyff Turn
We did it! Liverpool Football Club is the champion of Europe.
It's been a week now and I still can't get my head around how the club went from embarrassing Steven Gerrard on his farewell tour (losing a combined 2-9 to Crystal Palace and Stoke in his last game at Anfield and his last game for the club, plus the FA Cup exit at the hands of Aston Villa was nothing short of an embarrassment) to last Saturday.
The change on the pitch is evident but it's the changes behind the scenes, which drove this success story. Brendan Rodgers was involved in a power struggle with the transfer committee, leading to some very questionable transfers. The now Leicester manager used to neglect the so-called committee signings in favour of the players brought in by him. The situation cannot be more different now – everyone from the ball boys to John Henry are working together to advance the club, with no regard for their ego. Simon Mignolet did not play in a PL or CL game this season – he did not complain. Alberto Moreno, Adam Lallana, Daniel Sturridge and Divock Origi all played under 500 PL minutes. None of them raised their frustration with playing time. Fabinho did not feature for the first few months of the campaign and he kept his head down and worked. Albie and Studge have already left the club as European Champions. The Belgian international goalkeeper will likely follow them, as the chances of him getting actual game time are slim to none. Origi is now a hero, Fabinho is one of the first names on the team sheet, both of them proving that Klopp and his staff value hard work and as long as a player is giving his all in training the chance to play will come and it is up to the player to take it. This leaves us the Adam Lallana – a player that has divided opinion for years.

Reasons to keep
In a recent interview the former English international made clear his desire to keep wearing the famous red shirt:
I've got a year left on my contract. I'll be back, I'll be training through the summer… No question my future is here and I can't wait for what's next
Of course, very few players would ever want to leave arguably the best club in Europe. Lallana is no different. The manager likes him and from he is a hard worker on the training pitch, earning a rare start against Burnley thanks to his performance in practice:
If you have five sessions a week, everybody can show up and Adam was exceptional during the week

(Jurgen Klopp 10th March)
Lallana is clearly very liked in the locker room and at 31 years of age can be considered a veteran presence, which every team needs.
Have we seen the last Cruyff turn?
Since being acquired in the summer of 2014 Lallana has been injured for 382 days, leading to him missing 67 games. He has not been available for about a quarter of the time. Injuries have kept the Englishman to 700 PL minutes over the last two seasons. His last league goal for the club dates back to May 2017, his last assists to December 2016. Lallana has played 1743 without managing to assist a goal. The last clear cut chance he created was on 2nd January 2017. For a creative midfielder, the Englishman hasn't gotten any output for more than two years now. Injuries obviously are a big reason for that and it is not fair to hold them against the man. After all, we all hope Ox will be back to his best in few months time. Even if healthy Lallana is facing an uphill battle for minutes. As the season ends he is 7th choice behind Fabinho, Naby, Gini, Hendo, Milner and Ox. Marko Grujic might also be in front of Adam in the pecking order. The young Serbian scored five goals from the defensive midfield position in Bundesliga this season, a mark which Lallana has only exceeded once in his Liverpool career while playing much further up the pitch. The Englishman's contract has one year left when it was signed the Lallana was a starter. His weekly wage of 110,000 pounds reflects that. Things have changed.
So the question really is: do LFC want to pay 5,5 million per year for an injury prone 7th choice creative midfielder, who last created a goal before Donald Trump was sworn in as president of the United States? And after that, he can leave on free. I'm not sure that is worth the off-field benefits.
The way FSG have conducted business over the last couple of years, the answer is likely no. There is no other club, which will match what we are paying Lallana. But maybe he will be willing to take a pay cut in exchange for something more than a fringe role.  Keeping the Englishman will likely bring little value on the pitch while consuming a lot of resources. Don't get me wrong, I would be more than happy if Lallana stays and has a banger of the season but that seems highly unlikely. If Michael Edwards plays the percentages he should be trying to find a new club for the midfielder.