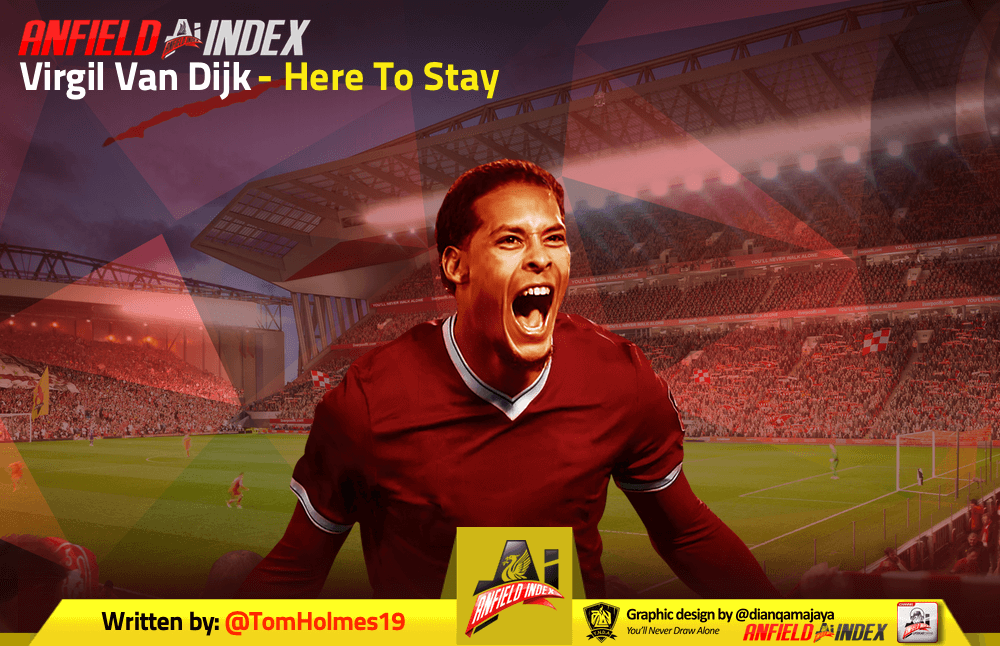 Virgil Van Dijk - Here To Stay

Virgil Van Dijk has been not just one of Liverpool's best players this season, but one of if not the best player in England. His deserved triumph at the PFA Player of the Year awards, coupled with the fact that he's now a realistic contender for the Ballon D'Or, means that he is swimming in accolades. It's incredibly difficult to compare across positions, so let's just say that he's the best defender in world football, and almost certainly a top three player in world football in general.
And not only is he a Red, but he wants to stay a Red forever. Only 18 months after signing a long term deal with the club, and it's reported that Van Dijk wants to extend that contract.
In many ways, this is a huge story, and in many ways, it's not much of a story at all. On the one hand, VVD is already tied into a deal that will take him into his 30s at Liverpool. He's already one of the most experienced, respected and well-paid players at the club and although he told the club he wanted to extend before the club won its 6th European title – you know, that's still a sentence that chokes me up – the club are clearly going places.
Basically, there's absolutely no reason to think that there was ever a chance VVD would leave, and whilst it's a pleasant surprise that one of Liverpool's biggest names is actively going to the club to say he wants a longer deal, and it certainly saves Liverpool a headache down the road, there was no doubt that VVD would be at the club well into his 30s anyway.
But on the other hand, this is the best defender in the world, one of the world's best footballers and a player who is already on his way to being one of the Premier League's best ever defenders. And not only is he happy on Merseyside, but he's staking his flag in the turf of Melwood and declaring it home.
This has always been a summer that was more about keeping together and tweaking a squad that's already good enough to win trophies. And Liverpool have been quick to set the tempo down that this will be a summer where the likes of James Milner, Joël Matip and Divock Origi will likely sign new deals, as well as quickly making it clear that both Daniel Sturridge and Alberto Moreno were moving on.
And in such a summer, where big names may not be joining the club, that only reinforces both the need for someone like Van Dijk to nail his flag to the mast, but also the fact that this isn't a team that necessarily needs big names. I've been a huge fan of the idea that we should buy Mattias De Ligt, but the best defender in the world is already at the heart of our defence, and we've got plenty of quality around him.
What the Van Dijk rumblings do is just calm the waters a bit. There was never any doubt that Liverpool are now a place where top talent want to stay, but Virgil Van Dijk has made that as loud and as clear as he can, sending a message both to the players already in the squad, but also to any prospective players Liverpool will be looking to buy.
And that message is that the best defender in the world wants to play for Liverpool. He's doesn't need to make a point to the likes of Sadio Mané and Mo Salah, both of whom we imagine feel similarly, but he's nevertheless telling the whole world that they would be mad to want to leave Liverpool right now. And that message is the same to the likes of De Ligt (although it seems the Reds aren't interested in him): why wouldn't you want to come and play for Liverpool right now?
And that really is a question that has no real answer. The simple fact is that Liverpool didn't need Van Dijk to make a statement to demonstrate that they're one of the most attractive clubs in world football right now, a team that are on the rise but simultaneously near the peak of the game. But there's a reason that the club chose to leak Van Dijk's news so soon after the UCL final, and you have to think of the subtext there.
We've just won the biggest trophy in world football. Our potential Ballon d'Or winner wants to not only stay at the club but extend his contract. We don't need any big signings. This is a club that knows its own strength and how impressive its position is going into the summer. But it's also a statement that they don't intend to sit still. Key players have consistently been tied down to lucrative long term deals, key targets have been snapped up and whilst the club are talking down this summer, you'd still expect them to do what needs to be done.
And whilst I've been talking a lot about what these reports mean for Liverpool's summer window, it's worth discussing again just how huge Van Dijk is for the club. He's a player who has come in and established himself as an absolute game-changer in his position. One of the best players on the pitch in a Champions League final, and he absolutely oozes class.
Defensively, he's the best header of the ball on the planet, but he has exceptional pace, he can pass incredibly well, his positional sense is legitimately incredible and there isn't a single facet of his game where he's been weak. He's made almost no mistakes this season, and has led Liverpool to their best defensive season in as long as I can remember – and on paper it's the best defensive season in my lifetime.
The notion that the crux of this Liverpool defence is going absolutely nowhere should be one that excites all Liverpool fans, even if it's not a surprise and even if he's already on a reasonably long deal. Virgil Van Dijk is an absolute phenomenon. And he's a Red, through and through.
Up Virgil Van Dijk's Reds.