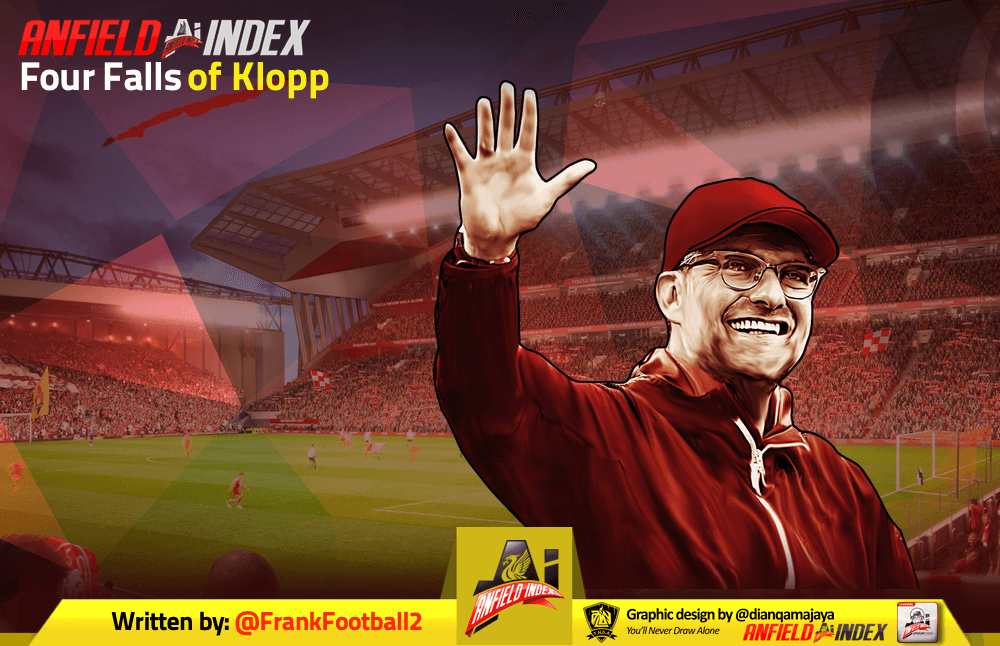 Four Falls of Klopp
'Fight on my men, sayes Sir Andrew Barton,

I am hurt but I am not slaine,

Ile lay mee downe and bleed a-while,

And then Ile rise and fight againe.'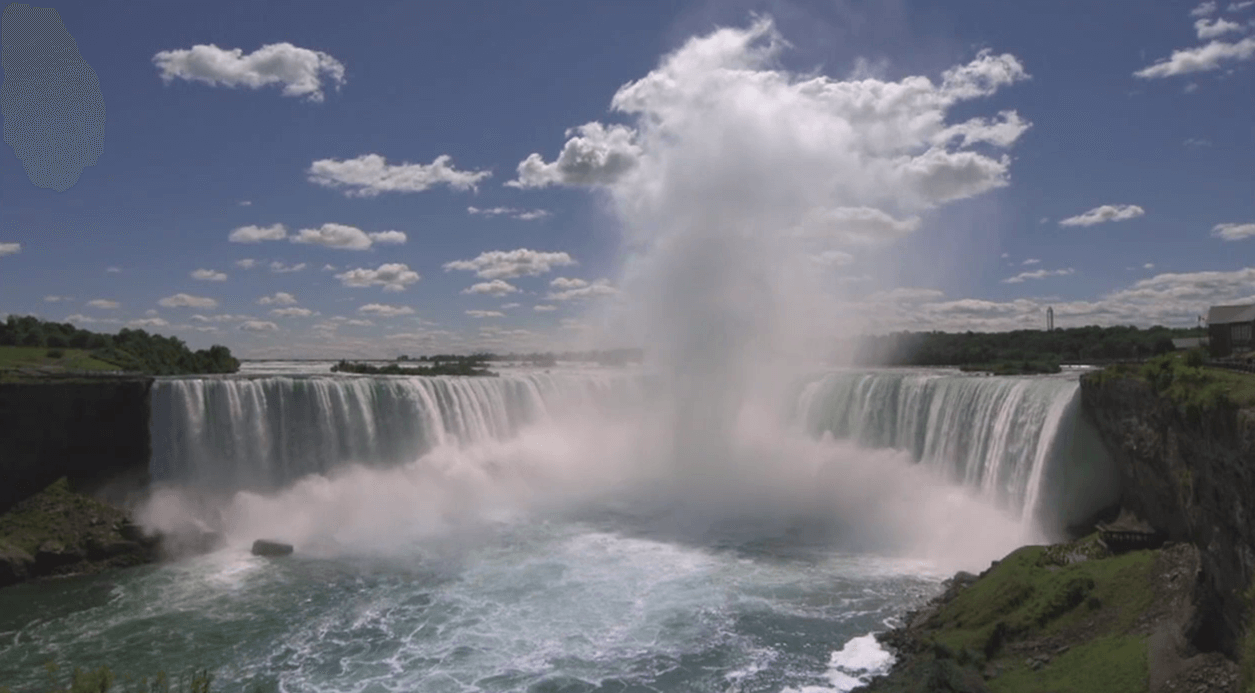 JIM KELLY IS stood looking out over a national landmark, a waterfall so vast and colossal it attracts twelve million visitors a year. Niagara Falls, a beautiful and impressive natural phenomenon which flows between the border of North America and Canada.
The year is 2015 and Kelly has just wrapped his interview for the ESPN's 30 for 30 series. His tired, drawn-out face bursts into a wan smile. He is relieved to have finished but happy to have revisited and relived what must have been some of the happiest moments of his life. And also the saddest.

He turns to the crew. If his sheer physical presence is impressive his charismatic personality is more than enough to match it. Before he leaves he takes the time to shake the hand of everyone present, all of whom reciprocate eagerly. During a ten-year period, starting in 1986, Jim Kelly endeared himself greatly to the local population. Here in Buffalo, Kelly is a living legend. Why? Kelly and his fellow Buffalo Bills appeared in four consecutive Super Bowls.
The Bills lost all four games.
The first came in 1990 when the Bills played the New York Giants (19 -20). The second came in 91 as they faced the Washington Redskins (37-24). The third and fourth heartbreak came in 92 & 93 when the Bills played the Dallas Cowboys in consecutive seasons (17-52 & 30-13).
ESPN isn't in Buffalo to commemorate a glorious golden period of the NFL franchise. No, it's film, the Four Falls of Buffalo, came to analyse the effects of losing four of the sport's biggest games over four consecutive seasons. ESPN came to find out how Kelly and his teammates lived with their failure.
JURGEN KLOPP stands with his hands on his hips, looking out at the bouncing yellow wall with a beaming smile. It is not the type of smile seen in the movies, with its yellow stains and wonky teeth, but this smile lights up millions of television screens regardless.
Klopp and his Dortmund team had achieved what many deemed impossible. Not only had they successfully defended the Bundesliga league title for a second straight season, they had also completed a domestic double by beating title-rivals Bayern Munich in the DFB-Pokal Final. The year is 2012 and Klopp would be justified in thinking this was the beginning of a golden era. One that will see Dortmund continue to dominate German football. Many others would agree that with Klopp at the helm anything was possible.
Except Bayern grimaced like a jealous older brother watching his younger sibling excel. They refused to allow this one-horse race to widen to two. Instead, they decided to act in the manner any self-respecting financial giant would, they purchased Dortmund's best players, year after year, weakening their opponent and strengthening themselves. Klopp's only further success at Dortmund was two DFL-Supercup's (2013 & 2014) – the German equivalent of the Community Shield. Klopp and his Dortmund side briefly stood at the top of the world, it wasn't long before they found the mountainside a slippery slope.
By 2015 Klopp and Dortmund parted ways before he joined a listing Liverpool. A side much in need of rejuvenation, with its fanbase torn asunder by mismanagement and fan opinions. A club much in need of reuniting.
"IF I SIT HERE in four years, I am pretty confident we will have one title," Klopp said upon his arrival. Bold words from the new manager, who has since explained the term 'title' was a misstep from a man who spoke English as a second language. Klopp insists his original parameter of 'title' included cup competitions as well as the league. For a club deprived of recent success, it was music to many fans ears. Liverpool's last trophy, coincidentally, came in the same year as Klopp's last major trophies, back in 2012.
It wasn't long before Liverpool had its first attempt.
WEMBLEY STADIUM rocked with anticipation. The opposing teams lined up in blood-red and sky-blue. One a slumbering football giant, the other a modern-day Goliath. It is February the 28th of 2016 and Liverpool faced Manchester City in the League Cup Final.
In many ways, it was an obvious mismatch. Klopp was merely months into the job, Manual Pellegrini was months away from leaving (to make way for Pep Guardiola) after four seasons. During his tenure, Pellegrini had purchased nineteen players for roughly £363,800,000 million (inflation not taken into account). Klopp had signed zero players for zero pounds. Even still Liverpool stood toe-to-toe and traded punches for ninety-minutes, a late Coutinho equaliser, on the 83rd minute, forced the game into extra-time and ultimately penalties at 1-1. City went on to win the game 3-1 in a penalty shootout.
After the game, Klopp spoke to reporters. His disappointment was clear but there is one particular statement which resonates. He said, "You can fall but it is how you stand up." In other words, there will be more opportunities to win trophies. More occasions to create success. He didn't have long to wait…
BASEL, SWITZERLAND, 2016. Liverpool players take a deep breath as they eye the two-time defending champions of the Europa League. The Seville men, dressed in white, hope to achieve an unprecedented third consecutive Europa League title. A feat which cannot be overlooked.
Yet Liverpool have walked a difficult path to reach this final. No neutral would dare question their credentials. A 3-1 victory against local rival Manchester United, a scintillating and emotional 5-4 comeback against Klopp's former side, Borussia Dortmund, and a 3-1 victory against Villarreal.
Understandably Liverpool fans felt confident, some went as far to suggest Liverpool's name was written on the trophy. If that was the case Seville was not informed.
Despite a spectacular goal from Sturridge before half-time, Liverpool failed to impress. Seville re-emerged from their dressing room after half-time full of life, spirit and intent. Liverpool reappeared like players overly-sated on Swiss cheese. The game ended much in the same way as the League Cup Final did… disappointment.
Klopp had been at the club merely months yet had overseen two cup final losses. "We lost faith completely in our style of play. That shows our development is not as good as hoped." In other words, Klopp needed to make changes to the team roster and more importantly the players mentality.
THE BUFFALO BILLS head coach Marv Levy sends Scott Norwood onto the playing field. There is eight seconds left on the game clock. The Bills trail the New York Giants by a single point. If Norwood makes his kick the Bills not only win the game but also the NFL's biggest prize – the Super Bowl. Any child with aspirations of kicking for an NFL team will have dreamed of this moment since childhood. Norwood has envisioned this very scenario countless times in his adolescent mind. He then dedicated his life to improving his way of kicking in preparation for it. Practising day in, day out, month after month, year after year. And it has all led him to this very moment.
With seven seconds to go Norwood takes a step, then another and another and then kicks. The stadium holds its collective breath. The game clock continues to count down. Meanwhile, the ball seems to spiral up through the clouds, touching the heavens, before falling, falling…falling. "No good…wide right."
Norwood is on the brink of tears. The words 'no good — wide right' reverberates in his mind. Four words, not even his own, but those of ABC's sportscaster Al Michaels; insignificant to most, yet all-consuming for Norwood. Words which now define his biggest moment and also his worst. Words which will haunt the rest of his days. How could anyone deserve such a historical moment of personal failure?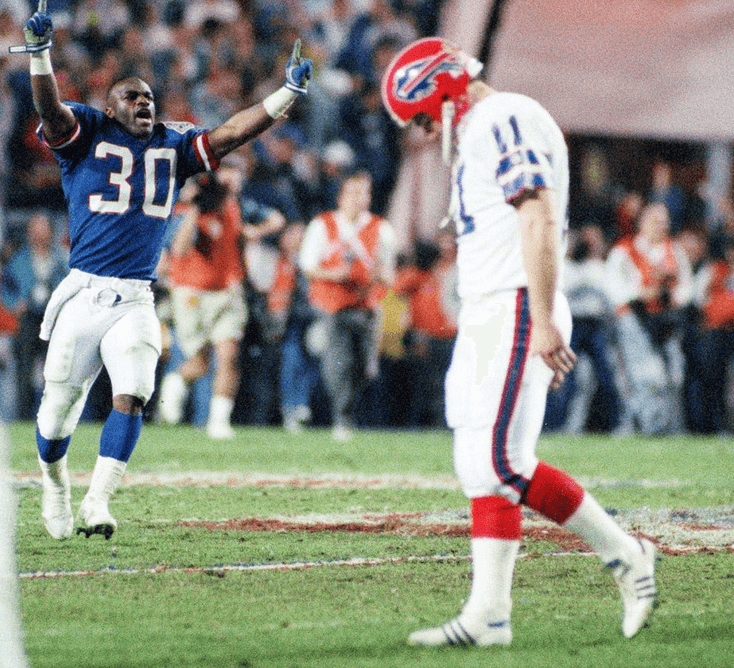 LORIS KARIUS is in floods of tears, his hands held before him, pleading for forgiveness from the Liverpool fans. It is a futile gesture. The travelling fans are blind to his outburst, they are too shell-shocked to notice. Too lost in their own personal grief to soothe anyone else's.
May 26th 2018. Liverpool have reached their second European Cup Final under Klopp, their third final in all competitions. This time it is the biggest of them all, the Champions League. Pre-match excitement is ramped up by a performance of One Kiss by Dua Lipa. It echoes around the stadium through the mouths of tens of thousands. The song has been adopted and interpreted as a reference to the former player and Liverpool captain, Steven Gerrard, kissing the Champions League trophy back in 2005. Surely this is a sign? An omen from the footballing gods?
Surely tonight was the night this team wins something?
Real Madrid, the defending two-time champion stands before them. A Spanish team dressed in white. If fans squinted their eyes tightly enough they'd almost believe they have stepped into a time-vortex and returned to Basel in 2016.
Liverpool started well, applying pressure from the off. Mane and Salah both eating ground as if they had had a prolonged and hungry stay in Ramsay Bolton's dungeon. Ramos, a man just as maligned as Ramsay Bolton, opted to take matters into his own hands, literally, with a karate chop on Salah, ending his night. It would only get worse from there.
Hindsight will not be kind to Karius. He performed poorly on a night when any mistake would be magnified and remembered. Karius made numerous. After the game the club made a statement, American doctors had run tests and proved a wild Ramo's elbow had caused a concussion. In time fans will forgive the man but it is unlikely they will ever forgive the player. Concussion or not, the final was lost, Klopp's third in a row at Liverpool and sixth in total. Karius, like Scott Norwood, would need to find a way to come to terms with his individual failure.
Even now, twenty-nine years later, Norwood struggles to discuss it. When asked to reflect on his missed kick in the Bills first Super Bowl loss, Norwood states, "Sorrow. Disappointment in letting down teammates that are there on the field of battle with you. I get choked up, thinking about it, putting myself back in that situation."
And yet.
Football, like the NFL, is a team sport. So many things went wrong that day; Salah's injury, the Lallana substitution – despite barely featuring all season – and goal scoring opportunities squandered by key players. Yet Karius, just like Norwood and his missed kick, will forever be identified and held accountable for the team's failure. It must be a heavy burden to shoulder alone.
You wonder how Karius must feel one year later. Liverpool is back in another Champions League Final, this time without himself. Is he disappointed not to be given a shot at redemption? Bitter that he was not given a second chance? John Achterberg says no, "Loris texted Jurgen and myself when we reached the final. He said he was happy for us and hopes we win," (Joyce, The Times). You feel, Karius, more than most, will pray for a Liverpool victory.  Perhaps then some of the heavy weight of responsibility will be lifted from his shoulders. Perhaps then, unlike Scott Norwood, he will find some closure.
THURMAN THOMAS, the franchise star running-back, holds the all-important ball, literally and figuratively, in his hands.
It's 1993 and the Bills are in their fourth straight Super Bowl. Despite their recent history of losing, the Bills lead the Dallas Cowboys 13-6 as the third-quarter commences. Almost surprisingly everything is progressing well. Perhaps the experience of yesteryears has finally benefited the team? Perhaps victory is within the teams grasp? Perhaps, on their fourth attempt, the Bills would finally earn those long-sought after rings…
Until an uncharacteristic handling mistake by Thomas creates a fumble and the Cowboys Leon Lett's recovers the ball and scores a 46-yard touchdown. It's almost as if a needle is inserted into a balloon, such is the level of explosion by the Bills. The Cowboys managed to score 24 unanswered points in the final two-quarters, a humiliating end to the game. "This one is the worst," Andre Reed said afterwards. "It rips the heart out of you."
The Buffalo Bills have yet to return to the Super Bowl since their last appearance in 1993.
SUCCESS IS difficult to define. For some success is measured by the journey, the highs and lows of watching their sporting heroes. For others, success is measured in trophies. In a world where Mourinho and Guardiola are considered two of the greatest managers of their era, the question must be asked, is it right for fans to judge success based on medals? Shouldn't success be interpreted as a team which can consistently battle for top honours irrespective of victory? Shouldn't success be fans enjoying watching their team and the creation of memories which last a lifetime?
Back in 1993, during their Super Bowl run, the Buffalo Bills stood tall as the reigning four-time AFC division champions. Another fact often lost in the vaults of time is that the Bills held the best winning record during that period of any team. The only thing missing was a diamond-encrusted Super Bowl ring. "It didn't happen, but we had a great time trying," said Thurman Thomas (Gleason, Football Maven). Understandably so, the Bills were the dominant force of their era and what player doesn't enjoy winning? What player doesn't want to compete in the biggest games in sport?
Klopp, who currently holds the tag of 'unluckiest manager' finds the modern definition of success all a bit odd. "Since 2012 – apart from 2017 – I've been in a final every season." Klopp would argue his teams were often the underdogs and expected to lose in each of his past finals. Klopp would further argue reaching so many finals in the first place was a great achievement and evidence of success within itself. "My missus is always asking when the last [European] game of the season is because there is a chance I will be involved." Klopp considers himself privileged to have reached six finals without victory, not unlucky.
After nearly thirty years the four falls of the Buffalo Bills is revisited with increasing revisionism. Long gone is the time when the opposition fans joked at the Bills expense. No one remembers the public call-ins proclaiming "anyone but the Bills" anymore. No longer are they considered the sport's greatest losers. Nowadays there is a growing appreciation of what the Bills achieved. Not only did it take incredible consistency and hard work to reach four Super Bowl's it also showed the franchise's fighting mentality. Klopp's post-Barcelona comments about his players being "fucking mentality giants" could have easily been attributed to the 90's Bills players too. How could the Bill's keep getting back up after continually being knocked down? You need heart, resilience and determination. It is a lesson that anyone, in any walk of life could learn from.
THE CITY OF Madrid is packed to the brim full of red shirts. On every corner, in every public square, there is a sea of red and a twang of scouse. May 31st is hot and crowded in the Spanish capital as Liverpool fans gather before the Champions League Final. Liverpool may have failed to win a single trophy in three previous attempts under Klopp but it is clear the fans back this team and its manager to the hilt. The Spanish press reports up to ninety-thousand Liverpool fans are in attendance for the game, a ratio of 7:1 in comparison to rivals Tottenham Hotspurs. It is the same size population as Liverpool's neighbouring seaside town Southport.
If the heartbreak of Kiev is still raw, failing to win the league by a single point three weeks earlier is an open wound. Yet fans and players alike have travelled en masse with one single purpose: to win. Everyone in attendance is willing to risk the same emotional desolation in their pursuit of a collective happiness.
Klopp is a man potentially on the cusp of forever being labelled footballs greatest loser. But during his tenure he has reunited a fanbase, gained a top-four finish in three consecutive seasons and is yet, unbelievably, to lose a two-legged tie in all European competitions over three seasons. Yet will his time at Liverpool forever be tarnished by a failure to deliver trophies? In thirty years' time will ESPN film a documentary titled The Four Falls of Klopp?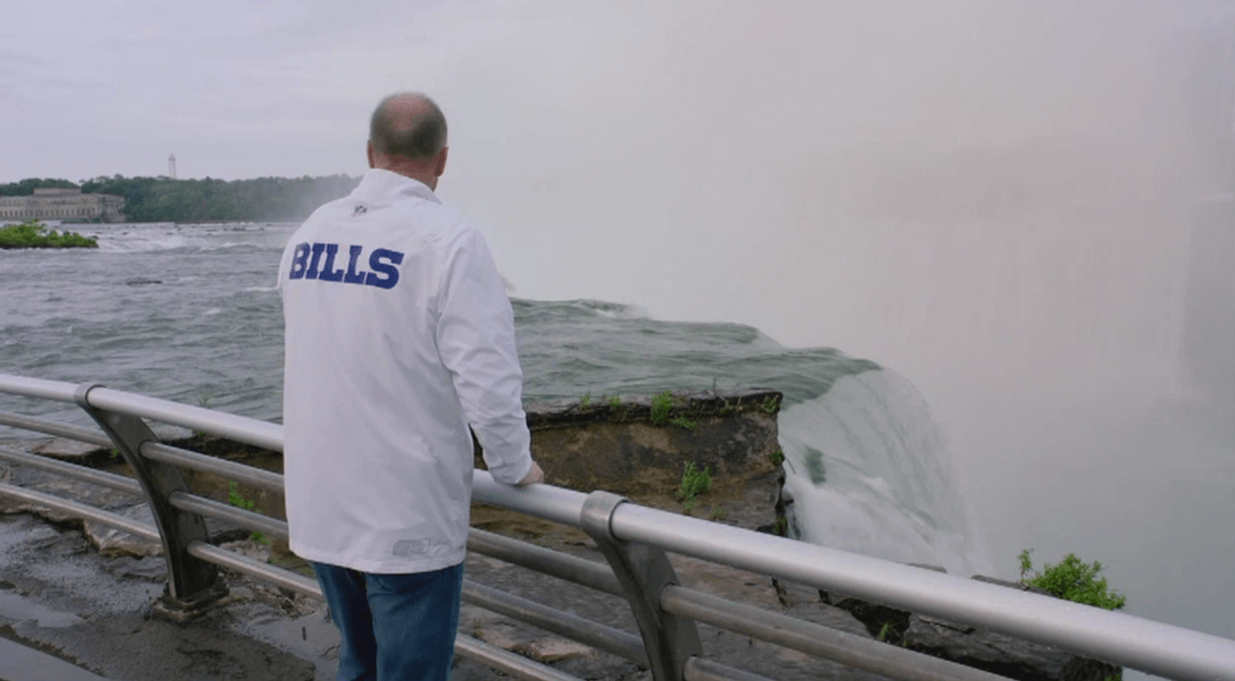 HAS TIME softened the blow of disappointment of the Bills long ago losses? Is time, as we are so often told, the best healer? Jim Kelly ponders the question. "You think about it, you always wonder what it would have been like [to win a Super Bowl]. But you know what? I have nothing to complain about." Kelly says as he stands overlooking Niagara Falls. Kelly recently finished chemotherapy after a five-year battle with jaw cancer, in 2018. He credits the Super Bowl losses as preparation for his fighting mentality in the greatest battle of them all: life. "I'm a very blessed man," he grins. Kelly it seems has come to terms with his lot.
ON JUNE THE 1st Liverpool won their sixth Champions League trophy making them the third most decorated team to play the competition. It is Klopp's first trophy at the club. Perhaps Klopp will look back at his past three failures and see them as the catalyst for success. Maybe it is the dawning of his true golden era. One thing is for sure, the three falls made the fourth success a much greater cause for celebration and jubilation. The victory parade is proof of it.
Klopp, as promised in his first interview as Liverpool manager, provided not only a title within four years, but the biggest one of them all.