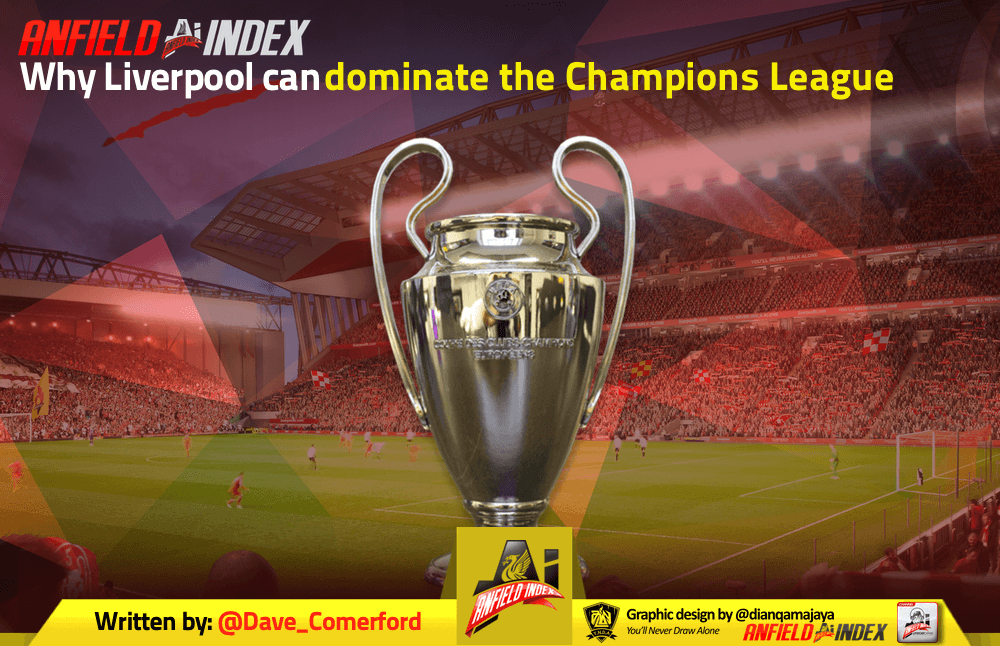 Why Liverpool can dominate the Champions League
The glittering Champions League trophy truly is a thing of beauty, and those scenes in Liverpool, the city centre awash with confetti and consumed by a scarlet hue, were glorious.
The club will want a repeat of that iconic bonanza in 12 months time, and they will certainly be keen to prevent anyone else getting their hands on that handsome piece of silverware. Now that they've won it back after 14 years, they'll be intent on keeping it.
The squad, and the watching media, has been united in the belief that this long-awaited breakthrough will prove a gateway to a succession of trophies.

But while the monkey is at last off the back, winning the Premier League in the foreseeable future remains immensely difficult. Manchester City have at their disposal arguably the best manager out there, an unprecedented strength-in-depth and a virtual blank cheque with which to approach each transfer window.
The division rarely lends itself to domination, but it has never seen a team quite like City.
That's not to rule Liverpool out, of course, particularly given that we only finished only a solitary point behind, but the standard the Reds will have to maintain over the course of a 38-game season is quite mind-boggling. Even one defeat would feel like a critical blow.
But in Europe, I believe it's a different story. Liverpool can rule the continent for a number of years.
First and foremost, Jurgen Klopp has in, over the course of three separate campaigns, won every single one of his European knockout ties as Liverpool manager. It's a quite staggering record, and now it's brought tangible reward.
On this evidence, it's clear this manager just possesses a certain affinity with knockout football. He knows how to set his teams up to play the long game, and if that fails he ensures they fight to the bitter end.
The team Klopp has built is also ideally-suited to the competition. The best defender on the planet forms a crucial part of a seriously solid foundation, crucial in limiting damage on the road (misfortune played its part against Barcelona) and preventing potentially decisive away goals: Liverpool have only shipped two in their last six knockout games.
The Reds also have the perfect personnel for counter-attacking football, blessed with a rapid and typically clinical trio which would strike fear into any defence.
But it's not just the quality. Indeed, it wasn't quality which saw Liverpool past Barcelona – it was belief and desire. This side has showcased a quite monumental degree of character and, honestly, might just refuse to be dumped out. On top of that, their ability to manage games will only improve as they grow accustomed to their newfound stature.
I also simply have to mention the power of Anfield under the European lights. There may still be cynical non-believers, but its significance has been proven time and again. There is no other atmosphere which emboldens the home side and cows the visitors quite to that extent. It doesn't win Liverpool games on its own, but on multiple occasions, it's proven the difference.
Liverpool will begin their European title defence in September with a new level confidence, the kind of confidence which can only be achieved through success. They won't believe they can be beaten when it matters.
What about their rivals, then? Liverpool have what it takes to edge them consistently over the next five years or so.
Juventus and Lionel Messi's Barcelona are playing under the almost crippling weight of desperation amid a prolonged wait for the crown, Bayern Munich are in a rebuilding phase and PSG and Manchester City are still developing the je ne sais quoi which characterises Champions League winners. It's difficult to put into words, but you know it when you see it, and you definitely see it in Liverpool.
At the end of last season, we were the second-best team in the world, we're on an upward trajectory without any doubt and there is perhaps no team so feared in Europe.
We won number six in Madrid, and it's far from out of the question, with a young and hungry side and a manager who might just be visualising a dynasty, that we'll be nudging double figures within five years.
It might be said, as it was last season, that Liverpool's European ambitions will suffer if, or when, we decide to go all-out for the league which, ultimately, is what we want most of all.
There's admittedly a psychological element to that argument – at some stage, we might be pouring all of our mental energy into our domestic challenge – but otherwise, it's invalidated when you consider that Liverpool managed to collect 97 points this season, concurrent with their run to the final.
Importantly, the club are likely to inject real quality into their auxiliary ranks. Talk of a big-money move for Lille attacker Nicolas Pepe has surfaced on the day of writing.
The declaration that a team who, before beating Spurs, had only won one League Cup over the course of twelve years, could be a dominant force in the ultimate club competition may seem hasty, but as far as I'm concerned it's time to acknowledge just how good we've become and develop, as a club, that elite mentality.
Liverpool have arrived, and they're here to stay.