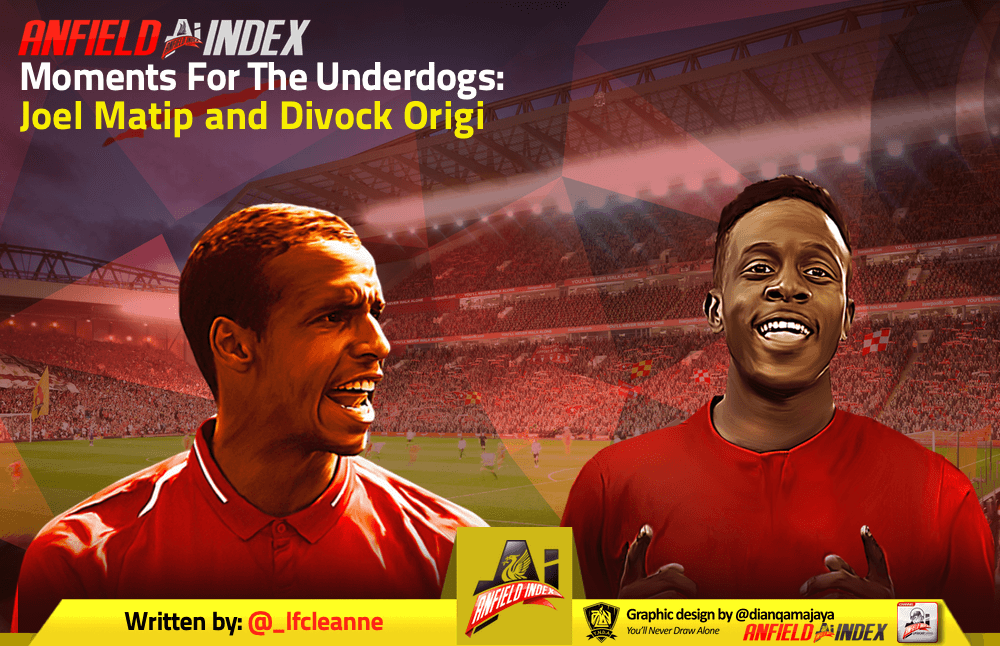 Moments For The Underdogs: Joel Matip and Divock Origi
 'I like being the underdog so they don't expect what's going to happen…'
The biggest moments aren't always meant for the biggest players, the best players, the ones who you'd expect to take up the mantle when everything is on the line.
Those glittering, do or die moments can spark the emergence of those who have faded into the background, the underdogs in a group of top dogs who make their mark where no one thought it possible.
When you look at this Liverpool side you think of Mohamed Salah, the Egyptian dynamo who returned to England, dismantling his mark as a 'Chelsea reject' and forming a deadly trio alongside Sadio Mane and Roberto Firmino.
You think of Virgil van Dijk, the 6′ 4″ colossus who has almost singlehandedly brought a sense of assurance to a previously rocky defensive unit. Of Andy Robertson and Trent Alexander-Arnold, Liverpool's modern-day full-backs. Of Jordan Henderson, the maligned man once offered in a swap deal for Clint Dempsey now perched with his feet on top of ol' big ears as a Champions League winner. The list goes on…
Divock Origi and Joel Matip probably aren't two names that roll off the tongue, though.
The Belgian forward was perceived to have no future at the club after a jittery loan spell in the Bundesliga left his once prosperous looking career hanging firmly in the balance.
And yet, it's he who scores a calamitous last gasp winner in the Merseyside Derby. It's he who capitalises once more at St James's Park to keep The Reds hot on the tales of Manchester City. It's he who scores two to inspire the best Champions League comeback Anfield has ever witnessed.
The potent weapon no one saw coming.
It would've been so easy for Origi to draw a close to his Anfield career and move to pastures new in search of more regular first-team minutes, but his tenacity to stick around and play a part in Liverpool's triumphs has paid dividends for both parties. Indeed, it typifies his heart, will and want – the three characteristics that have now engrained him into Anfield folklore.
A European Cup winner now set for a new deal, Origi's right of passage is one of several underdog stories that laid the foundations for Liverpool's successes this season.
So too, Joel Matip. Fourth choice centre-back at the beginning of the year, Matip has gone from strength to strength, taking advantage of injuries to Joe Gomez and Dejan Lovren and asserting himself as a dependable partner to Van Dijk.
Aside from his obvious aerial prowess, the Cameroonian has fitted seamlessly into the possession-based demand of Klopp's system, walking out from the back with possession and providing incisive balls into the front-three. An assist in the Champions League final was a testament to that, reflecting the confidence surging through the veins of a man who many perceived to be a lost cause.
There is no attempt to go above and beyond nor fight his compatriots for the front-page headlines, just a man who has fought his way back from the brink, providing a sense of calm from behind.
Liverpool have come a long way in a short space of time under Jurgen Klopp's tutelage; securing their first major trophy under the German was a huge and necessary step in the pattern of progression. The journey to this point has been littered with smaller stories, of progressional paths made by individuals many had discounted as little more than deadwood there to make up the numbers.
Their resulting contributions throughout the campaign are, in many ways, an embodiment of Jurgen Klopp's Liverpool – a tight-knit group of players all of whom have their own strengths, vying to get the acclaim of a manager who demands nothing but the best. A spirited and cohesive unit, there is no longer a sense that individuals carry the mantle; this is a group who all chip in for a collective goal. A goal that was wholeheartedly achieved in Madrid.