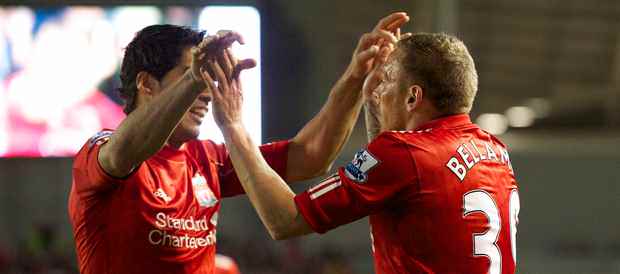 Liverpool | Will Be Flying High If They Expose Chelsea High-Line
During the summer one of the key attributes that many fans felt the team was missing was raw pace and the ability to break forward quickly and hit teams on the counter attack. While Liverpool FC's front four of Maxi, Meireles, Kuyt and Suarez was effective thanks to the quartet's fabulous movement and intelligence, none of the four possessed tremendous speed and it was obvious that this needed to be rectified if Liverpool were to move on to the next level.
So in came Stewart Downing, Jose Enrique and Craig Bellamy, three fleet-footed players who rarely come out second best in a speed duel, giving Kenny Dalglish a Liverpool team that was now as quick physically as it is mentally. While technical attributes are probably more important than raw power or pace, there are certain games where these qualities make all the difference and Liverpool's speed demons will never have a better chance to make an impact than at Stamford Bridge this Sunday.
Kenny Dalglish is not the only Premier League manager trying to mould a new team and develop a style of play, with Chelsea's latest boss Andre Villas-Boas handed the simple task of winning trophies whilst playing attractive attacking football. The young Portuguese manager has decided to try to recreate the system that gave him so much success at Porto and although Chelsea now look more fluid and creative going forward they have encountered some difficulties defensively which culminated in a humiliating 3-5 home loss to Arsenal last month (a game in which Arsenal had 13 shots on goal).

Playing an aggressive high defensive line is a crucial aspect of AVB's teams and although this worked brilliantly in Portugal, the Chelsea boss may be starting to realise that he doesn't have the personnel to carry the tactic out as he would like. For all their good qualities, Alex, Branislav Ivanovic and John Terry are not speed merchants and many teams have found this season that it just takes a simple ball over the top to cut through the Blues' back-line.
One man who has had success against the Chelsea defence in recent seasons is Craig Bellamy, who famously helped tear them apart for Manchester City two seasons ago as he scored twice in a 4-2 victory (both goals coming on the counter attack against a high defensive line). While Bellamy and his knees are now two years older he has not lost any of that trademark pace and it is crucial that he starts this game either on the wing or preferably up front alongside Suarez.
As mentioned previously, Bellamy's chance creation rate (Bellamy has created 6 chances in the 143 minutes he's played so far this season which equates to nearly one every 23.83 minutes) and goal-scoring return (2 goals in his 2 starts in all competitions, with his other appearances all from the bench) has been phenomenal in such a limited amount of playing time and with the Welshman full of confidence after scoring for his country it would be foolish not to start him at the Bridge.
If Bellamy does start then he will come up against his old rival John Terry, a man who he slated in an interview after the 4-2 City win a few years ago, and with the England captain going through a tough time at the moment he will not want to come up against the feisty number 39. So far this season Terry has been dribbled past 3 times and has conceded 116 chances, and with Chelsea letting in 15 goals already it is obvious their captain is not on form. Battling Bellamy could lead to Terry losing his composure and if recent games are anything to go by he will make at least one glaring error and who better than Bellamy to capitalise on it?
While it is possible that Bellamy could start out wide, this is unlikely to affect his contribution since he would most likely come up against another player struggling for form; fullback Jose Bosingwa. The Portuguese right-back has been exposed time and time again this season (conceding 90 chances and being dribbled past 3 times) and has looked suspect whenever he has been up against a pacey, direct opponent. Whether it is Downing or Bellamy that starts on the left, Liverpool are sure to have some joy on the flanks on Sunday afternoon.
It would of course be foolish of Chelsea to focus on one individual when Liverpool possess a player of Luis Suarez' quality and with the Uruguayan starting to reach top form, Terry and co will be in for a tough afternoon. Liverpool's number 7 may not possess the lightening pace of Bellamy but he is still quicker than most and that speed coupled with his intelligent movement means that he is sure to take advantage of the huge amounts of space in behind the Blues defence.
If Liverpool are afforded as many shots at goal as Chelsea's recent opponents then it will be another case of 'can Liverpool finish their chances?' But with Suarez hitting 4 for Uruguay, Carroll getting better every game and Bellamy chomping at the bit to play, the team should have the quality to open up Chelsea and score goals thanks to the pace we now possess in attack.
Thanks to Guardian Chalkboards and EPLIndex Stats Centre for the Opta Stats and diagrams used in this article.
Follow Matt on Twitter @MattKenny89