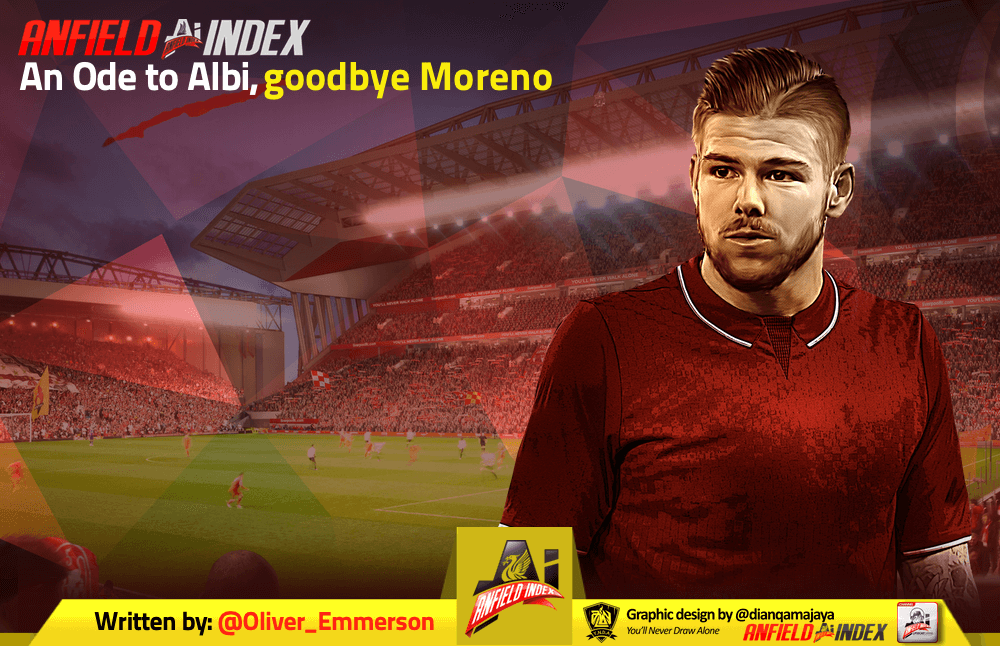 An Ode to Albi, goodbye Moreno
Alberto Moreno, it's been a pleasure, to many of us you were a treasure.

Hated by some, adored by the rest, to Andy Robertson you were second best.

We'll always have the strike against Spurs, a Liverpool career full of twists and turns.

The Europa League final, a night of shame, lots of people didn't want to see you again

But you fought back mightily, oh so well, the best left back in the league for a freaky spell.

Injury came and your replacement was a Scot, on the bench you were left to rot.

And now on a free you leave this summer, Guy Drinkel agrees it's a total bummer.
I'm going to miss Alberto Moreno, I really am. Honestly, aren't you? Even if you think he's absolutely dreadful at football (spoiler; I don't), how can you not love that smile?
Into the team, he bounded in 2014, tattoo's, crazy cat/dog combos and a Segway. He embraced Liverpool and for around a week after he scored that goal against Tottenham we all thought we'd solved the left-back problem that had been nagging at Liverpool since John Arne Riise, and even he wasn't that good.
Arriving as a key member of Sevilla's exciting Europa League winning side and European Championship Under-21 winner with Spain, Moreno was a clear upgrade on the Jon Flanagan / Aly Cissoko comedy act we'd seen in 2013/14. Unfortunately, it didn't quite go to plan.

Whilst Moreno did impress at times in his first season, there were concerns about how his, ahem, over-enthusiasm was damaging a defence that was crying out for a calming presence. Key errors included allowing Hector Bellerin to ghost in and score in a top-four clash against Arsenal, not leaving Reds fans convinced.
Joe Gomez dropped in at left-back for the first few games of the 2015-16 season. Remember? That was a crazy time, the last days of Rodgers. Gomez actually did fairly well, all things considered, but his injury handed Moreno a reprieve just in time for Jurgen Klopp to land at Anfield.
The Spaniard was a fairly consistent performer during Klopp's first season, until the Europa League final. Personally, I put more blame at the fault of Dejan Lovren, yet even as one of Moreno's staunchest defenders I can't deny that it was a performance that left me struggling to argue the case for him.
Klopp kept the faith for about 90 minutes of the following season but another trying display, this time against Arsenal, left Moreno in the cold. James Milner came in for the season and was, well, 6/10. The Moreno doubters will tell me he was better defensively and I'd maybe agree, but surely I'm not the only one who still gets nightmares about Milner shaping to go left before cutting in on his right and playing it back to Matip?
Still, it looked as if that was that. Moreno was off to Serie A, or Watford if you believed those rumours, bringing his Liverpool career to an end. Until, well, he wasn't. I couldn't tell you why, but he stayed. Andy Robertson came in but was consigned to the bench, Moreno was in the team.
And he played well. Really well, in fact. Called up to the Spain squad for the first time since joining Liverpool, well. Until a fucking injury hit, naturally.
The form of his life, his Liverpool career at least, and suddenly on the sidelines watching on as a Scot signed from Hull does exactly what he was doing, but better. You've got to feel for the lad, he finally did everything that we'd wanted from him and then he gets injured and we suddenly find out we've traded Kevin Stewart for one of Europe's best left-backs.
Poor Albi. If you believe certain outlets, he had his bags packed and his house sold in the summer of 2018 before a late squad decision from Klopp forced him into staying. Still, you heard little in the way of moaning from him in the press and he walked away with a Champions League winners medal as a result.
And now the end comes, finally. Some will be relieved, others reduced to tears (Hi Guy Drinkel, here's your second mention in this piece). I'll miss Moreno, and you should too.
Sure, he wasn't the best left back in the world. But he was better than Jon Flanagan and Aly Cissoko, better than Paul Konchesky. Arguably Liverpool's second-best left-back of the 2010s. Hardly a huge achievement, but the evidence that he's not the comedy figure that people will make him out to be.
Despite that, I won't remember Moreno for the footballing ability. There are 25 players in the Liverpool squad, they can't all be perfect. I'll remember him for whacking in that goal against Spurs and a few loose challenges of course, but mostly for the 'unbelievable Jeff', the 'We wish you a merry Christma', being best friends with all of our South American starlets. The cat. The dog. Whichever one it is. The Segway. All of it. All of him.
Best of luck in the future, Albi. Go and fly elsewhere.