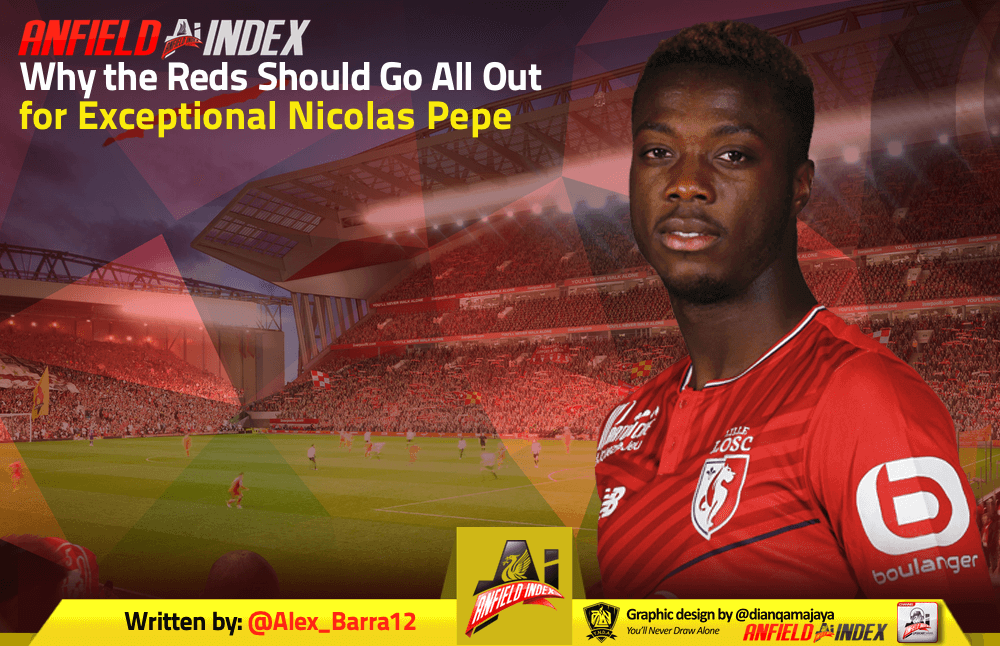 Why the Reds Should Go All Out for Exceptional Nicolas Pepe
There are very few times when a player jumps out at you to such a degree that he becomes magnetic.
During season 2017/18, it was clear that amidst Lille's various struggles, including almost going bankrupt and staying up by the skin of their teeth, they at least had a pillar to tie their hopes to. It wasn't an irregularity for teams around the lower echelons of the top five leagues; plenty have a single source of hope, deciding to build a team that gets the most out of their key player.
Then 2018/19 came, and Nicolas Pepe was properly magnetised.

Suddenly, eyes were drawn to him out of sheer necessity. Soon he wasn't being talked about along similar lines as promising youngsters who could make the move to a top club, he was being heralded as France's next superstar.
Then he went and dismantled an already-fragile Paris St. Germain in a 5-1 demolition, and even the mainstream viewers started getting caught wide-eyed at just how impressive the 24-year-old was. Or, more poignantly, how impressive he now is.
He would be an ideal fit into the Champions League winning Reds. To take them to the next level of attacking verve, and finally have a fourth man to rotate in and out of the attack. The Fab Four would be reformed, only as a different iteration. A faster iteration. A more lethal iteration.
He scored 22 goals and assisted 11 times in 38 Ligue 1 appearances (meaning he was available for every single league game this season) and was the key component to the only side that considered taking the fight to PSG in France's top flight this season. That aforementioned 5-1 battering of PSG, where Pepe scored once and assisted twice was indicative of just how good of a player he's become, and why the price tag being quoted for him is on the high side (reports of €80 million Euros are being proliferated in the press.)
But that PSG game was only the cap to an exceptional season from an exceptional player who would add devastating speed, a nous for scoring goals (13 of his goals were from open play this season) and the perfect complement to an already lightning Liverpool attack, with the added bonus of giving Klopp some flexibility in his approach.
Indeed, the magnetism of Nicolas Pepe was on show long before the PSG game in April.
It was apparent at season's beginning when he scored five goals in the space of three days; putting three past Amiens in a 3-2 win and two past former club Angers in a 5-0 thrashing. Everything had clicked, he was on a relentless quest for dominion, and none in Ligue 1 were to be spared.
His lightning speed and supreme positioning are his two most important traits; those that mirror Mohamed Salah, but his impressive composure in front of goal is another standout facet of Pepe's game. All of which could be seen when Pepe took centre stage against Marseille, after a blistering start to the season.
Christophe Galtier's men attacked in packs of three, as they usually did, with Jonathan Bamba and Pepe the two most lively attackers. But it was the latter who threatened most, getting the ball in between the full back and centre half and cutting inside, ensuring he was always catching his defender off balance. He also used his sheer speed of dribbling to skirt past defenders within two or three touches.
It was all very reminiscent of a certain 'Egyptian King'…
As it was in the rest of the season, Pepe was Lille's fulcrum that day, often moving central and counterattacking with such vigour and pace that Loic Remy was yards behind his two attacking counterparts. Then, when it got more packed in, Pepe would simply make runs in behind the defence, catching them off guard, and took the ball in stride. The run he went on; following a quick one-two, to win the first penalty was pure Nicolas Pepe, and it was gorgeous to watch.
Then, months later, when Lille had to travel to Marseille in the reverse tie, he did it again, this time scoring both goals for himself (one of which was a penalty.)
His deficiencies stem from the fact he's only really played in a counter-attacking team, though he adapted well when more teams caught wind to his danger and began marking him more tightly. Because of this, he only makes half the touches inside the opponent's box that Mo Salah does – though oddly, the number (around 4.8) gets close to those of Sadio Mane (per Football Whispers).
Pepe is different from both of Liverpool's star inside forwards too in that he often picks up the ball with his back to goal, holding it up in the centre forward position and playing in the equally dynamic Bamba – a combination that would be upgraded upon should the Frenchman arrive at Liverpool.
His 11 assists indicate his creativity, too, and his defensive output is strong enough for a player so used to being relied upon offensively. And the final pass is sometimes lacking, given how bold he tries to be, but the reality is that Pepe's profile fits in exceptionally well when it comes to what Liverpool want in an attacker.
As it should, because Nicolas Pepe is an exceptional player.