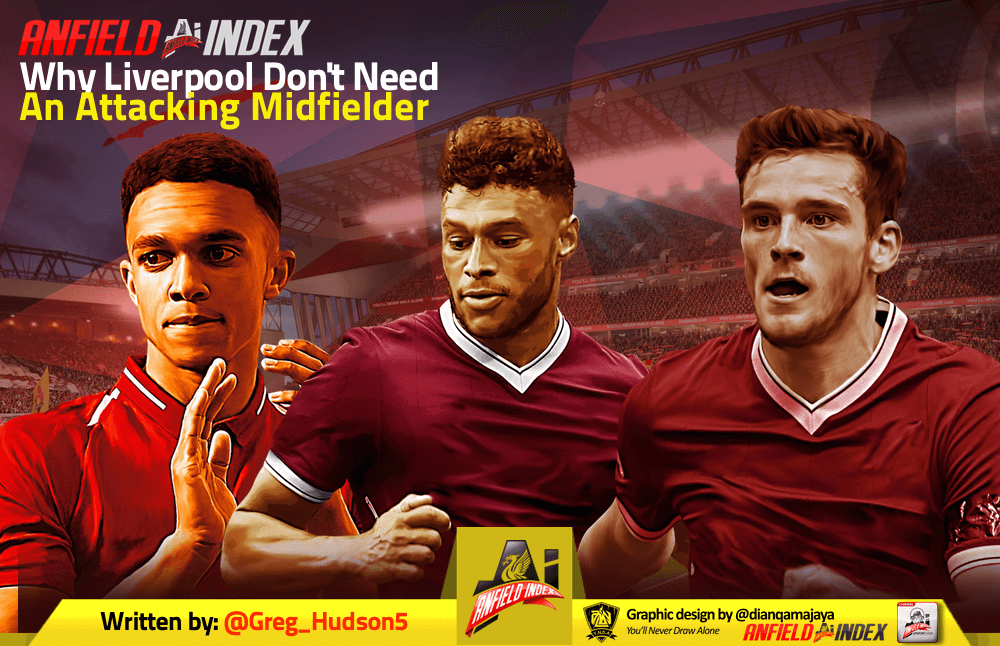 Why Liverpool Don't Need An Attacking Midfielder
Ever since the departure of Philippe Coutinho to Barcelona in January 2018, one principal question has lingered on Merseyside during transfer periods: how will Liverpool replace him? On the surface, it makes sense, but look deeper and it doesn't really hold water. Since January 2018, a Countinho-less Liverpool have been to two Champions League finals, tallied a club-record points haul in the Premier League and lifted "old big-ears" for the sixth time. So while headlines abound as the Reds are continually linked with highly-touted creative players, the simple fact is that Jurgen Klopp's team in the summer of 2019 is a far distance from the side which seemed so dependent on Coutinho just 18 months ago.
It's a common media narrative that a club which loses a prized asset must replace him like-for-like. Following that narrative, in each of the transfer windows since Coutinho's departure – this is the third window since his sale – Liverpool have been linked with attack-minded midfielders pipped to fill the tricky Brazilian's boots. There was the very public – and mysterious – failed transfer of Lyon star Nabil Fekir in the summer of 2018. Though Fekir often plays in a true forward role, he looked to fit the mould of a Coutinho-type creative player who could play both centrally and in the wide areas. In more recent windows Liverpool have been linked with other attack-minded and creative midfield players, including Bruno Fernandes of Sporting, and Ajax's Hakim Ziyech. All these players possess excellent close control, a wealth of creativity and an eye for both the pass and the goal. They would seem to fill the hole left by Coutinho in 2018.
But do Liverpool really need a player of that type?
One could make – and many have made – a strong argument that a player with that level of creativity could help Liverpool unlock teams that employ a low block – a tactic which proved nastily effective against the Reds in the first two seasons of Jurgen Klopp's tenure. But while the departure of Coutinho provided the funds for Klopp to strengthen a previously-porous defence, it's also sparked a tactical shift that may well have removed a "Coutinho-type" player from Klopp's wish list.
Indeed, it is the defensive improvement that most have credited with Liverpool's success in mounting a serious title challenge and winning the Champions League for the sixth time. And there's no refuting the improvement of the side with the addition of Virgil van Dijk and Alisson to the team. The Reds conceded 16 fewer goals in the 2018/19 Premier League campaign than in the previous season. Alisson's 21 clean sheets earned him the Golden Gloves, a year after Simon Mignolet and Loris Karius combined for 17 from 38 games.
But the most remarkable shift has been in terms of creativity. In the 2017/18 season, Liverpool's front three of Sadio Mané, Roberto Firmino and Mohamed Salah led the way both in terms of goals and assists, but outside that electric trio, the Reds were dependent on midfield assists in terms of chance and goal creation. In the Premier League, midfielders provided 23 of 58 goal assists – 40 per cent of the team total. Coutinho personally provided six of those assists in only half a season, while Alex Oxlade-Chamberlain would tally seven assists before his season was cut short through injury in April. Liverpool defenders did not contribute meaningfully to goal-scoring situations. Andrew Robertson led the way with five assists. Joe Gomez was second among defenders with two, whilst Trent Alexander-Arnold and Dejan Lovren weighed in with an assist each. In part this can be attributed to a trend throughout the season for Klopp to instruct the fullbacks not to venture too far up the pitch, presumably to avoid leaving the vulnerable back line exposed. It can also be chalked up to the side's tendency to play incisive passes through the middle to the front three – often on the counter – to create scoring chances for the "fab three."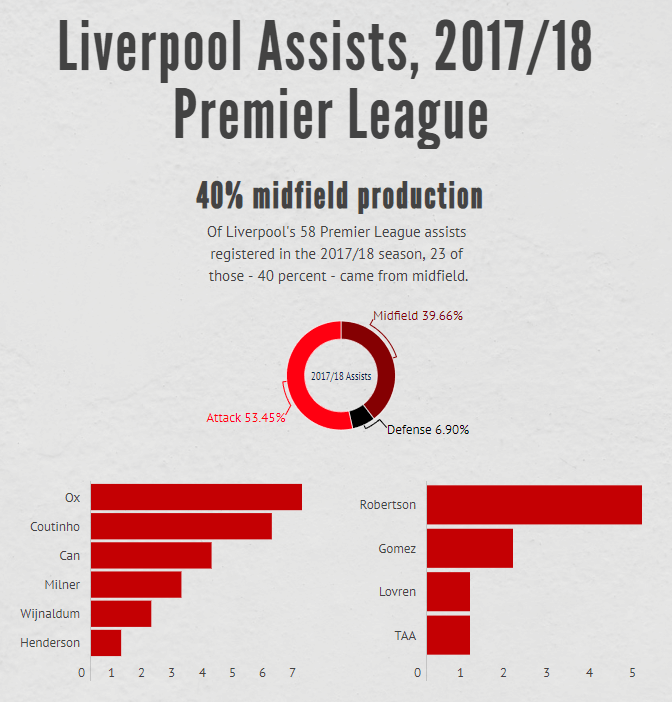 Graphics generated using infogr.am
The 2018/19 Premier League season saw a stark departure from Liverpool's tactic of playing through the middle at pace. Instead, with the likes of van Dijk, Fabinho and Alisson inspiring great confidence among the squad, a much higher number of chances came from the wide areas. According to whoscored.com, Liverpool attacked equally from left to right in the 2017/18 season, with nearly one-third of play taking place in the middle of the park. In contrast, Liverpool played through wide areas nearly 75 per cent of the time in the 2018/19 season, utilising the middle of the park only 27 per cent of the time. While crosses decreased in 2018/19, crossing accuracy was higher, and a higher percentage of chances came from crosses. Andy Robertson alone improved his crossing accuracy from 12 to 16 per cent, whilst doubling his chance creation from 24 chances in 1207/18 to 51 in 2018/19.
Scoring stats reflect this tactical shift. While Liverpool led the Premier League with nine counter-attack goals in the 2017/18 season, goals on the break dropped to six in 2018/19. While the Reds also scored fewer goals from open play in 2018/19 (53, compared to 60 in the previous season), they nearly doubled their set-piece productivity, scoring 20 goals from set plays, up from 11 in 2017/18. Fullback play has contributed to this statistic, as Trent Alexander-Arnold is a popular corner and free kick taker. Alexander-Arnold and Robertson led all Premier League defenders in assists during the 2018/19 campaign. Indeed, the pair's combined 23 league assists matched the haul from all Liverpool midfielders in the previous term. Meanwhile, with Coutinho gone and Oxlade-Chamberlain missing essentially the entire season in recovery from his injury, midfield assists dropped from 23 to 10, with James Milner leading the way with four.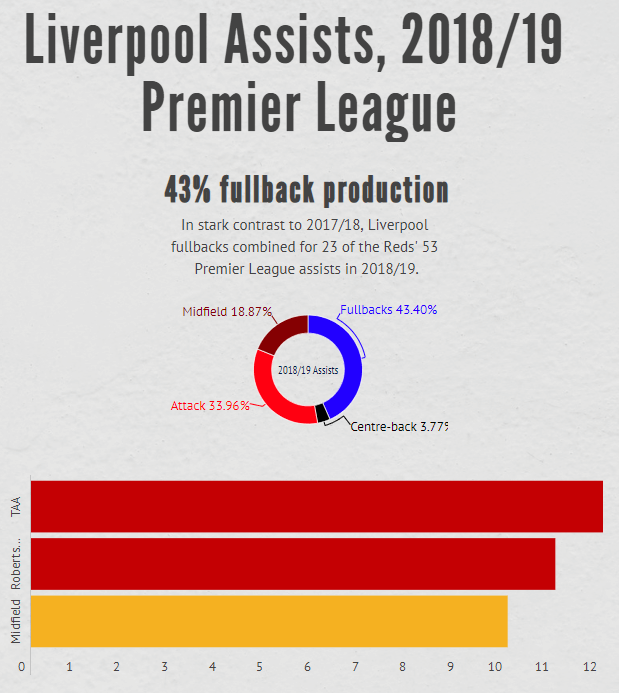 Perhaps the most interesting statistic which dispels any notion that Liverpool need a creative midfield to unlock tight defences is a surprising shift toward short passing and away from long balls and counterattacks. In the 2017/18 season, Liverpool averaged 63 long passes per game, second only to Tottenham among top-six clubs. That same season, the Reds played an average of 546 short passes. In the 2018/19 season, despite playing without Coutinho and Oxlade-Chamberlain – arguably the two most creative midfield players at the club – Liverpool averaged three fewer long balls per game while increasing short passes by 21 per game. Do the maths and Liverpool reduced their tendency to play long balls by fully 25 per cent in the 2018/19 season, despite playing without the players deemed most likely to break open a tight defence and create chances. Logic would dictate that a side without a talented creative midfielder would play fewer short balls in tight spaces and depend more on long passes – a common tactic for bottom-half sides like Burnley who aren't renowned for creative midfield play. But just the opposite has taken place at Anfield
This points to a tactical transition to a side that creates chances by playing through the wide areas and attacking space with a pacy front three and a workmanlike midfield with players willing to make runs. The shift from a holding role to a more box-to-box deployment has freed Jordan Henderson to make a number of critical contributions to Liverpool attacking moves over the past season. Naby Keita has struggled with injury and form since his arrival last summer but similarly possesses a drive to get forward and join the attack. With Oxlade-Chamberlain expected to be fully fit for the start of the 2019/20 campaign, Liverpool already possess the midfield talent needed to make the most of this tactical shift.
Does that mean Liverpool absolutely shouldn't go out and sign a creative midfielder? Not at all. Ultimately, the transfer policy at Anfield will be determined by Jurgen Klopp, Michael Edwards and members of FSG, and their record so far has at finding talent and getting results from them has been impressive. If Klopp wants a player like Bruno Fernandes or wants Coutinho back in in the fold, it's for a reason. But the numbers suggest that with or without a player in the mould of Coutinho, the Reds already have a midfield loaded with players that suit the team's tactical shift – and that should frighten any side Liverpool come up against this season.