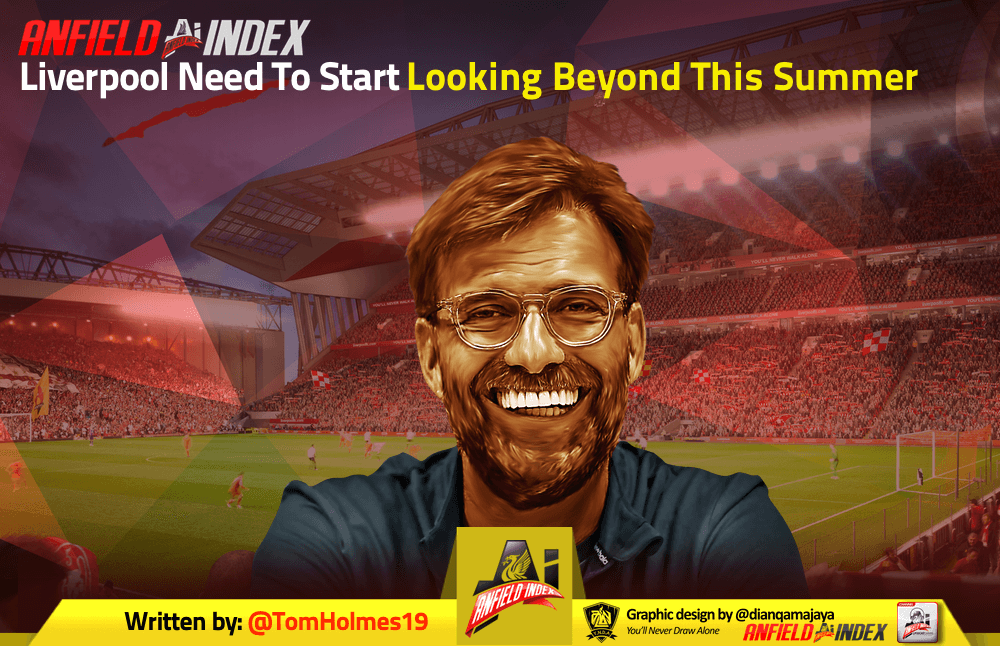 Liverpool Need To Start Looking Beyond This Summer
The dust hasn't yet settled on Liverpool's sixth Champions League final win in Madrid, which you can tell from the fact that I keep getting tingles every time I write that god damn sentence. But in any case, the speculation has, naturally, turned to what Liverpool are going to do next in the transfer market.
I've previously stated before that I'm not really that bothered, either about transfer markets in general or specifically about who Liverpool sign this window and that very much remains the case. I'm steadfastly convinced that Klopp, Edwards and co will pick up the right players, at the right prices and do solid work to put us in position for another good title run next year. More importantly, whilst many hate the suggestion and the idea that this Liverpool squad is only going to get "minor tweaks" (I'll believe that when I see it), I actually don't hate the sheer idea of it, since I think there's only so much you can improve this existing group of players.
All of that being said, I think that there is one crucial element to Liverpool's summer, and that's been very much a part of FSG's model since the get-go, planning for the future. Whilst Liverpool have done extremely well to buy quality players and develop them rapidly, there has to be a sense of not just looking to the next few years, but in fact, looking beyond this current squad entirely.

To an extent, Liverpool have already started doing that. Trent Alexander-Arnold and Joe Gomez have a full decade of being potential starters ahead of them, both Naby Keita and Fabinho are yet to hit their prime years, and of Liverpool's arguably best starting eleven, the eldest is 28 – Gini Wijnaldum.
Nevertheless, the majority of Liverpool's key players are in the middle of their prime. Van Dijk, Salah, Mané, Firmino and Alisson will all be 27 or older by the end of the year, meaning that whilst there's absolutely no need to rush to replace them, Liverpool already need to start thinking about their long term prospects to supplement the front three especially.
Whilst Brewster is a positive step in that direction, and Divock Origi is only 24, Klopp will be aware that this cycle of Liverpool elite talent will have at most five years in it, and he'll want ready-made replacements already in the squad.
None of this is to suggest that Liverpool need to panic and sign an elite 21-year-old player now, that's not what I'm getting at. The core of the squad is at the perfect age, between 24 and 27, giving Liverpool a lot of room to work with.
But on the other hand, the club need to already be thinking about who the next Salah, the next Firmino and the next Wijnaldum will be. This is part of the argument/thinking behind signing someone like De Ligt. Whilst it's too early to be talking about replacing Van Dijk, De Ligt is 8 years younger than his team-mate, giving you a Van Dijk replacement five years before you need one.
The thing about having a terrific, young squad is that you need to constantly be replenishing it with young talent, otherwise you end up in a situation where suddenly the core players that you've been reliant on for the last five years all slip out of their prime at once and you have to spend lots of money to keep ticking over. This is the problem that Chelsea have faced in recent years, but have been able to use a combination of elite managers, quality signings and luck to keep winning major trophies.
Conversely, look at Manchester United, who for the last five years or so have been trying to replace players that were arguably never replaced – they clung on to the core of their squad for too long, and whilst it rewarded them with the Premier League trophy in 2013, the need for an overhaul became sudden, and urgent, and they didn't have an adequate plan in place to rebuild, especially losing Fergie.
And that's part of the issue Liverpool will inevitably face at some point, maybe sooner than they'd like. If Klopp departs in 2022, which is still a long way off, at least six or seven of Liverpool's key players will be 30 by then, meaning that a fresh intake will be required.
Again, this is an issue for the future for sure, Liverpool have been able to build an incredible team and we're hopefully going to be talking about it as a team that have won a lot of great trophies over the next few years to get there.
But the longer you put issues of the future in the future, the less time you give yourself to address them. Liverpool already have a handful of players that will be able to deliver trophies deep into the mid-2020s and beyond, but they need to start supplementing the squad already with younger talent that can develop to keep delivering that.
I think that fits well with the theme for this window. Signing players that can bolster the squad options that perhaps aren't ready to challenge the starting eleven in some cases, but in others are already top talent. But even if everyone Liverpool sign this summer is under 25 for example, then in the vast majority of positions they will be recruiting players who will be hitting their prime when the current player in that position is leaving theirs.
That can mean signing someone like De Ligt who is already a world class player, but also a generational talent who will not only compliment VVD but can also function as a VVD replacement when we cross that bridge. It could mean signing someone like Nicholas Pepe, who has only just turned 24 and thus about three or four years younger than our current front three, giving us options slightly further into the future.
Or it could mean hunting the likes of Ki-Jana Hoever, or Brewster, younger and less accomplished talents who are not ready to impact the first team yet. If Liverpool's recruitment is intelligent, in many ways it could be both. In terms of quantity, bringing in three or four players who aren't going to impact the first team for a few years for £10m total and low wages is still smart business and they can still bring in one or two bigger names who are young or youngish.
The point is, Liverpool have already built a team capable of creating a dynasty. And now they have a dual function in this window. Reinforcing that team so that it can live up to its potential, but also, looking at the next generation, to see who will ultimately end up following this team, and, if we're very lucky, surpassing it.