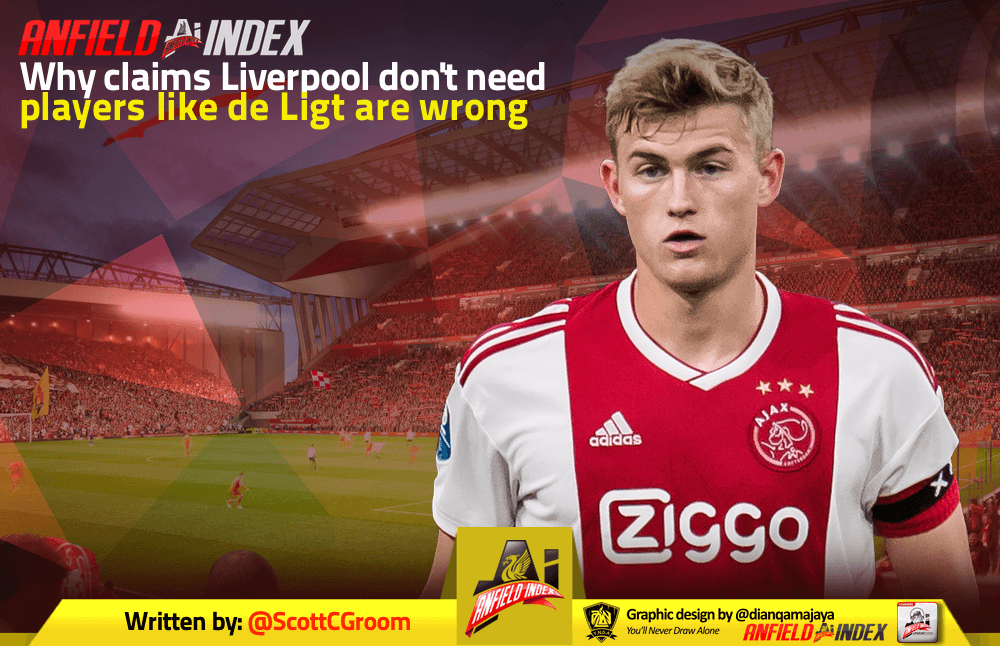 Why claims Liverpool don't need players like de Ligt are wrong
There's been an unrivalled amount of chatter surrounding the future of Ajax's Matthijs de Ligt in recent weeks, with plenty of rumours linking him with a move to Anfield.
However, reports in the past 48 hours seem to point toward the Dutch wonder kid joining PSG.
There's also talk of Liverpool making moves for Lille's Nicolas Pepe and Sporting Lisbon's Bruno Fernandes.
While it's difficult to quantify anything at this stage of 'silly season', one thing that we do know is that there will be a few incomings this summer – but exactly who those players are we're yet to gain any real clarity on.
What is something important to note though, is a strange attitude some fans seem to have taken towards Liverpool's rumoured interest in de Ligt in particular.
Whether or not Liverpool sign him or are even vying for his services is another matter entirely, but why some fans seem to think that he's not needed at Anfield is an entirely perplexing thought and one I'd like to discuss here, drawing parallels to the team that just pipped the 97-point, one defeat all season Reds – Manchester City.
My problem is this: why simply stagnate at a point at which we're winning trophies and looking to continue this trend?
The de Ligt example is a pretty good one. People have been saying we've already got four good centre backs in van Dijk, Matip, Gomez and Lovren thus we don't need de Ligt.
But why not? He's a world-class talent and would improve any defence, including Liverpool's, so why wouldn't we consider going in for him, or someone of his ilk?
If we don't recruit with more strength in depth, this season's title challenge and European triumph will be one-offs. We don't want that. We need to ensure that this is sustained glory.
The same can be said for adding another midfielder or attacker. Just because we've got Salah, Mané and Firmino doesn't mean we shouldn't be signing players who will push those three to another level in order to maintain their place in Klopp's starting XI.
And here's where the comparison to Manchester City comes in.
Over the course of the last seven or so years, they've consistently pumped money into the recruitment of some of the finest players money can buy.
They didn't rest on their laurels of being satisfied with only one title and have continually brought in players that will improve the team and ensure that they continue challenging for major honours.
Liverpool, although they don't have the same level of money at their disposal, will be able to invest, and need to do so.
If they want to push City for the title and make at least a good shot at defending their European crown, they need to be bringing in quality reinforcements and newcomers.
It may be something that's difficult to balance, with players expecting regular game time and all of the problems that come with it, but this is the best kind of problem that any manager in world football can have.
Do you see Guardiola complaining about the strength of his squad? No. He has often had the ability to bring the likes of Mahrez, Jesus, David Silva and Leroy Sané off the bench this season.
This needs to be a model that Liverpool need to follow, whether that be with the addition of Matthjis de Ligt or any other player that Liverpool are linked with this summer.
Progress never came from standing still.