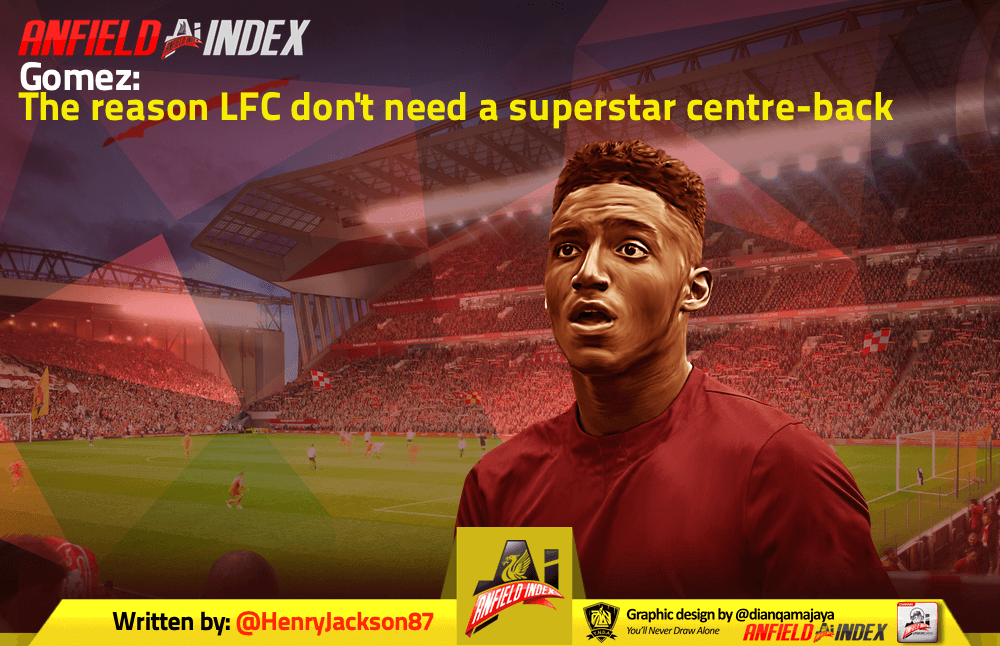 Gomez: The Reason LFC Don't Need a Superstar Centre-Back
I found myself watching England in the UEFA Nations League third-place playoff last weekend – a pretty sad state of affairs.
When your Sunday looks empty on the social front and no other 'proper' football is on, it's (just about) better than nothing, though.
The standout figure as the Three Lions edged out Xherdan Shaqiri's Switzerland was Trent Alexander-Arnold, who put together a masterful performance highlighting why he is one of the world's most exciting full-backs.
It was no surprise to see the Liverpool youngster receive the Man of the Match award and a chunk of the post-match focus, but on a day when England were admittedly untroubled, watching Joe Gomez back in action was also a joy.
Brought in at John Stones' expense, following a howler from the Man City defender in the semi-defeat to the Netherlands, Gomez was the definition of class.
The 22-year-old started just his second match in 2019, with the other coming in the Reds' 3-0 loss away to Barcelona last month, when he was surprisingly deployed at right-back instead of Alexander-Arnold.
Despite a huge lack of playing time, he looked like he had never been away against the Swiss, cutting an assured figure who mastered all facets of his play.
When he needed to clear the danger he did it with ease, and when an incisive pass into midfield was needed he duly obliged, not to mention his searing pace and aerial quality.
As silly season arrives and endless nonsensical transfer stories are churned out, Liverpool find themselves being linked with superstar centre-back Matthijs de Ligt.
At just 19, the Ajax and Netherlands man is already captain of his club and regarded as a future legend of the game.
It is testament to Liverpool's new-found standing under Jurgen Klopp that they are being linked with De Ligt, but it is a move that remains highly unlikely to happen.
It is being reported that the Reds have no interest in bringing the teenager to Anfield, and for all his enormous potential, that's the way it should be. Gomez is the reason for this.
While the youngster remains highly-rated by the masses, it is still easy to forget exactly how imperious he was in the early months of the season. Used alongside Virgil van Dijk, you wouldn't have known that one cost just £3.5million from Charlton Athletic, while a record-breaking £75million was spent on the other. The six-year age gap that exists between the pair was also far from obvious, as Gomez more than held his own up against one of the finest centre-backs of his generation.
He was almost faultless in the late summer and autumn months, and by the time the trip to Burnley arrived in December, just four Premier League goals had been conceded when he had started, in a total of 12 matches.
Then another cruel injury setback occurred at Turf Moor, with a broken leg effectively keeping him out of action for the rest of the season, even though cameo appearances came his way in the latter weeks of 2018/19. Before he got injured, many were calling Gomez Liverpool's current Player of the Year – staggering really, when you consider the level Van Dijk played at.
This wasn't hyperbole in the slightest – Gomez really was that good.
He looked every bit a future Liverpool and England mainstay and his place in the team was nailed down, with Joel Matip and Dejan Lovren both already inferior.
Perhaps this level of brilliance has been forgotten about by now, hence some calls for a new partner for Van Dijk to come in.
The excellent end-of-season form of Matip has also arguably seen Gomez's stock fall ever so slightly, considering how Liverpool's campaign ended without him featuring prominently.
He is the man to play alongside Van Dijk long-term, however.
For all the talk of De Ligt, Gomez has just as much promise, although he is admittedly three years older. The Dutchman has made mistakes this season that the Reds man never looked like making before injury.
Fitness is the one obvious issue with Gomez, with injuries following him around like a bad smell since he traded London for Liverpool back in 2015.
Granted, the manner of his problems have often been unlucky, from cruciate ligament damage to being aggressively tacked by Burnley's Ben Mee, but his recovery has been slow.
It is a concern, but at 22, and considering he isn't naturally injury-prone, Gomez should still be given some leeway.
Of course, this isn't saying a centre-back of some kind shouldn't be signed this summer, but it should be a backup option rather than someone to usurp him.
He has showcased precisely why some see him as a possible future England captain and he is only going to improve as a player in the next five or six years.
Could another injury arrive that curtails his progress? Yes. But taking that risk and not bringing in someone who may knock him out of the team is the way forward.
Alexander-Arnold is special, as is Andy Robertson, while Van Dijk's quality is unlike anything seen in a Liverpool centre-back since Alan Hansen.
Gomez is an equally crucial part of the back-line moving forward, however.