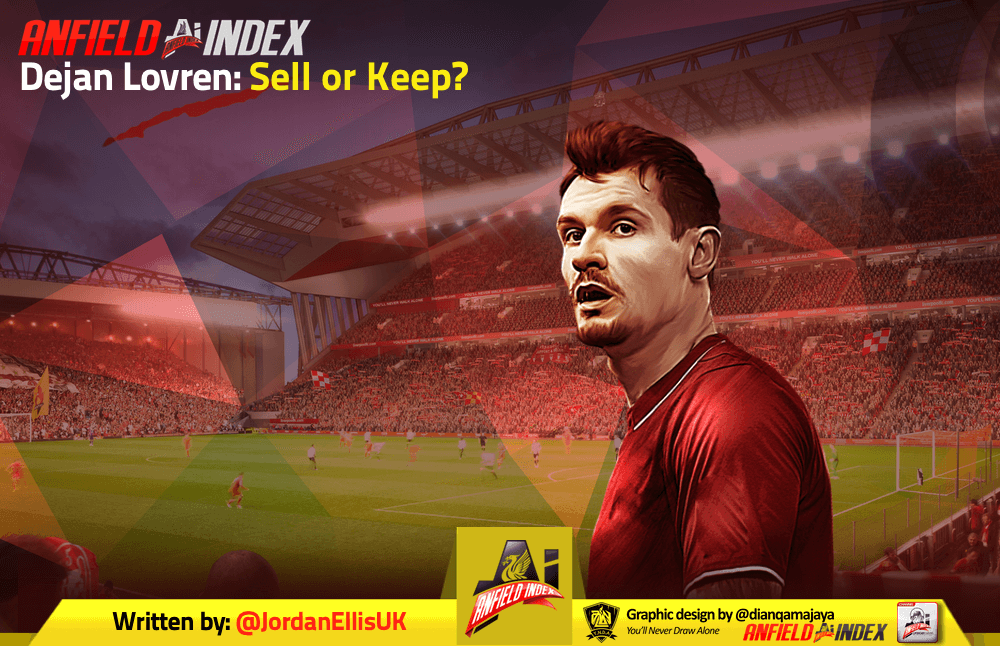 Dejan Lovren: Sell or Keep?
The 29-year-old Croatian defender has slipped down the pecking order at the club over the past season.
Long term injury and the performances of Joe Gomez and more recently Joel Matip have meant Lovren currently occupies the space of fourth choice centre back
With the summer transfer window almost upon us rumours are beginning to swirl about the players future at the club.

AC Milan are reported to be interested in Lovren who is thought to be available for a  fee of £25million.
The 29-year-old's time at the club has been up and down to say the least. He often puts together a string of world-class performances before making a calamitous error or having a terrible game.
The outspoken Croat will often talk up his ability in the media magnifying his errors and leaving the robust defender in the firing line for ridicule from the Footballing world.
A nervousness has surrounded his time at Anfield as fans simply do not trust him. The fear of a howler happening at any moment means he has never gained full support of the Liverpool faithful.
Another season on the bench could lead to Lovren becoming a disruptive influence in the dressing room as he looks to force his way out of the club.
His road to Liverpool was not the prettiest as he went toe-to-toe with the Southampton board over a move.
Any repeat of this could distract from a season where we intend to compete on all fronts.
About to enter his 30's this seems a key time for the club, as it may be the only opportunity we get to make our money back on Lovren.
With increasing age his value is unlikely to rise any further leaving us out of pocket when he finally does exit the club.
Maybe it is time to sell.
During this season the little part Dejan Lovren has played we have saw consistent, strong and assured performances from the centre back.
He like our other defenders seems to be improved by the presence of Virgil Van Dijk.
Lovren is undoubtedly a top defender and will continue to be so at whatever club he plays for. Having him in our squad is certainly a positive sign of strength in depth.
If he is willing to compete for his place next season, why would we sell him?
A long and loyal servant to the club Lovren can certainly never be accused of not giving 100% for the shirt.
His Liverpool career despite irregular errors, has been impressive. For large parts of his stint with the club Lovren has been a rock at the back despite defensive turmoil and questionable goalkeeping.
Although we would get a decent price for Lovren, we would certainly need to replace him.
In the current market, a replacement will likely demand a hefty price tag that see's us spending money on a defence that was the leagues best last season.
We already have four top central defenders. Perhaps we should keep them together, avoid unnecessary spending and concentrate our efforts on improving other areas of the squad.