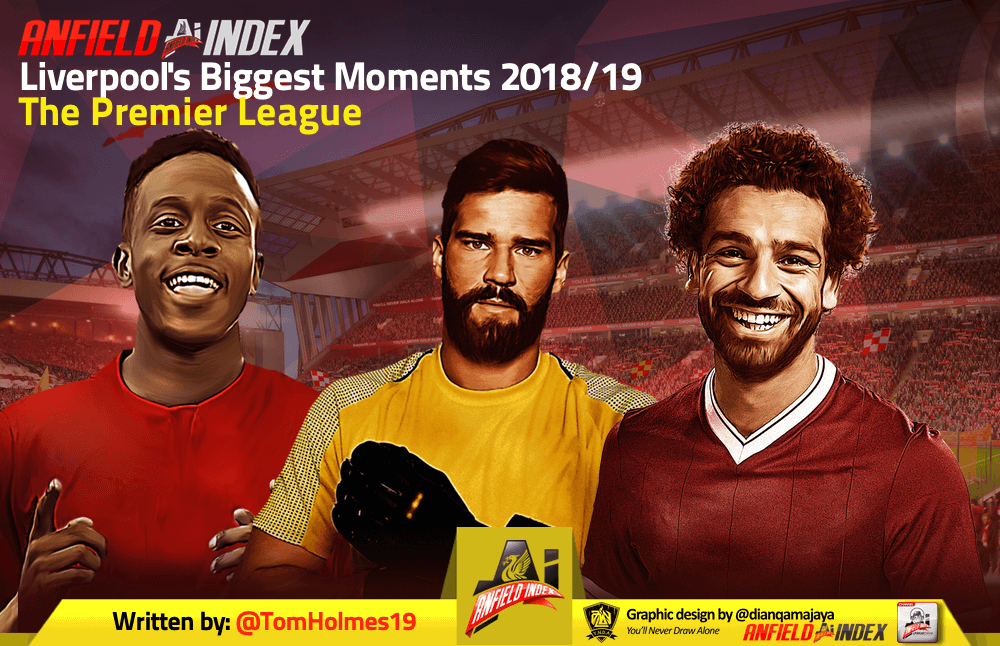 Liverpool's Biggest Moments 2018/19 - The Premier League
The 2018/19 season has been over for a couple of weeks now, and it's been a full month since the Premier League finished, so it seems like a good time to reflect on what was an absolutely scintillating campaign for Liverpool.
Now, I wanted this list of moments to be a bit different for a couple of reasons: there are obviously a few that speak for themselves, which could make elements of a top five list a bit predictable. So there are a few ways I wanted to make mine unique. Firstly, I'm doing this in two parts. This first part will be on the Premier League specifically, and the second part will be Uefa Champions League focused.
The second way I wanted to make it unique was actually picking a couple of moments that other people might not instinctively pick, and why I felt that they were important. The third way is putting my own personal reflection on the incidents themselves, rather than just explaining what happened in a jazzy way. Because the good thing about our personal experiences is that they're just that personal.
So without further ado, let's get into it…
The Divock Derby
I should clarify, these are going chronologically, but let's be honest, it's also just good to get this one out of the way early since I had to include it. Everton have been in equal parts a frustrating irritation and a hilarious mess against us in the last decade or so. Often they hold us to a draw, but often they lose in the most fun way possible – Mané ruining their Christmas, the 4-0 so savage it almost stopped being fun, etc.
And the Divock Derby was the absolute pinnacle of that Everton-ness. I didn't think that any victory against the Blues would top Sadio's last-ditch effort, Lovren rising from the smoke, Merry Christmas Everton, and all that jazz. But the mad lads actually topped it.
I fell out of my chair I was laughing so hard. It was the funniest, most farcical goal I could remember us scoring, and in such a pivotal moment, both in the game and in our season. It was one of those that I couldn't quite believe I was witnessing it. Pickford's blunder was so catastrophic, just a few moments after the memes mocking our own goalkeeper came out in force. Virgil looking away in disgust at his own shot. The whole thing was just absolute perfection.
And it's also so funny, looking back, at how moments can change a season. Before this game, Divock Origi was still seen as something of a joke, a late-game desperation sub that had reeked of desperation every time we tried it and hadn't worked once. When he scored and stole the derby, it was a fair question whether Divock could ever top what he'd done in this game.
And as it turned out, the Divock Derby might not even make his top three moments of the season, let alone his best ever moment in a Liverpool shirt. It's funny how things change.
The Burnley Job – Pt 1
To clarify, I'm not putting both of our comebacks against Burnley on this list, just the first one. But both were really very similar in a lot of ways, and for me, it was an absolutely pivotal moment in our season, and not just because of the injury to Joe Gomez.
Throughout a Premier League season, you're looking for signs. Signs of improvement, signs of what's to come, signs that your team has come a long way, and signs that your team has got what it takes to go the distance.
The Everton win was glorious. Absolutely glorious. But Liverpool needed to follow it up immediately. It would mean nothing to beat them (well not nothing but a lot less) if you followed that up with a 1-0 defeat away at Burnley, Burnley who have been a frustrating opponent before.
This had all the makings for a disaster. Liverpool made a lot of changes, struggled to break Burnley down, and then fell behind to an absolute joke of a goal. When you concede a nonsense goal off a set piece that clearly should have been ruled out, it feels like it won't be your day.
But Klopp rolled the dice, and his big names answered. James Milner pulled a clutch equaliser out of the bag, and then Firmino and Salah were introduced. Immediately, Bobby put the Reds in front. If that's not an impact substitution nothing is, with Mo snatching the assist for the third goal to kill the game.
A big feature of this Liverpool team this season has been their character, and whilst they'd already showed it earlier in the season against the likes of Chelsea and Everton, this was a display of Liverpool's mental strength on a level that was hitherto only potential. Turning in a second-half display of absolute class personified, under huge pressure, having fallen behind to a bogey team in sticky circumstances, and they ended up following one huge win, with another one.
This game was indeed a sign of things to come. A sign that this team could come back, a sign that they could throw off injustice and demonstrate pure class in the face of adversity. A sign that Klopp was getting better with his subs – although you didn't have to be a rocket scientist to work out we'd play better with Firmino and Salah on the pitch than off it. And it was a sign that this team were capable of something special.
Salah Sinks Wolves
Mo Salah is an absolutely special player, and it's worth remembering that he produced some moments of absolute quality throughout 18/19. I could highlight his sensational winner against Southampton or his breath-taking goal against Chelsea. His pulsating hat-trick against Bournemouth or even his multiple game-winning moments against Brighton.
But I'm picking Liverpool's 2-0 win against Wolves, and Salah's contribution to it, as the special moment that breaks into this list ahead of countless other Mo moments, for a few reasons. This was the game that broke my curse of always watching losing games with the friend I ended up watching the UCL final with. This was a game that I really, really thought would be where we slipped up. This was a game that gave poignant revenge to the Wolves fan in my group chat still giving me jip for the FA cup defeat.
But in all seriousness, this was a really tough game on paper. Liverpool ended up being the only top six team and the only team other than Huddersfield – no really – to do the double on Wolves, which demonstrates how difficult an opponent they are. And in a game where Liverpool struggled slightly to break down a terrific, stodgy, impressive Wolves team, their best-attacking player stepped up with a vital goal, brilliant assist, and huge impact on the overall game.
Moreover, this was the moment I believed that we had it in us to win the league. I'll never forget the 5-0 Spurs win in 2013/14 as the "oh shit we can do this" moment, and I think that whilst the shift was a lot more gradual this year, the 2-0 win over Wolves for me really was the "oh shit we can do this" moment.
Also, Virgil Van Dijk. What a monster.
Don't Anger Bobby Firmino
Arsenal did something incredibly stupid. They poked the bear. Their early goal on 29th December against the Reds ended up being little more than a consolation as Firmino took over, and Liverpool ran riot.
This was the game that bear in mind, a lot of people had pegged as one where Liverpool would finally bottle the league, buckle under pressure, as the prospect in taking a significant hold on the title race hung over them. Liverpool responded the only way that they knew how, they took Arsenal apart.
It was, as many have pointed out, a throwback to the Liverpool of previous seasons, as all semblance of control seemed to fly away and they simply brutalised Arsenal instead. Firmino scored a hat-trick, his two quick goals turning the game on its head before Liverpool put Arsenal to the sword.
This was probably Liverpool's most explosive, most destructive win of the season, in a moment where all of the pressure had been mounting on them, and they managed to release it in the most furious and frenetic way possible.
Now it won't escape your attention that four of the five moments I've just mentioned are all from December, and I won't lie that it was my favourite part of the PL campaign. We were hitting our best form, swatting aside opponents and generating real Championship form. And the Arsenal game felt like the culmination of a month of really hard and really impressive work. But there's one moment left to come.
Divock Keeps Us Alive
Liverpool were still alive going into the final day of the season. That was the one thing that kept running through my head on Saturday night and Sunday morning. Divock Origi had produced another moment of madness, and kept his team alive in the title race, by hook or by crook
This whole scenario was classic Divock. Liverpool were nowhere near their best, as Dejan Lovren, in particular, kept making mistakes to let Newcastle back into the game. Liverpool looked a bit ragged, very tired and needed someone, anyone, to pull something out of the bag to keep their season alive. At this point, the Champions League look sunk and the title was slipping away.
But Divock Origi did what Divock Origi has always done, the thing that he's best at – man scores goals.
Not gonna lie, this is my favourite moment of the season. I was pretty drunk at the time, in a café in Amsterdam surrounded by some confused Dutchmen, having moved from a bar where there were a lot of confused Asian tourists as some lunatic in a Liverpool shirt screamed at the TV instead of listening to the music.
It was a feeling of waking up with hope, where it had looked incredibly likely that there would be none. At a stage of the season where every goal, every moment mattered, Divock delivered probably the biggest goal and the biggest moment and took Liverpool right to the last weekend, and the final roll of the dice.
Sadly, it wasn't to be, but what a ride it was.