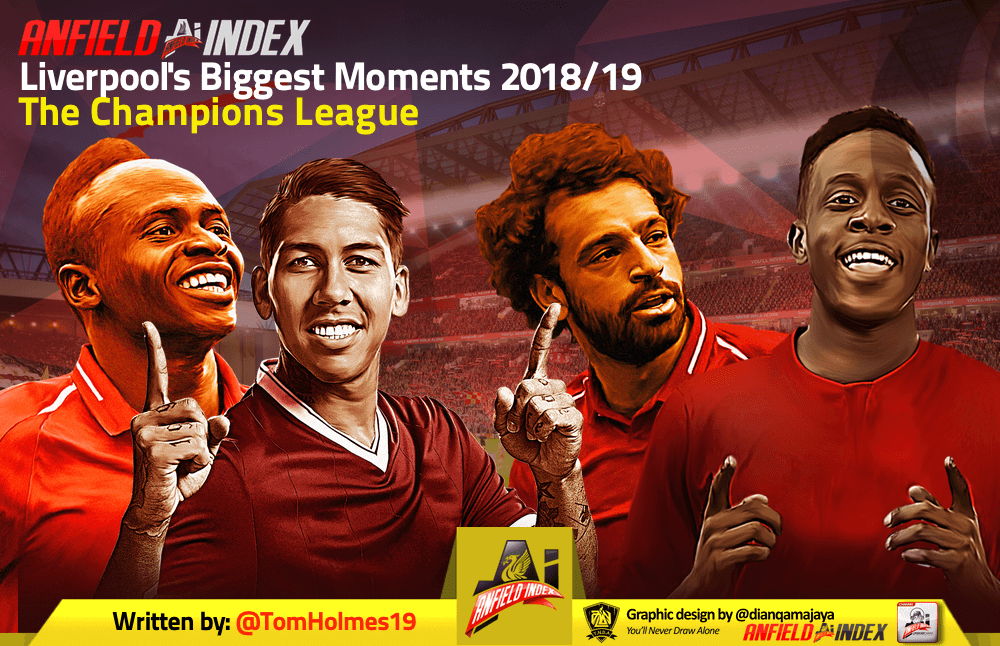 Liverpool's Biggest Moments 2018/19 - The Champions League
So in part one of this series, I wrote about Liverpool's top five moments in their Premier League season, from my perspective. With the UCL, it's maybe a little easier, and at the same time, a little harder, to produce a top five. On the one hand, it's very easy because there are pretty much five standout moments in the campaign – so I'm indeed going to go with something along the lines of the five moments that you might expect. But on the other hand, it's a bit harder, because it's harder to say something original about five moments when everything has been said about them. I will, nevertheless, endeavour to try. So, without further ado …
One-Eyed Bobby
The absolute maniac. Only Bobby Firmino could nearly have his eye gouged out in a disgusting incident that nearly cost him his sight in that eye, only to come back three days later and not only make the bench but come off the bench to score a sensational winning goal against one of Europe's best teams.
And to top it all off, the lunatic did an eye-patch celebration. Bobby Firmino is a special talent, we all knew that already, and his personality is a big part of what endears him to Liverpool fans, and this goal was everything Bobby Firmino – the talent on the pitch to score the goal, the fact he stepped up in a big moment, the resilience and ability to throw off injury to actually be on the pitch when it occurred, and the celebration was just the icing on the Bobby Firmino cake.

In terms of what it meant? Well, it continued Liverpool's superb start to the season, it triggered the start of a 100% group record at Anfield, a terrific home record that would culminate in, well we'll get there. This was a tight group, a difficult group, and one that Liverpool had to battle and scrape to get out of. Beating PSG at home ended up being a much-needed result, but at the time, it was merely a deserved win to get Liverpool off to a flier. Either way, it was a terrific result and remains one of the Reds' best wins of the season.
Salah 1-0 Koulibaly
We all know about Alisson Becker's incredible contribution to this game, as his stunning late save kept Liverpool in the Champions League, but before that, there was a lot of football to be played, and one man who played it better than anyone was Mo Salah.
Liverpool could and probably should have won this game by more than the one goal that they did, but it was a testament to Salah's sheer quality that Liverpool got themselves in a situation to take Napoli apart. Kalidou Koulibaly, one of the world's best defenders, gave Salah a really good game for 90 minutes, but Liverpool's elite Egyptian forward got the run on him once and punished Koulibaly by giving Liverpool the lead.
This game came right in the middle of the "Salah hasn't performed in big games" narrative that followed him in the front half of the season, and really all season to be honest. This was probably Salah's biggest and best performance of the season, and it certainly was up until the point that it occurred.
For this particular game, I was in Berlin with my parents. They were knackered and had gone to bed, so I was watching on my iPad in the adjacent room, trying to keep the noise down whilst suffering a significant amount of heart damage, as Liverpool missed chance after chance, and it really felt like it was going to be costly. Luckily, in the end, it wasn't. It's crazy to think but back then, I'd both accepted us going out of the Champions League, and was almost relieved that it wouldn't affect the back half of our season as we chased the PL. Funny how things turn out.
Sadio Lights Up The Allianz
Sadio Mané is one hell of a player. It wouldn't be right to do any piece about the highlights of Liverpool's season and not include Sadio somewhere, such was the sheer level of quality that he consistently brought to the table. After Christmas, he was on a hot streak, and unfortunately for Bayern Munich, their Last 16 tie against the Reds came slap bang in the middle of that hot streak.
I wouldn't put the two-legged victory down to Mané exclusively, given that Liverpool were absolutely exceptional defensively across both legs, Virgil Van Dijk in the second leg scored and assisted too, and overall Liverpool outplayed Bayern over the two legs, in a real statement of intent victory. Of all the wins that Liverpool produced in a terrific Champions League campaign, I reckon that the one over Bayern most established their credentials as a top side.
But dominating matches is one thing, and winning them is another, and to win matches against top sides you need your big players to step up, and Sadio did just that. His first goal was absolutely genius, ruthlessly exposing an error of judgement by Neuer with a phenomenal touch, turn and finish.
His second was one of Sadio's most underappreciated strengths, the header, as he nodded home in fine fashion to seal the win and put Liverpool into the quarter-finals of the Champions League. But Salah's role in the third goal is one that maybe isn't appreciated enough, as it was a moment of real quality from him in the middle of a stretch where he wasn't consistently delivering quality. A terrific display from the Reds.
Divock Wasn't Even Looking
I've told this story before, but I was in Amsterdam airport. I was tired, a little bit grotty, and waiting to come home to do the Rate Don't Hate podcast for the incredible 3-2 win over Newcastle that I mentioned in the PL equivalent to this piece. It was at that point that I got the Joyce notification clarifying that both Roberto Firmino and Mo Salah were confirmed to miss the second leg of Liverpool vs Barcelona. At which point I thought – oh okay, I guess we're going through then.
The narrative is one of the most powerful devices in football because teams allow it to suck them in. I genuinely felt that our chances of overcoming a 3-0 deficit to the best team in Europe were better without our two best players because it felt like it would be that kinda night. The kind of night where absolutely anything could happen.
I'll be honest with you, I spent most of the night in a weird, stunned malaise. From the moment Divock scored his first goal, I realised we were going to do it. I couldn't quite believe what I was watching, it was like we were living in a dream world. The biggest reason I was so confident was that time seemed to stand still. To score just four goals in ninety minutes felt like a lifetime of time.
I was speechless at Gini's double, I just couldn't even sum up any words or emotions, and then of course, Divock and Trent produced one of the best moments in Champions League history. They locked eyes, they realised. Divock pointedly looked away, waited for his moment, and then delivered the crucial blow.
It's funny, it was only when Liverpool were 4-0 up that the possibility of us losing really hit me. I didn't feel nervous at any point until the last ten minutes when I realised that we probably weren't going to score a fifth and that if we conceded again, we were done. It didn't feel like a Liverpool game to me at all until it was over, merely something that I had experienced. It was an incredibly weird night, but ultimately, one that will go down in history as Liverpool's greatest ever European night at Anfield.
Let's Talk About Six, Baby
Twenty minutes after full time, Jürgen Klopp was stood on the pitch in Madrid, admitting that if he was in Germany, he would be drunk by now. He was, of course, drunk by the time that he was sat on an open top bus the next day, counting to six on his fingers. Our manager, ladies and gentlemen. But I was drunk too, watching Liverpool's triumph in Madrid in a bar, surrounded by good friends, all of whom were Reds fans.
For me, it was a real case of everything coming full circle. The friend who had gotten me into football, the friend who had gotten me into the Reds, was stood by my side as we lifted our sixth European title.
In terms of moments from the game, it's fitting that once again, it was Divock Origi who delivered the killer blow. In many ways, it's been Divock Origi's season, a truly extraordinary feat for a player who has played as few minutes as he has. The sheer relief of the goal is the thing that got me, as 90 minutes of pure tension erupted into joy, ecstasy and pride.
It was also fitting, of course, that Mo Salah got his moment in a Champions League final, having been robbed of the chance to shine on the biggest stage the previous season. And there were also standout performances from Alisson, Van Dijk and my personal man of the match, Joël Matip, once again showing he's an incredible value for the absolutely nothing Liverpool paid for him.
One final anecdote to end on. The moment Divock was subbed on, I asked my friend who was with me if Divock Origi was still in his Twitter bio because Divock was about to win us the Champions League final and he'd want Divvy in there. He chuckled to himself, but for once, I was right. Divock Origi did win Liverpool the Champions League final. So, until the season begins again, there's only one thing that I want to talk about. And that's six, baby.