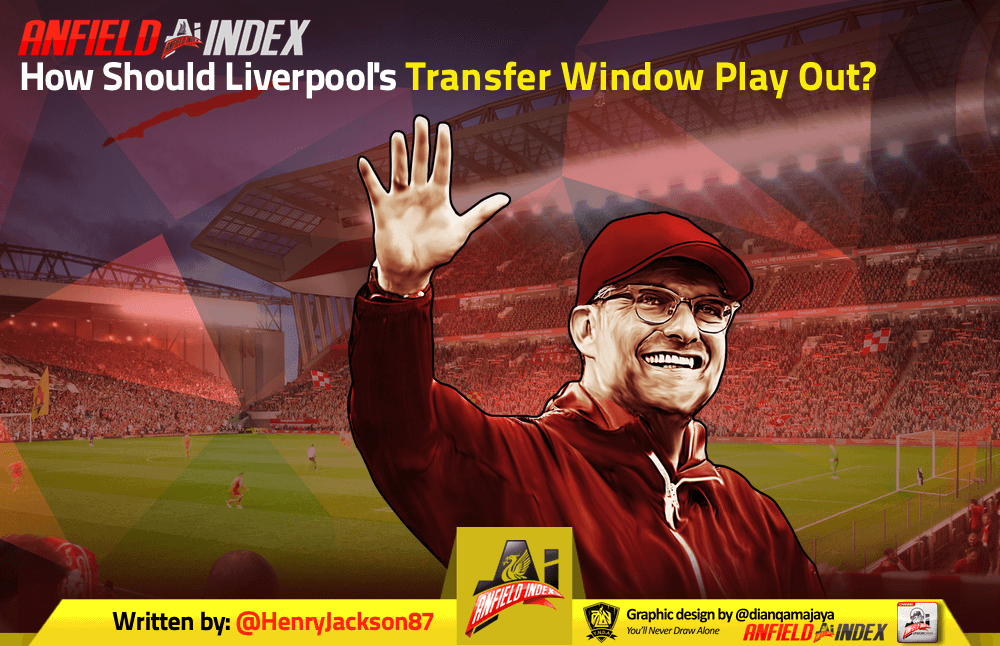 How Should Liverpool's Transfer Window Play Out?

Who else remembers when Liverpool were European champions just three weeks ago, and everything seemed good in the world?
Then the transfer window came along – a period of any year that is fast becoming unbearable, having seemed far more enjoyable in the past.
When it comes to the Reds' upcoming business, it is no surprise to see opinion split on the matter.
On one side, you have those who see this as one of the most important summers in the club's history, kicking on after their unforgettable Champions League success.
Disastrous summers of the past loom in the back of supporters' minds, most notably 2002, 2009 and 2014.
On all three occasions, the Reds failed to progress after near-title-winning campaigns, going backwards at a rapid rate under Gerard Houllier, Rafa Benitez and Brendan Rodgers, respectively.
There is a fear that similar could happen this time around, especially as reports emerge suggesting Jurgen Klopp is not desperate to spend big in the coming weeks.
The 52-year-old is believed to think his squad is 'complete', according to a report in Bleacher Report, which has predictably raised a few alarm bells.
The consensus seems to be: why wouldn't Liverpool splash the cash, bring in plenty of top-class names and make the very most of being a club so many would love to join currently? Why sit back, take the risk and end up ruing a wonderful missed opportunity?
In the opposite camp are those who have complete faith in the job Klopp and Michael Edwards continue to do in the transfer market, allowing them to get on with it without fretting throughout the summer.
Their record since the German arrived at Anfield suggests this faith is merited when you look at some of the magnificent business that has been conducted.
Alisson and Virgil van Dijk were regarded as overpriced but are now worth double their transfer fees, transforming Liverpool from a team mocked for their defensive frailties to one of the best in Europe at the back.
Sadio Mane and Mo Salah were masterstrokes, neither of whom felt glitzy at the time but have since proven to be among the best wide men in world football.
Andy Robertson was an unfashionable purchase who is now a world-class left-back, Fabinho has solved the defensive midfield issue, Naby Keita will prove to be a game-changing addition and the likes of Joel Matip and Gini Wijnaldum have also been positive buys.
The list goes on, and you could count on one hand the number of failed signings, namely Loris Karius and Dominic Solanke.
There are strong arguments from both sides, but the truth is that there is a middle ground in all of this.
Anybody not wanting Liverpool to spend this summer, pushing on and staying in touch with Man City, can rightly expect to be accused of lacking ambition.
It is clear that a few areas of the pitch are in need of strengthening, and with the money available and the club in its healthiest position in years, acquiring top talent shouldn't be too difficult.
A goalkeeping deputy to Alisson is needed, assuming Simon Mignolet moves on, while Robertson will also require a new backup when Alberto Moreno leaves.
Another centre-back wouldn't go amiss, unless a versatile figure who can play both centrally and at left-back is brought in, such as Bournemouth's Nathan Ake.
Meanwhile, the addition of a vibrant forward or a No.10 is essential, if not both, in order to ease Salah, Mane and Roberto Firmino's workloads and add the sort of guile David Silva and Kevin De Bruyne offer at City.
The midfield looks well-stocked, though, barring that sprinkling of magic in the final third. Even then, it could be argued that Keita and Alex Oxlade-Chamberlain will provide that creative spark when they are both fully fit.
Perhaps the biggest argument working in the favour of those wanting lots of business is injuries – something Liverpool benefited greatly from last season.
The likes of Van Dijk, Salah, Mane and Firmino all avoided long-term spells on the sidelines, whereas City still managed to win the Premier League title, and a domestic treble, despite losing key men De Bruyne and Fernandinho for large chunks.
Failure to bring in a bordering-on-world-class forward – Lille wide man Nicolas Pepe, for example – would look desperately naive if the injury curse suddenly struck one of the front three.
Similarly, a sustained absence for Van Dijk could leave Liverpool with Matip, Joe Gomez and Dejan Lovren to choose from, the latter two of whom are injury-prone.
The fear of seeing such a fantastic Reds outfit stand still at a huge moment, allowing rivals to catch up with them, is an understandable worry.
Klopp and Edwards have done more than enough to prove that their summer plans should not cause a meltdown, however, regardless of whether it results in less business than many hope.
Ideally, several new players sign on the dotted line – let's say four, to be more precise – perfecting a squad that is already formidable.
Add in the superb Rhian Brewster, who could explode onto the scene next season, as well as the possibility of Adam Lewis and Ki-Jana Hoever coming through from the youth ranks, and Liverpool should be well set.
We're all different, but a word of advice: enjoy recharging the batteries this summer, rather than getting too pent-up about the Reds' affairs.
This won't be like those past summers of regression – Klopp and Edwards have it sorted.