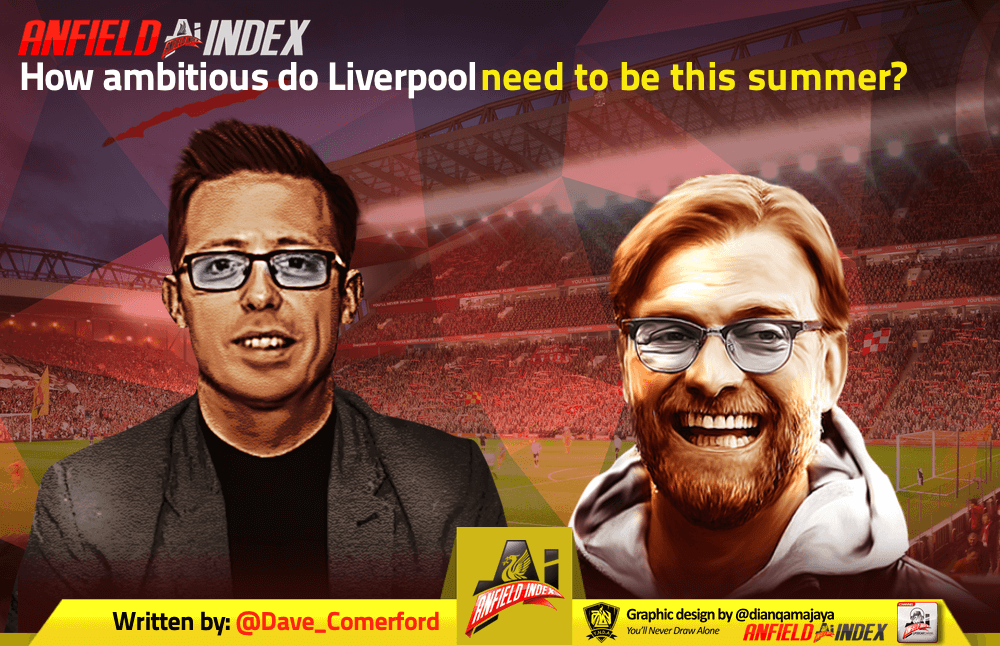 How ambitious do Liverpool need to be this summer?
Most Liverpool fans are still in the process of readjusting to normality after the glorious events of Madrid, but formal preparations for next season will soon be underway.
The first members of the squad will reconvene for pre-season training in only two and a half weeks' time and yet, all is quiet on the transfer front.
As ever, there have been murmurs from sources across the continent, but we've yet to really be presented with concrete information on a target from a widely trusted source. For the most part, the big guns of LFC journalism have been shooting down emerging speculation.

Last summer, it was reported that Jurgen Klopp wanted to piece together his squad as quickly as possible to give them adequate time to adapt, but on the face of it at least, that urgency has understandably faded.
The broad silence doesn't necessarily indicate that no moves are being made. Last summer, for instance, the mainstream media only caught wind of the club's interest in Fabinho a couple of hours before the Brazilian was posing for his announcement photos.
Indeed, the Virgil van Dijk debacle may have convinced officials to conduct their business with a much greater degree of secrecy.
Even amid this paucity of reliable information, there has been an overarching message: Klopp and his team perceive little need for big investment, and are after auxiliaries rather than starters, chiefly in the areas of full-back and attack.
The central question surrounding Liverpool's transfer window, which I will look to answer, is whether the European champions ought to produce a real statement signing or stick to the shrewder approach upon which they built the foundations for success.
I'll focus on the hunt for another attacking option as the key area here. Clearly, we can't expect any sort of big-name addition in the full-back department, with any new arrival facing the reality of very limited game-time behind Andrew Robertson and/or Trent Alexander-Arnold.
I'm also going to steer around the creative midfielder discussion. Liverpool scored enough goals last season – only six fewer than an often rampant Manchester City side in the league – to underline that they don't have any problem to carving out chances, and anybody who watches our games will know that Klopp's system looks to the full-backs rather than advanced midfielders to break down the opposition.
Jurgen Klopp, in truth, looked to have abandoned the search as soon as the Nabil Fekir deal fell through, but it seems he is actively interested in bolstering his frontline options. Which kind of player, then, should he go for?
Let's consider the advantages of splashing the cash on a top talent, a la 23-goal Lille sensation Nicolas Pepe.
First and foremost, Liverpool have a critical opportunity. The squad is united in its confidence of a succession of silverware after finally tasting major glory, and that's certainly attainable. This team could go on to be the best on the planet. But might excessive caution in our dealings see this opportunity squandered?
The Reds are right at the apex of the world footballing pyramid, and teams of that level, historically and presently, are characterised by their utter relentlessness. They would all look at a tally of 97 points not in a self-congratulatory, but determined, manner. They would refuse to settle for it.
A big-money deal, like we do on sbobet mobile, for a forward with real quality would only emphasise Liverpool's capacity, and intention, to reach three figures.
And consider City's approach. The signs are that they will be hurling money at their championship-winning group over the next month or so. At the time of writing, they are poised to launch a €60million swoop for the highly-rated Rodri to succeed midfield anchor Fernandinho, a year on from splashing a similar amount on Riyad Mahrez to augment their already-fearsome attack.
They also appear to be on the lookout for a world-class partner for Aymeric Laporte following Vincent Kompany's departure, perhaps plugging their only remaining weakness.
In short, they're only getting better. Why shouldn't we match that ambition when we have the tools? Our owner recently vowed to provide whatever funds necessary to win the Premier League, and a great deal of additional money will be generated through the sale of fringe players.
One concern might be that top forwards will shy away from joining a club with an established, nigh-on irreplaceable, front three.
I would counter that that didn't stop City from signing Mahrez, that we have so many competitions to juggle that they could be promised a healthy amount of minutes and that we simply have to bridge what is a significant drop-off between the trio and their deputies to limit the damage inflicted by the kind of injury we've thus far been fortunate to avoid.
So what are the arguments against a big spend? Perhaps the best is that a shrewder approach, 'boxing clever' as it were, has been rewarded. We haven't been daunted by lofty price-tags placed on key additions, but in other instances, we've sought out the best deals, for example, the effective of trade of Kevin Stewart for Robertson or the activation of Xherdan Shaqiri's £13million release clause.
It's also all about finding players who fit the system, and the very best may not. Timo Werner has been consistently linked with the Reds, but it is thought he prefers playing in a front two, and so perhaps Anfield is not the best destination for him.
Fans are hungry for another blockbuster signing as a statement of intent, and there'll probably some frustration if such a deal fails to materialise. But ultimately there is cause to trust Klopp however he chooses to proceed.
Indeed, the manager might end up looking to Divock Origi, Xherdan Shaqiri, Harry Wilson and Rhian Brewster, all of whom have produced moments of decisive quality or of immense promise to cover for his attack.
And if caution prevails, it must be said that the tally of 97 points, and an all-conquering run to Champions League victory, suggest a need only for tweaks to the squad.
To my mind, the arguments on each side are compelling. But the overall conclusion is this: Let's proceed with our nifty strategy for sales, and for bringing in defensive cover, but when we come to make our move for a new attacking option, let's make a signing which both underlines and secures our return to the footballing elite.
Liverpool's current squad has plenty of depth. Now it's a matter of turning that into strength-in-depth.