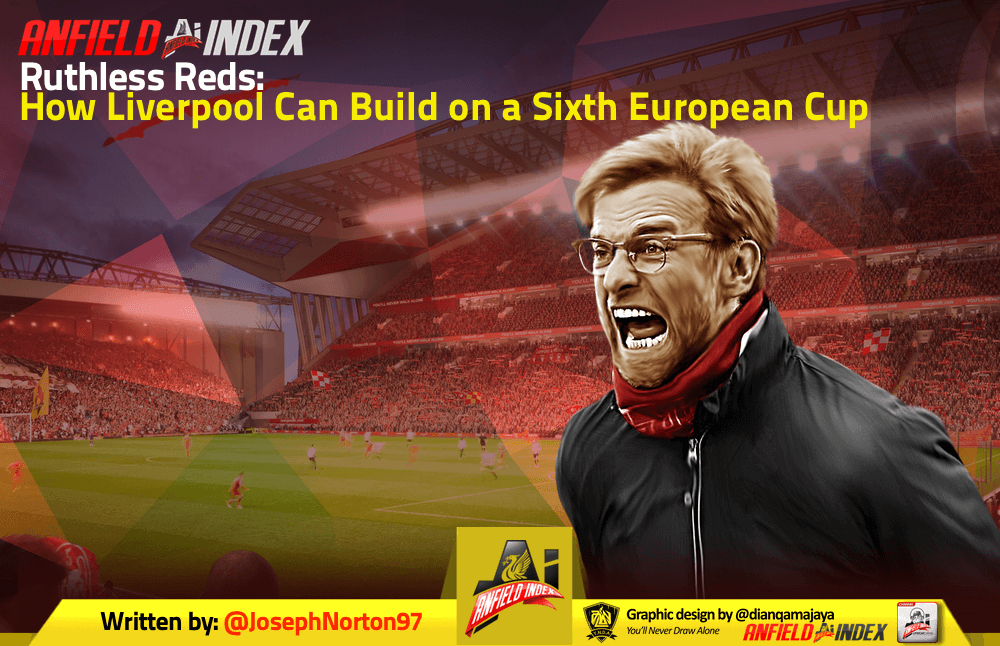 Ruthless Reds: How Liverpool Can Build on a Sixth European Cup
Having still not come down from the high of watching the mighty Reds lift number six, it's easy to cast a sentimental judgement on the squad which gave us a night to remember in Madrid. However, this summer is not a time for Liverpool to rest on their laurels. From winning the Champions League in 2005 to finishing second in the league in 2008/09 and 2013/14, the Reds have found themselves in extremely strong positions in the past but we've never truly capitalised on them. This summer is a fantastic opportunity for us to strengthen once more and to close the gap on Manchester City. It's a time for Liverpool and Jurgen Klopp to be ruthless.
Two players whose futures have created plenty of debate are Adam Lallana and Dejan Lovren. The reality is there shouldn't even be an argument for keeping either players. To put it simply, neither of them are fit when they are most needed and as Si Brundish likes to highlight, availability is one of the most underrated abilities. And… this is so true!
If we look at Lovren, a man I have defended in the past,  I've always felt he is a good fourth choice centre-back for a side who has aspirations of qualifying for the Champions League. Unfortunately for the Croat this is no longer our aim. We want to defend our European crown and hunt down City for that illusive 19th league title. In general, I do think it can be a little harsh to judge a players performance if he hasn't started for a number of weeks but Lovren's displays against both Porto and in particularly Newcastle were nothing short of embarrassing.

At the tail end of the season he was bullied by Salomón Rondón and Liverpool were fortunate the Toon army weren't more clinical on the night. Against Porto it seemed as though his lack of pace was exposed time and time again. With Joe Gomez and Joel Matip both impressing during extended runs in the side last season the gap between Lovren and the rest of the centre-backs has only increased. All three are quicker than him, better defensively, more progressive on the ball and most crucially make better decisions than him. If Klopp's tendency to play Gomez at right back when Trent Alexander-Arnold needs resting continues into next season then Lovren becomes far more than just your average fourth choice CB. Everytime Lovren takes to the field it becomes more apparent this Liverpool side has evolved into a force that he no longer possesses the quality to be part of. This summer is the right time to part company with the Croatian international.
Like Lovren, Lallana's availability has been nothing short of abysmal for the past two years as statistics from Si Brundish highlight. The Englishman missed 20 games through injury last season with Lovren unavailable for 22. However, when the Croat was available he started 48% of the time suggesting Klopp trusts him to fill in when necessary. In contrast, Lallana started just 19% of games he was available for. A damming indictment on how far he has fallen down the pecking order. Lallana endured a torrid time with injuries in 17/18 as well. He was injured for 35 matches compared to Lovren's eight. These statistics reinforce the perception that it seems everytime we've had problems in midfield and could do with the Englishman to fill in he's been injured.
Although it's great to see Lallana putting in the hard work ahead of pre-season the reality is his body has already beaten him. I'm not for one minute suggesting Lallana is on the cusp of retirement but Jurgen Klopp's midfield is now full of dynamism and strength – physical attributes Liverpool's number 20 no longer possesses. In the 2016/17 season Lallana's influence on the side was unquestionable. He was arguably the best presser in the side and the man who seamlessly linked midfield to attack. Unfortunately since that successful season the Englishman has been hit with injury setback after injury setback. Lallana has never been gifted with pace but two years ago he still possessed fluidity in his movements – a spark which seems to have disappeared.
When we take a look at his output, the stats are pretty damning as well. If we're being honest he's a creative, attacking midfield who doesn't score goals and creates very little. What use is that? Last year he played 465 minutes in the league and failed to score or assist a goal. For context, Xherdan Shaqiri played 1,059 minutes finding the net six times and creating three goals. The season before last Lallana managed just 235 minutes in the league, again contributing no goals or assists.
His lack of output and availability are strong enough reasons alone to sell Lallana especially at a club which has the kind of ambitions Liverpool now have. Therefore, when you combine the two it's clear to see there is no rational argument to keep him. That's not even a case of being ruthless….simply honest.
Liverpool aren't in a position where they can afford to carry squad players because they 'get on well with the rest of their team-mates'.  All of our players must be able to positively contribute to the side and be relied upon when needed. There's every chance the Reds won't be as fortunate with injuries next season, therefore, having the most competitive squad possible is essential. Because of this, you can't justify the reasoning for keeping either Lallana or Lovren considering how well our recruitment team have performed in recent years when signing new players .
Knowing trust and loyalty are two values which Klopp rates extremely highly I don't expect it to be an easy decision for our boss to let these two players leave. Both have had times during his reign as manager where they have been regular first team starters making the decision all the more harder. Having said this, it's clear to see the arguments to keep either Lovren or Lallana are limited at best. Allowing Alberto Moreno and Daniel Sturridge to leave this summer was a decision made much easier with the pairs' contracts running out. Showing Lallana and Lovren the same exit door is going to be far harder for the boss due to the close relationship he builds up with all his players. However, if he wants to ensure he is able to take Liverpool to the next level Klopp must be ruthless. There is no room for sentiment this summer.