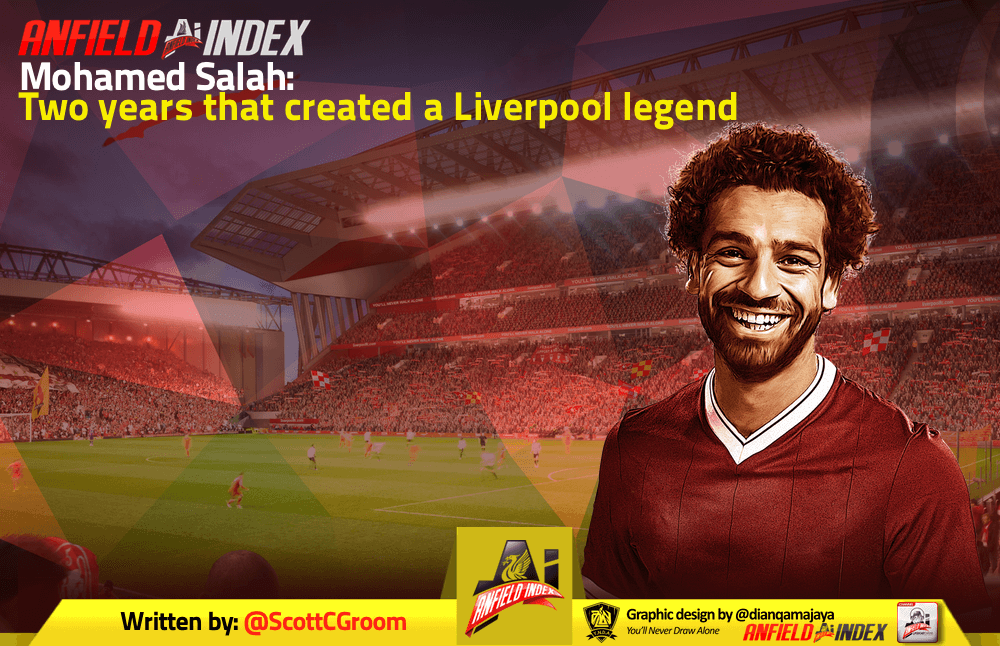 Mohamed Salah: Two years that created a Liverpool legend
When Mohamed Salah signed for Liverpool on the 22nd of July 2017, it's fair to say that more than a few eyebrows were raised.
At the time, what seemed like a fairly hefty fee of £36.9 million – which was at this stage a club record fee – it's only fair to say Salah's signing failed to convince everyone at first.
Fast forward two years, two golden boots, two sensational seasons and one Champions League winners medal later, and Salah is an Anfield icon.

So what is it that turned a man who Chelsea fans deemed a flop into a superhero to everyone in the Kop?
Let's take it right back to the beginning.
When Jose Mourinho signed Mohamed Salah from FC Basel for £11 million in 2014, he went on to criminally under-utilise Salah.
He was used as a bit part player and an out-and-out winger rather than as more of an attacker as we're used to seeing him operate as at Liverpool.
He was never given a real chance to shine, used only on the odd occasion and never being allowed a fair run in the team, meaning his impact was always going to be limited.
Salah fast started to shake off the reputation as a flop when he moved to Italy, plundering 43 goals in 109 appearances for both Fiorentina and Roma.
It was during this spell that he earned the reputation as a devastatingly fast, skilfull and dangerous attacker capable of making any defence nervous, thus attracting the interests of Klopp, Edwards and co at Liverpool.
But still, Salah was not the finished article and had some growing to do upon his return to the Premier League.
Unlike during his time at Chelsea, Salah was utilised at Liverpool more in a position that plays go his strengths as part of a front three, allowing him the freedom to move in from the flanks and influence play through the middle.
He sharpened his eye for goal, too, breaking Alan Shearer's long-standing record for goals in a league season in his first term in a Liverpool shirt, as well as displaying the talent and prowess of a player of world-class standards.
This has continued in his second season, and his goal in the Champions League final which ultimately set Liverpool on their way to glory in Madrid has sealed his status as an Anfield legend.
While Salah's success is largely down to his undoubted ability and skill, a lot has to be said for how he has been nurtured by Jürgen Klopp since his arrival on Merseyside.
He has a manager who not only believes in him but wants to help him improve in the minute details that have taken his game to the next level.
He's learned how best to utilise himself in the Liverpool team set up and use his teammates to help maximise his game.
He's thrived off Klopp's leadership, tutelage and compassion and excelled on the pitch.
And it's down to Klopp's management of Salah and the team to have found him that place and worked out a system which has made Salah into one of the world's most feared attackers.
And to think that Salah won't continue to improve is a dangerous game.
His defensive work rate was a notable addition to his game this season, making him even more of a complete player. Add this to his deadly pace, clinical nature in front of goal, skill, strength, movement, intelligence and a fantastic relationship with both Mané and Firmino and we have the world beating Mohamed Salah that we know today.
If he continues on this path of improvement, there's no telling as to how good he can become, but if his first two years are anything to go by, Salah is only going to get better under Klopp and that's an exciting prospect for Reds everywhere.