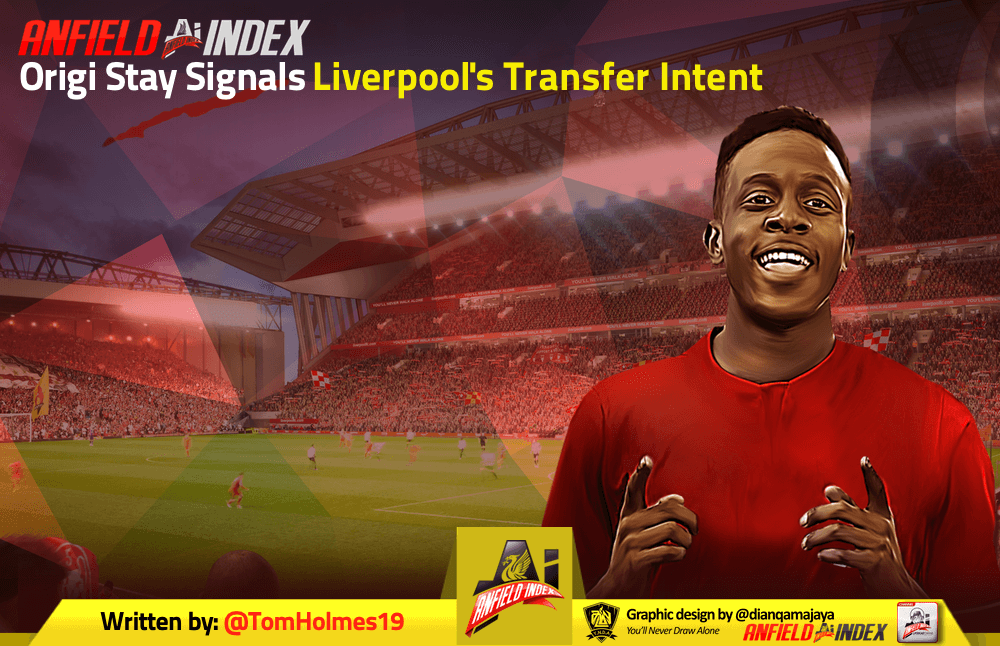 Origi Stay Signals Liverpool's Transfer Intent
Divock Origi will be staying at Anfield for at least one more year. Whilst it remains unclear whether the Belgian will sign a new deal with the Reds, although Liverpool are certainly hoping that he will, what is clear is that no offers for Origi will be entertained in this window, even if that means losing the player on a free next summer.
There are a number of interesting aspects to this story. The first thing to note is that it's a huge turnaround for Origi, who has had a genuinely unbelievable season at Anfield given the circumstances. With Daniel Sturridge seemingly ahead of him in the pecking order at the start of the season, Origi has fought back impressively and contributed on numerous occasions with genuinely incredible goals at key moments. Origi's moments don't need to be described here, any Liverpool fan knows them off by heart by now, but he's been able to turn his Liverpool career around despite playing less than 600 minutes in the PL and UCL combined.
Of course, Origi is in many respects the ideal backup for Jürgen Klopp, so it's not necessarily a surprise that he's sticking about. He can operate in a few positions, he works really hard, he accepts that he's never going to be able to challenge the front three, but can nevertheless score vital goals when given the minutes to do so – Origi has in fact consistently scored goals throughout his Liverpool career, that aspect of his game has never been in doubt.

I think there is a broader question of whether or not Origi is actually good enough to be a backup forward at Liverpool (I certainly think he's better equipped than most do) and whether or not he is better than he's potentially given credit for (again I think he is. What I think is less questionable is the suggestion that Origi is unlikely to ever be worth more than he is now.
At 24, Origi is close to hitting his prime, and is fresh off the back of a season where he made significant contributions to both a Premier League title race and also a Champions League victory, including scoring the winner in the final of the latter. He was already worth over £20m before that, and his value is only going to climb this summer, especially if Liverpool can tie him down to a new deal (maybe even one with a release clause in theory – in practice that simply won't happen).
So the question of whether keeping Origi around goes beyond just the job he does for the team and whether or not we could bring in someone to do a better one, has to factor in the fact that he may never be more valuable to the club.
But these questions are almost moot at this point, although they do feed in the broader context of the area I'm looking to explore. Klopp wants Origi to stick around, and that's by and large down to a combination of his attitude and what he's done on the pitch. So whether or not Liverpool should keep Divock Origi, they're going to.
And this feeds nicely into a broader conversation about the inherent tension amongst our summer window. To many, Liverpool rewarding a player like Divock Origi who has demonstrated his worth to the team in crucial circumstances and changing our transfer plans to accommodate him is everything good about Klopp as a manager, and exactly the reason why Liverpool are currently the Champions of Europe.
It's the cornerstone of Klopp's transfer policy in many respects, and is why we're unlikely to see many imports this summer, as the manager feels his team are already good enough to compete at the top level and doesn't feel that we need to spend lots of money on replacements for the likes of Matip, Milner and Origi, when we have Milner, Matip and Origi.
On the other hand, there are plenty of Liverpool fans who feel that we need to strike whilst the iron is hot. Liverpool haven't been this attractive a prospect for young talent in decades, they have plenty of money available to spend, and still require some depth to have a squad as multi-faceted and talented as the likes of Man City that we're competing against, in a summer where City are expected to spend big to bolster their own already juggernaut-esque side.
As such, the argument that selling Origi for £30m+ and replacing him with an elite talent for £50m (and they're out there) would represent a much better prospect than simply holding onto the Belgian because he contributed to an historic season. The word ruthless is a fair one to throw around in this context, and one that I've seen used multiple times.
To be clear, I don't think Liverpool keeping Origi precludes them from signing anyone, nor do I think that they necessarily need to sell Origi to show ambition in this transfer window, but you can see how keeping hold of Origi and not even entertaining any offers fits into the same ideology that frustrates some fans.
And these are frustrations that I sympathise with. I want to see Liverpool go out and build off the success of this season, and kick on to even greater heights. And I agree that spending money on big names or talented players is undeniably a good way to do that.
But whether or not it's necessary is a different question, and I also think it's a good question whether we do a disservice to those like Divock Origi, who have demonstrated that they're capable of contributing to a title challenge.
Every transfer window, there's a segment of fans frustrated with Klopp for his habits in the transfer market, and that's not likely to change any time soon, but time and again the manager has demonstrated that he knows what he's doing, and the club know what they're doing.
What this means for Divock Origi? It's hard to say, but I for one am happy to see him at Anfield for another year, and hopefully he can once again contribute to a major trophy win, or maybe even more than that.