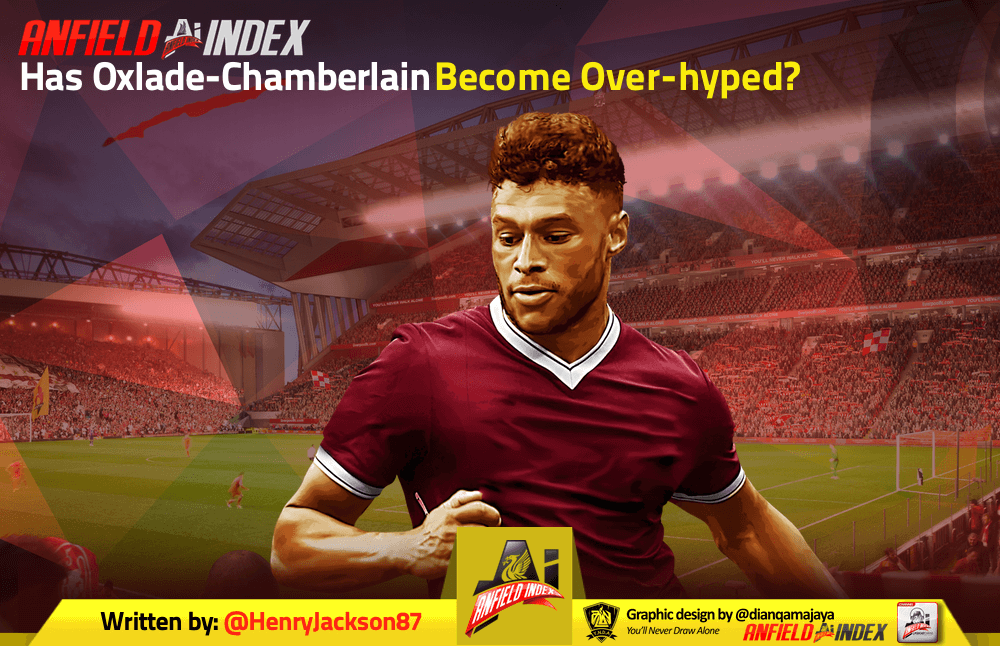 Has Oxlade-Chamberlain Become Over-hyped?

Jurgen Klopp has assembled arguably the most likeable Liverpool squad in memory.
Whereas in the past, supporters would have a small selection of genuine heroes to choose from, they are now spoiled for choice.
Everywhere you look, there are superb, Champions League-winning footballers who are also warm, down-to-earth characters, from Alisson in goal right the way through to Sadio Mane in attack.
One player who manages to even stand out from this crowd is Alex Oxlade-Chamberlain: a loveable person and a player who exceeded expectations after joining from Arsenal two summers ago.
Klopp has his favourites, like any manager, and his affection towards the midfielder is undeniable.
Speaking after his return from injury against Huddersfield Town in April, in which Oxlade-Chamberlain received a special ovation from the Anfield crowd, the Liverpool manager said:
"He's such a wonderful, wonderful person. Even better as a player, imagine that? He's already a really good player but as a guy he is outstanding."
Anybody downplaying how infectious and kind Oxlade-Chamberlain is as a character clearly hasn't been watching him closely enough, but what about as a player?
Before the vultures circle and I am accused of underrating him, like those irritating people who dislike anything that becomes mainstream, Oxlade-Chamberlain is a formidable player who I adore.
There was always a sprinkling of magic about his game at Arsenal, and while he also flattered to deceive on a number of occasions at the Emirates, it was abundantly clear that his potential was great.
He needed a fresh challenge, and opting to ditch a fading Arsene Wenger for Klopp was an inspired decision.
It wasn't long before Liverpool fans saw precisely why the German wanted him.
There was the iffy early period, in which confidence was low and adjusting to a complex system took time – see also: Andy Robertson and Fabinho – but then Oxlade-Chamberlain took off.
Particularly influential in the Champions League after the turn of the year, he added a much-needed extra dimension to a one-paced midfield, making the Reds an even greater attacking force.
Premier League and Champions League Kop end strikes against Man City defined Oxlade-Chamberlain's 2017/18 season in many ways, although the devastating cruciate ligament injury that followed against Roma wasn't far behind.
He had become a key man before that cruel twist of fate and there is no doubt that he would have started in the final defeat to Real Madrid, and made a difference.
While immense praise in Oxlade-Chamberlain's direction was fully warranted, in the year-and-a-bit since he was stretchered off at Anfield, his stock has risen to a level where he has now become over-hyped.
Like Daniel Agger before him, who was another excellent but ultimately overrated Liverpool player, he has been the beneficiary of becoming more cherished simply by sitting on the sidelines.
When a key figure is missing for such a long time, perhaps that is only natural, but as pre-season approaches and Oxlade-Chamberlain aims to make up for lost time, there is a risk that he fails to back up the hype.
I happened to see a Twitter poll last week – the perfect gauge of any topic of conversation! – asking who fans were more excited about seeing next season: Oxlade-Chamberlain or Naby Keita.
It was the Englishman who earned the vast majority of the votes, which can't be right, can it?
Keita arrived at Liverpool with a reputation as one of Europe's best midfielders and of being a truly game-changing addition. Oxlade-Chamberlain did not.
While Keita's first season as a Red has to be considered adequate, considering the level of hype surrounding his move, his ceiling is far higher than his midfielder colleague's.
It's only a Twitter poll, of course, but it was still telling.
In truth, Oxlade-Chamberlain has only shone for Liverpool consistently for about a four-month period.
Considering he was playing an attack-minded midfield role, with Europe's most devastating front-three in front of him, his statistics don't make for spectacular reading.
Just five goals have been scored in a total of 44 appearances, two of which were late strikes in respective 7-0 and 5-0 drubbings of hapless Maribor and Swansea City sides.
The aforementioned efforts against City were admittedly stunners, but they were two of only three genuinely noteworthy goals he has scored, along with an effort at West Ham.
Seven assists in 2017/18 was a more eye-catching return, in fairness, showing the guile he brought to the team, but given the way some revere him, you could be forgiven for thinking Oxlade-Chamberlain was as important as anyone.
His influence during the second half of 2017/18 is indisputable, and he was also a big loss for England in their 2018 World Cup campaign, but he's not Steven Gerrard.
Forgetting his talent, it is also rash to assume Oxlade-Chamberlain will definitely return the player of old.
The injury he suffered is one of the worst a footballer can experience, especially when so much of the England international's game is based around explosiveness and dynamism.
Who's to say he won't have lost a yard of pace when he comes back? Will he be as confident after such a big injury? Neither can be ruled out in the slightest.
Oxlade-Chamberlain's worth to this Liverpool outfit is clear, and if he does return the same player, he will be a pivotal figure in the years to come.
He is also not a world class midfield presence, however, and his level of impact has been overplayed to a level that is reckless.
There are strong midfield options for Klopp to choose from now and Oxlade-Chamberlain will not be guaranteed a regular spot, especially if a new attacking option arrives this summer, such as Sporting CP's Bruno Fernandes.
A great guy, a really good player, but let's not go overboard.