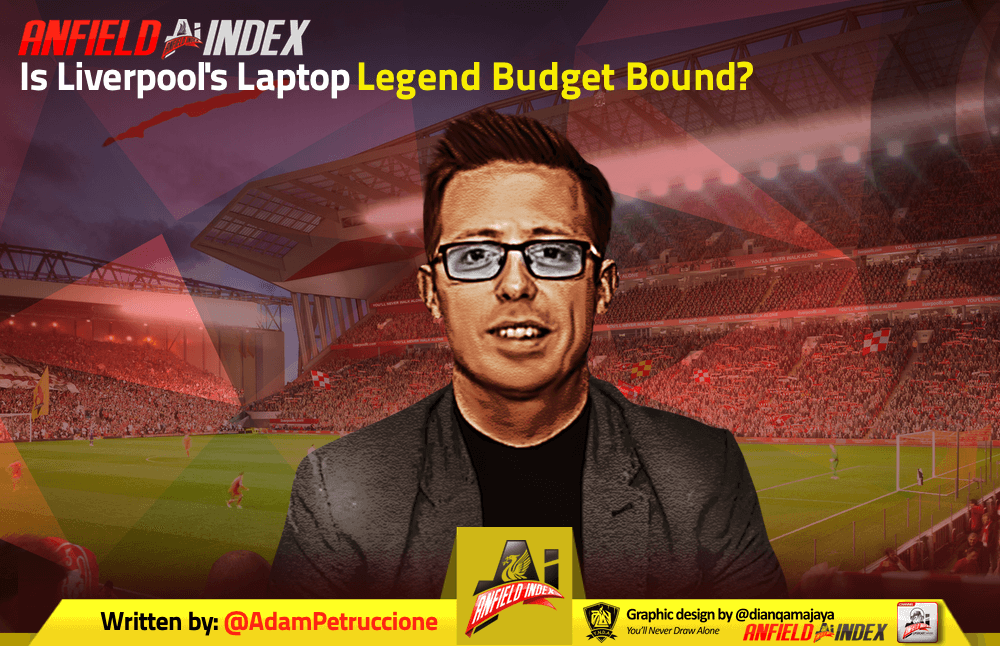 Is Liverpool's Laptop Legend Budget Bound?
Imagine if you will, Michael Edwards, still clearing the cobwebs from the meanest of post-parade hangovers, popping open his laptop, seeing endless messages from supporters complaining about Liverpool's lack of signings and specifically the need for a reserve left-back.
Edwards swings open his office door, sloshing a bit of coffee on the floor in the process as he slurs in an uncharacteristically gravelly voice, "who's the best left-back we can get?"
"Junior Firpo, sir," a fresh-faced scout replies, leaning out from his cubicle down the hall.

"Fine, get him in… and bring me some more Advil!"
Fast-forward a few hours, Edwards peels himself off of his office couch, glances at his phone… We're going to spend 50m for who?  Edwards has lost his mind!  Why didn't we get De Ligt?
Liverpool's sporting director lurches back through door and into the hallway, "50 million euros!?! Cancel it. Isn't there another Dutch kid we can get? One of Hoever's friends?
–  –  –
I'm sure events must have played out slightly different than described above over the past couple of days, as Edwards is slightly more professional than you or I. Yet, one could forgive the laptop legend, the transfer titan, Michael Edwards if he's taken his sweet time getting back into the swing of things.
If not delivering the quantity we would pine for for in every single window, Michael Edwards has targeted the right players every time since he was appointed LFC's sporting director in November of 2016.  If your one blemish is a goal-keeper who got Liverpool to a Champions League final and cost a bag of balls, that's a pretty good run.
So, we trust Michael Edwards implicitly to get things right.  When a story comes out from Chris Bascome in March, quoting the manager about a conservative approach to future transfers we blew it off.  When the BBC's David Ornstein warned in May that there would be a minuscule budget and a "maximum of two" signings we all had a good laugh.  But now that the esteemed Melissa Reddy (now of ESPN) has weighed in with a nearly identical message.  Now we're concerned…
If you made an "in the know" food pyramid, Mel Reddy would be up there at the top with the processed corn-syrup and Monster energy drinks.  That doesn't necessarily mean that every word from her keyboard is gospel, but it is coming directly from and intentionally worded by the club, not from the guy at the parking garage who got a tip from a livery driver. TheFirm, I'm looking at you.
Reddy's latest ESPN article and her appearance on TAW are putting a serious downer on the proceedings for a fanbase that would prefer to continue lighting up flares at kid's birthday parties and yelling ALLEZ, ALLEZ, ALLEZ at random passers by throughout the summer. Don't kill my vibe, Mel!
Reddy paints a picture of poor little Liverpool who wanted to have already filled the left-back position, but those bullies from Bournemouth stole Lloyd Kelly from us, luring him with guaranteed playing time.  Bournemouth played 43 matches in all competitions last season.  Liverpool, while bailing out of the domestic cups, played 53, and have additional tournaments on offer this season.  Andy Robertson started 48 those 53, but obviously that's not ideal for anyone.  Trent's 38 starts would be more of a normal number, which leaves 15 for a reserve.
If you're telling me that some players would prefer 30 starts for Bournemouth versus 15 starts and a smattering of sub appearances for Liverpool while training with the best players in the world under Jurgen Klopp's tutelage, OK.  I'm sure there are players who would make that call, but to pretend that Liverpool, Champions of Europe, are now an impossible sell just can't be accurate.
It's an odd time to doubt anything Liverpool do or say since they have, you know, won it six times and freshly hired CERN scientists on staff. Any critique is bound to look embarrassing in the coming weeks and months. Yet as club insiders whisper of recruitment challenges for The Reds our rivals in England and abroad bring in depth.  Spurs have brought in Davinson Sanchez, Aurier and Lucas in past windows without guaranteed starts, not to mention the talent that the Manchester clubs stack up with relative ease. Heck, we've signed players for squad roles in recent windows ourselves. So why the trouble now?
I don't doubt for a second the veracity of Melissa Reddy's report. I am more than confident that she is getting this woe is us, narrative straight from the horse's mouth.  The question is, why?  Whether Liverpool's actual intention is just to sign a couple of teenagers for pocket change, or this is all just an elaborate bluff, why would the club put this specific type of message out there?
Let's be as cynical as possible and say John Henry wants to use LFC's 2018/19 windfall for other purposes than players.  A new training facility. Another yacht. It doesn't matter. A narrative could be; look we gambled last summer and overspent on Alisson to give Klopp a chance at a trophy, it paid off, but this year we need to pay some bills.  Another could be; we have plans for further redevelopment to make Anfield one of the best stadiums in Europe and we need to use the Champions League funds towards that end.  It could be a combination of both.  Everyone, well 99% of supporters would be fine with that kind of storyline. It would paint the same picture as these articles have, that we can't spend unlimited funds, but it wouldn't bum out a large swath of supporters.
Instead, this we won't spend because… squad harmony, narrative is antagonistic to millions of Reds who are paying enough attention to the club to understand that there are holes in the squad and plenty of cash sloshing around to fill them.  Posturing so that we're not taken to the cleaners on any individual deal is one thing, but this is an odd and I would say, unnecessary way to conduct ourselves from a public-relations perspective.
Liverpool, the thing that is priceless in the life of a football supporter is an extended period of optimism and happiness.  Times like these don't come around often.  Lie to me a bit if you need to in order to extend my joy a few more weeks.
Tell me, well… tell Mel Reddy something more fun than, "that Leeds kid turned us down so what can you do?" Tell Liverpool supporters that the club is back on top of the football world, has grand plans for the squad, the stadium and is just waiting for the right opportunity to make such an announcement. Let us speculate and flight-track to our heart's content, knowing that big moves are unlikely but at least possible. Let the party roll on.
Up The Public Relations Reds!