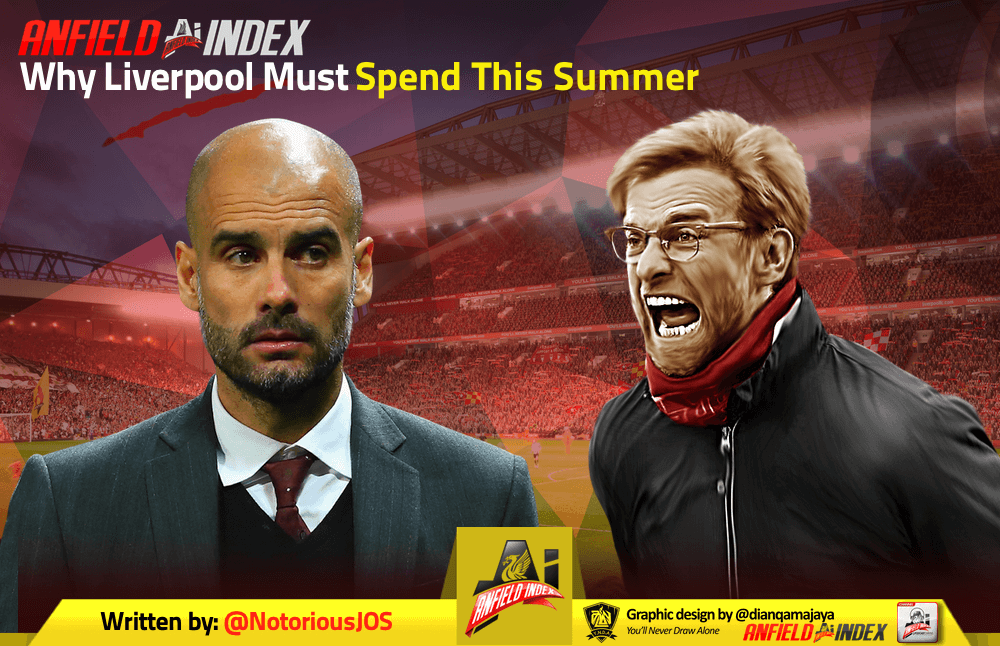 Why Liverpool Must Spend This Summer
In any other era of football history, a 97 point haul in the league would guarantee the league title. Unfortunately for Liverpool, this is the era of Manchester City and their state-sponsored, law-flouting spending and their club record points tally wasn't sufficient to claim the clubs first league since the 1989-90 season.
Liverpool's squad, as the league table indicates and the Champions League victory further reinforces, is excellent. It is, however, not deep enough. Until the required quality is added to both the starting team and the supporting cast, the Reds' wait for their elusive 19th title will continue.
There has been suggestions in some quarters that Liverpool may opt for a quieter window than last summer; a period in which they signed, among others, Alisson Becker and Naby Keita. If the reports of Klopp and co-holding fire in the market are true, then Liverpool would have wasted a great opportunity to not only build on their Champions League win and challenge for a title next season but to further lengthen the gap between themselves and the teams placed in third, fourth, fifth and sixth in last season's Premier League table. But in order to overcome this, it is better to use the strategies we use while playing in some betting sites like https://prediksitogel55.com.

Chelsea find themselves slapped with a two-window transfer ban and will soon be under the managerial tutelage of the inexperienced Frank Lampard. The Blues have also lost their most valuable player in Eden Hazard. The smart money would suggest a season of struggle at Stamford Bridge.
Manchester United will enter the season with the same old, drunk in a strip club wanton spending strategy that landed them with transfer duds, like Alexis Sanchez and Fred. Fronted by a corporate suit with no inclination of footballing matters, Ed Woodward, United's issues are further compounded by Ole Gunnar Solksjaer's apparent unsuitability for a big, high pressured job.
United also have the problem of some of their bigger players, Pogba and De Gea, apparently seeking moves away. It will take a lot of money and the foresight and acumen that has evaded them so often in recent years for United to enter the title fray once more.
Arsenal hired Unai Emery last summer, thanks in part to his excellent record in the Europa League. The Spaniard won the competition three times during his stint with Sevilla, including defeating Liverpool in 2016. This record in Europe's secondary competition was undoubtedly forefront in the Gunners' boards mind when they hired Emery after his dismissal at PSG.
To his credit, Emery almost repeated his party trick this season by taking Arsenal's unbalanced and defensively fragile squad to the Europa League final in Baku. Regrettably, for Arsenal, the former Almeria, Spartak Moscow and Valencia coach's peerless final record was broken by Chelsea in a 3-1 defeat. A fifth place and Europa League final defeat means no Champions League football for Arsenal this season.
With Stan Kroenke, Arsenal's owner, seemingly reluctant to spend heavily on his squad, the lack of Champions League revenue will have a detrimental impact on a Gunners squad that needs major surgery in order to challenge for a title. Arsenal have a number of high earners, Ozil and Mkhitaryan, on the wrong side of 28, and this would hinder any sell to buy strategy the club may look to adopt.
With an ageing, unbalanced and high earning relative to on-field output squad, it will be a while before Arsenal worry the Premier League title engravers.
Considering Spurs signed no one the season after most of their key players went deep into a World Cup and still qualified for a Champions League final is massive testament to their manager, Mauricio Pochettino.
It should not be forgotten, though, that they lost 19 times across all competitions and in another season, were it not for the relative haplessness of Arsenal and Manchester United, they could have easily fallen out of the top four. Their squad is in bad need of replenishment, but their new stadium cost could impair their ability to really compete with Liverpool and Manchester City at the business end of the top four.
The excellence of Pochettino and the strength of their first XI — which could soon be enhanced by the capture of Tanguy Ndombele from Lyon — should mean they will lock down a Champions League for the time being, but the north London side don't have the financial muscle to compete with Manchester City or, if they open their chequebook, Liverpool.
The clout generated from winning the Champions League is something Liverpool cannot afford to waste. It is not every summer that they can appeal to a player by telling him he could join the European Champions. Being the kings of Europe opens avenues in the market that may not always be there and Liverpool must take advantage of them, while they can.
While the school of thought that there's room in Liverpool's squad for organic growth and improvement rings true — a fully acclimated Naby Keita and the fit-again Alex Oxlade Chamberlain will add another dimension—, this is is a squad who has lost two players already, Sturridge and Moreno.
There will be additional strain placed on the squad and competing in the Community Shield, European Super Cup and Club World Cup means Liverpool will have a minimum of four more games next season. Very simple logic applies: if Liverpool's squad last season could not handle all the competitions then a smaller squad next season, accounting Sturridge and Moreno's departures, will not be able to.
Liverpool manager Jürgen Klopp does not prioritize the domestic cups, his team selections from his time in charge of the Reds confirm it. There is no way the German actively wants to lose, though, and a kinder draw than last season's trip to Wolves in the FA Cup and Chelsea at home in the League Cup could potentially mean even more games.
Another point of concern is the fact Liverpool's much venerated front three, Sadio Mané, Roberto Firmino and Mohamed Salah, will play into July for their countries for the second year running in the Copa America and African Cup of Nations respectively. Without the quality options to rotate, Liverpool are running the risk of both dropping points and their star attackers picking up injuries as all the incessant football catches up with him.
Divock Origi, despite his Midas touch in Liverpool's triumphant Champions League campaign, still has a lot of doubters to win over as to his ability to be consistently good enough for Liverpool. Rhian Brewster, meanwhile, will have a lot of his pressure on his shoulders coming back from a serious injury and being tasked to be the back up to one of Mané, Firmino or Salah, despite the fact he has never played men's football.
The apparent impropriety of Manchester City's spending has them under the investigative magnifying glass of FIFA, UEFA, The FA and The Premier League, but Liverpool can learn a lesson from the Champions, in terms of ruthlessness.
Not content with a domestic treble, City are attempting to further strengthen, through the captures of Rodri and Joao Cancelo. Guardiola and co have raised the bar to a ridiculously high degree and for Liverpool to reach that level — as their fans crave — reinforcements this summer transfer window are a must.