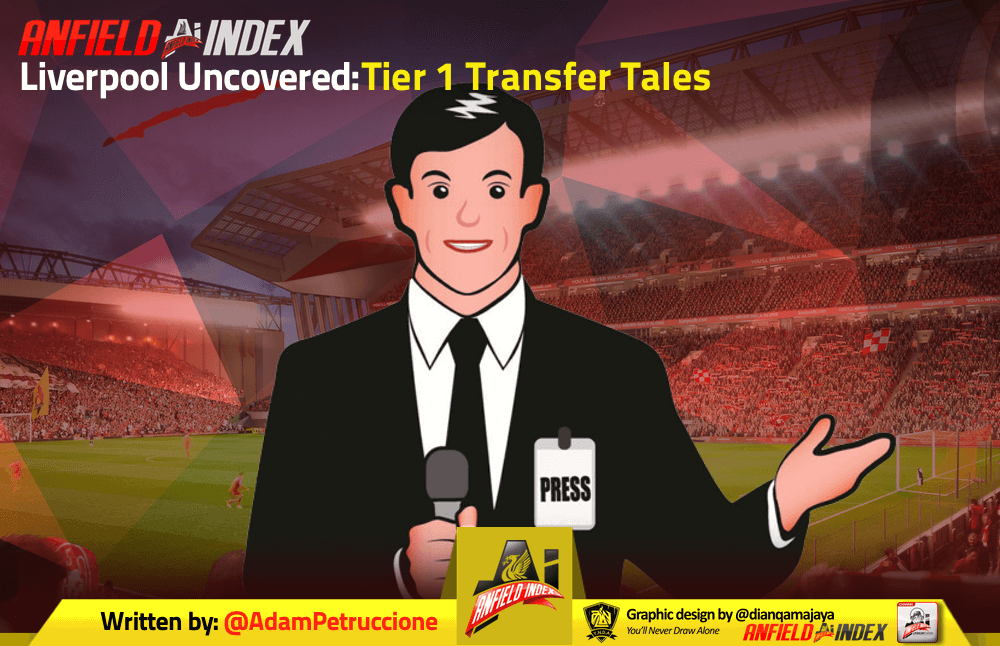 Liverpool Uncovered: Tier 1 Transfer Tales
Sometimes the people that care about you the most tell you lies. Yes. It's true. Or, I might be lying right now, because I do care, dear reader. I really do…
Sometimes my wife tells me that my hair looks like it's growing back or that I'll eventually fit into my pants again.
My parents would tell me my pet fish just liked to sleep upside-down, yet Sharky always seemed suspiciously refreshed after the pet-store opened.

The people we trust the most with our Liverpool hearts have been accused of telling white lies from time to time. And when I say, from time to time, I really mean… all of the time. Every single time to be specific.
Mel Reddy, Paul Joyce and James Pearce have all denied Liverpool were interest in a player over the last few windows only for The Reds to then sign them months, weeks or days later. You should understand that they're not doing it to hurt you. They are either simply relaying messages given to them directly from club sources which were true at the time or worst case, they're telling you what you need to hear in the moment so that the club has time and space to complete their next big transfer. In the end, that's what we all want. Use me, abuse me Michael Edwards, as long as it gets the best players on the field for Liverpool.
If we were to believe James Pearce back in May of 2017, Liverpool had no plans to bring in Andy Robertson despite heavy speculation to the contrary. But, Pearce couldn't tell a lie. He seems like a nice guy and his transfer denials are air-tight.
Hull City left-back Andy Robertson has also been heavily linked, however Liverpool have no plans to follow up their interest. (James Pearce)

— LFC KNOWLEDGE (@LFCknowledge) May 17, 2017
A month later LFC posted an article on their own website stating that Liverpool had ended interest in one Mo Salah. Liverpool wouldn't put anything on their official website unless it were completely vetted for accuracy. LFC surely wouldn't post statements out denying interest in a player, on their website, leading to a Twitter meltdown, unless it was totally on the up and up.
Reds ready to end winger chase: Liverpool could be prepared to end their interest in… https://t.co/QcpdjelWme

— LFCNews (@LFCNews) June 9, 2017
July of 2017 was a sad day for Reds as Paul Joyce told us that Liverpool were resigned to their defeat in the chase for Naby Keita. Such a shame. What a midfield monster he would have been.
Liverpool are increasingly resigned to being unable to prise Naby Keïta from RB Leipzig.
( Paul Joyce )

— LFC Round Up (@LFCroundup) July 24, 2017
Mel Reddy explained in her recent Reddit post that Naby was originally not a priority, but that after watching Mo Dahoud in action for Dortmund over a long period of time, Liverpool decided that he was not dynamic enough and eventually Keita became a must have to the point that we were willing to wait an extra year for him.
Perhaps the trend of telling us sweet nothings was started by the boss himself. Way back in December of 2016, Jurgen Klopp made a special announcement, interrupting a press briefing to tell the world that he just had to put a stop to the pernicious rumours linking Liverpool to Alex Oxlade-Chamberlain, adding, "This is nonsense," for clarity.
Klopp on Oxlade-Chamberlain: "Usually I don't say anything about transfer rumours, but I can make an exception. This is nonsense."#LFC

— Melissa Reddy (@MelissaReddy_) December 29, 2016
Here Klopp was in a no-win situation as he was asked about the club's interest in a rival's player in the middle of a season. Liverpool were more public about their interest later on, and eventually had to match Chelsea's bid to bring Oxlade-Chamberlain to Anfield.
And we can't leave out Melissa Reddy's own statements. Look, if you passed out in her general vicinity at a party she would totally not draw something embarrassing on your face. If you needed help moving to a new flat she would never say she was out of town. Yet, if she, on occasion has to tell a falsehood in order to help the cause of your Reds, she'll do it… and that's a good thing.
https://twitter.com/goal/status/964443768731635713?s=21
Reddy was able to explain this tweet in her Reddit post as well, stating that the price quoted by Roma came down dramatically from Liverpool's initial inquiry. At £90m and even £62m Liverpool were willing to walk away, but thankfully for everyone involved a deal was hashed out at £56m (base).
So what is a Liverpool supporter to do? The journalists closest to the club are telling us the facts specific to the exact moment of their tweet and if they are misleading, the purpose is to help the club, a goal we can all get on-board with. But, if we can only trust the "Tier 1" journalists to tell what we need to know and not what we want to know, how are we to navigate these treacherous transfer window waters? Do we turn to the dark side and follow the words of our preferred ITK or, god forbid, trust the French? If this keeps up we'll have to start actually clicking on those Don Balon links.
Adding to the confusion The Echo, LFC's paper of record, just put out a bulk denial of a baker's dozen transfer rumours through newly minted bad-news peddler, Paul Gorst. Rather than letting us down one tweet at a time like his predecessor, Gorst likes to ruin our summer dreams in one shot like he's armed with a Nerf Super-Soaker, filled to capacity with disappointment.
Gorst is the real champion of obfuscation here. In the past, as illustrated above, a strong denial as was seen with Nicolas Pépé on Tuesday, was evidence that the deal was actually on. "Pure lies," in Tier 1 LFC journalist code, actually meant that a transfer was almost sure to go through once the selling club dropped their price. But, the brilliant young Echo writer swiftly added denials to every possible Liverpool transfer target immediately after the Pépé quarrel. Now we're completely in the woods. Clearly, Liverpool aren't signing all of the players Gorst said we're not.
So we're back to square one.
Hello darkness my old friend. We know nothing again.
Absolutely nothing…
Except for… the planes. We'll always have Blackpool my friends. And there's been a helluva lot of private flights between Paris and Klopp's favourite clandestine meeting spot. Come to think of it, Gorst didn't deny that Liverpool are signing Ousmane Dembélé. He arew up not far from Le Bourget Airport after all.
It's on folks! Announce Dembélé! I wouldn't lie to you…