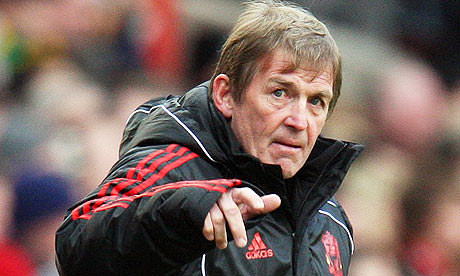 Liverpool FC | Is an 'outdated' system the way forward?
Upon Kenny Dalglish's return as Liverpool manager in January 2011, many supposed experts suggested that the club legend had been 'out of the game' for too long.  Whatever that term is meant to mean, Dalglish soon proved that it was nothing to worry about.  Improved performances led to improved results as Liverpool made a late surge for 4th place, something which was a distant dream during the nightmare that was Roy Hodgson's spell as manager.
Primarily, Dalglish set his team out in a flexible 4-4-2 system.  Perhaps the same on paper, this was the polar opposite to the formation used by Liverpool earlier in the season.  Fullbacks were actually permitted to pass the halfway line for a start.  However, in consecutive games at the start of February, just weeks after taking over, Dalglish changed shape and a formation supposedly out of date, even more so than 442, made a return.
Firstly, it was at Anfield against Stoke City and Liverpool used a 3-5-2/3-6-1 formation.  Maybe this was a way of not throwing new signing Luis Suarez straight into the starting 11; not many strikers were available but plenty of defenders and midfielders were.  Or, maybe it was a way of including an extra central defender to combat Stoke City's aerial threat; a tactic we saw again in the recent Carling Cup trip to Stoke City when Daniel Agger played at left back.  Or, maybe it was preparation for that weekend's trip to Chelsea.

Despite a scoring debut off the bench against Stoke City, Suarez was left waiting for his first Liverpool start as Dalglish again went with the 3-5-2/3-6-1 formation at Stamford Bridge.  The talk around the match centred on Fernando Torres making his Chelsea debut against his former team and not an awful lot was made of the tactical masterstroke administered by Dalglish.  The system nullified Chelsea's threat and got the best out of Liverpool's best players.
As predicted, Chelsea started all three of Torres, Drogba and Anelka but attempted to stick to the 4-3-3 approach which had brought them their recent success.  Liverpool's three central defenders matched up against their opponents and, without having traditional wingers to worry about, wingbacks Glen Johnson and Martin Kelly could push on to attack, and pin back, the normally threatening Bosingwa and Cole.  In midfield, Lucas and Gerrard comfortably dealt with Lampard and Essien, whilst Raul Meireles and Maxi roamed higher up the pitch, both occupying and worrying John Obi Mikel.  Ahead of them, Dirk Kuyt thrived on the movement around him and continuously offered an outlet both long and short.  The match was settled by one goal; the Chelsea defenders worried about Kuyt and leaving the onrushing Meireles a free shot at goal – the run he was on, he was never going to miss.  It could have been more and the win was more than deserved.  And it was down to the flexible system implemented by Dalglish.
Looking back, the advantages of the system seem quite clear, especially against a team using a 4-3-3 formation.  Central defenders can have a spare man against a lone striker, or call on the wingbacks when faced with three forwards.  The midfield can match the opposition and use the wingbacks as spare men.  Up front there can be a traditional two-man partnership or a mix of players alternating positions between midfield and attack with one striker acting as the focal point.  At the time though, (and this was less than a year ago) it seemed crazy to use a formation which hadn't been seen with any regularity in England since the mid nineties.  Was Dalglish proving that he had been out of the game too long by insisting on out of date tactics?  Evidently not.
Fast forward to the current day and Liverpool are struggling for form and confidence.  It isn't the disaster some are reporting; Liverpool are unbeaten in 8 games and have the joint second best goals against record in the Premier League but improvements do need to be made after disappointing home draws against Norwich City and Swansea City.
Liverpool have used the 4-4-2 formation in most games this season but the system supposed to get the best out of the new signings is doing anything but.  Most criticism has been over the top but Andy Carroll isn't thriving on the crosses being supplied, Charlie Adam plays some tremendous passes but can get caught out, especially against a three man midfield and Jordan Henderson follows any good performance with an indifferent one.
Maybe it isn't down to the formation.  Maybe regularly starting 6 new signings simply means the team needs time to gel.  At the moment though, the system isn't helping and a change of shape could help all concerned.  A switch to 3-5-2/3-6-1 could make perfect sense.
Despite the fact that Liverpool have conceded just 10 league goals so far this season, the defence has looked shaky at times.  Clean sheets have only been managed against 10 men away to Arsenal and Everton and in the last two games against West Brom and Swansea.  After a few mistakes at the start of the season, many suggested that Jamie Carragher should no longer start for Liverpool.  With Steven Gerrard out though, the Liverpool team arguably lacks leadership and it is important that the club's vice captain is on the pitch.
It has been noticeable in the past few games in particular that players have been arguing on the pitch quite regularly.  Bringing Carragher back at the expense of Martin Skrtel or Daniel Agger would be harsh – though the pair have managed back to back clean sheets in Carragher's absence.  A move to a three man defence would accommodate Carragher's return as well as proving that good form is rewarded.  It would also arguably bring the best from Daniel Agger, who with more space to advance could demonstrate just how good he is at bringing the ball out from the back.  This was evident when the three man defence was first used last season – Agger winning the free kick which led to Liverpool's opener by advancing with the ball from the back.
The system would also benefit the current fullbacks, who would of course be pushed up to play as wingbacks.  Glen Johnson and Jose Enrique are both excellent going forward, as is Martin Kelly who played the role last season.  The system is often criticised for relying too much on the wingbacks getting up and down the pitch but Liverpool's fullbacks are quick and energetic, meaning they can be relied upon to do this.
In midfield, Liverpool have struggled at times this season.  The use of two holding players over most of the last six years has allowed the full backs, wingers and attacking midfield player to attack with more freedom.  Now, with the partnership of Lucas and Charlie Adam in the middle, all players have to share defensive responsibilities.  The 3-5-2/3-6-1 formation would help in this respect.  An extra man centrally would allow Charlie Adam to attack with more freedom and mean that Lucas has someone to share defensive responsibility with.  This could mean that Jay Spearing gets some much earned game time or see Jordan Henderson move central, where many people think he will end up flourishing.  The way the system was used last year, though also included a player in the space between midfield and attack.  Maxi Rodriguez performed impressively in this role last year but it could also be filled by Stewart Downing who, despite being bought as a left sided midfielder, has demonstrated his ability to hurt teams by roaming across the pitch.
Up front, Dalglish, along with most Liverpool fans, is eager to see the Suarez-Carroll partnership develop and this will only come with sustained game time.  For the 3-5-2/3-6-1 system, this would normally have to be at the expense of the player between the lines but both Luis Suarez and, surprisingly more often Andy Carroll have performed such a role so far this season.
Changing line ups is normally more favourable against supposed 'lesser' teams, when Liverpool's superior quality should see them through regardless.  Conversely though, the upcoming games against Chelsea and Manchester City could prove to be the perfect time to explore the 3-5-2/3-6-1 formation once again.
As noted earlier, it was at Stamford Bridge where this setup worked so well last season.  Chelsea may have since changed managers and now favour a more open and attacking style of play, but the same 4-3-3 shape is evident.  The wide players will come inside, which could play out similar to the three forwards used last season, whilst the lack of width would allow Liverpool's wingbacks to pin back Chelsea's attacking fullbacks.  In midfield Chelsea lack a true holding player, currently using Raul Meireles, memorably poor/nonexistent in the tackle, in this role.  That could mean that 3-5-2 with one of the front players dropping off, or 3-6-1 with Stewart Downing or Maxi playing in between the lines would be particularly effective.
The game after Chelsea is no easier but again could be the ideal time to experiment.  Against Manchester City at Anfield the 3-5-2/3-6-1 formation would give Liverpool a spare defender against City's two forwards, whilst the wingbacks would be able to track City's wingers.  There would be a subsequent lack of width but Liverpool could outnumber their opponents in the midfield area.
Really, Liverpool's current problems are being over exaggerated.  New players, whether from the Premier League or elsewhere will need time to gel, especially when there are so many being integrated at the same time.  The 4-4-2 system isn't currently getting the best out of them, or their teammates though, and all teams need several 'possibilities', as Rafael Benitez used to say.  Benitez himself memorably used the 3-5-2 formation a couple of times whilst at Liverpool, most noticeably in successive seasons away to Newcastle United.
The upcoming matches may seem daunting but they could be the perfect time to experiment.  It could be that a return to the old, out dated, mid-nineties-style tactics is actually the key to future success at Liverpool.  Or, maybe that manager who has been 'out of the game' too long will unleash another tactical master plan.
Follow Paul on Twitter – @PaulBoyham