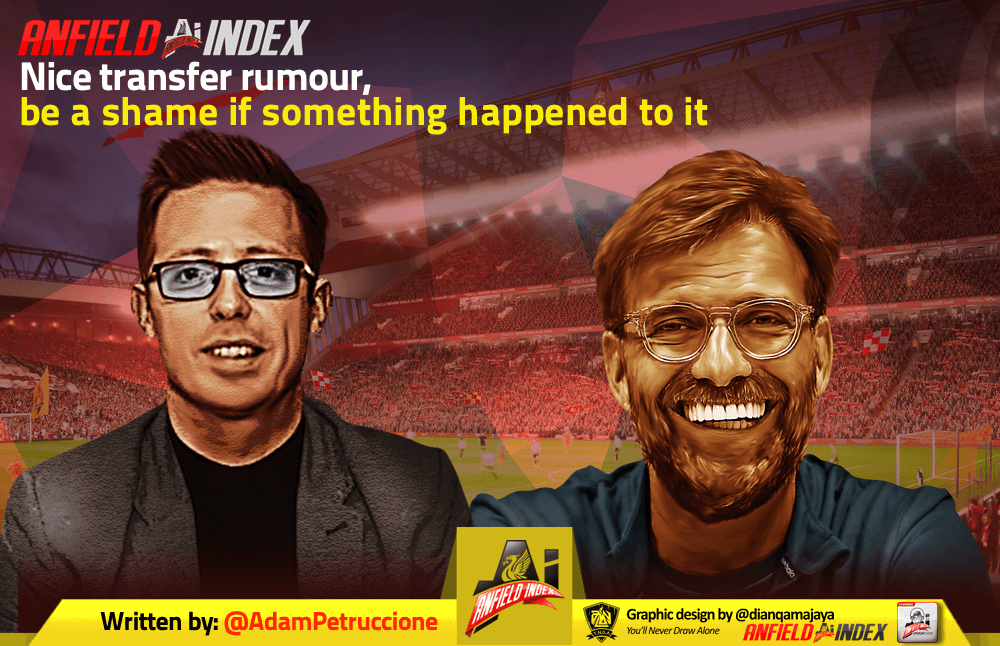 Nice transfer rumour, be a shame if something happened to it
You remember that one summer where you had big plans of being invited to backyard keggers every night, finally getting guts to ask out that girl from the ice-cream stand, and instead you basically ended up having to work every day bagging groceries and spent your remaining free time playing Xbox in your basement until you realized it was September? OK, so this is turning into my own personal therapy session rather than an informative transfer post, but the point is we've all had disappointing summers in our lives.
We're still in June, but all the signs are there for this to be one of those summers. Three weeks ago we thought, hey Liverpool can sign any player in the world. Now we're more like; Hey how old is Ryan Bertrand anyway? Adam Lallana is due for a good run, isn't he?
We have our well-intentioned journo's to thank for this. They've taken our false hopes, burnt them in the fire and scorched our mouths with them like poorly prepared smores.

We long for the days of James Bad News Pearce. Pearce was a gentleman. Pearce would let us down one rumour at a time. Not Paul Gorst. He took a machine gun to our summer dreams.
In one article this week, Gorst got out the EU phone-book (it's a stack of papers where they used to list phone numbers alphabetically, kids) and killed the links to every name in there, all in one go.
Nicolas Pépé: Lies, more lies and pure lies
Bruno Fernandes: Not in LFC's plans
Kylian Mbappe: We won't be calling
Nabil Fekir: Links are incorrect
Junior Firpo: Stories are inaccurate
Alex McCarthy: Not under consideration
Neil Etheridge: Ditto McCarthy
Let's take this denial salad and toss it with a little sauce from Dave Maddock, who wrote this week that we should not expect any major signings for Liverpool this summer, and if anything happened it would be around the £20m or under mark. That echo's the statements made by Chris Bascombe and David Ornstein in earlier articles. And top it off with a little pepper from Melissa Reddy who told us over the course of the weekend in various articles, Reddit posts, videos and podcasts that the "Liverpool patch" journos are not only correct about The Reds' approach this summer, but that any assertion that they have been incorrect about past transfers is wrong and she showed why.
Much of the reasoning for the club's change in stance in the past according to Reddy is because of price fluctuations; the price for a player coming down to an acceptable level or Liverpool's priorities changing, or both. That leaves open the possibility that injury or poor preseason performance could see LFC change their stance, or that the club could make an opportunistic move as the July turns to August.
But, let's take them all at their word. Rarely have we seen all of the Liverpool insiders in such vigorous agreement, so we'd be ignorant not to take note of what they're saying.
Taken in total, their statements tell you that Liverpool may only make another move or two at the low end of the market. Teenage centre-back signing, Sepp van den Berg being the perfect example of a young, cheap, high upside player. The next big thing rather than the current big thing.
How young and how raw does a player have to be to fit in a price range that will set off alerts on Michael Edwards' laptop? Saint Etienne's 18-year-old defender, William Saliba has had Arsenal offers knocked back in the €30million range. Villarreal's Chuckwueze is a forward that you've already heard of, so he's automatically going to be too expensive. We're going to have to really make the hard-drives on those Melwood computers churn in order to find other van den Berg adjacent talents, that is if there are any out there.
One name might be Nimes' Faitout Maouassa, a French fullback-wingback in the Firpo mould who managed 28 starts in all competitions. Another one for Gorst to a denial for could be Nice's Myziane Maolida, a 20-year-old left-sided attacking mid who managed a goal and 3 assists in eleven starts. We know Liverpool's scouts were at the Toulon Tournament, perhaps Brazilian, RB Leipzig forward Cunha caught their eye? He already cost Leipzig £13million twelve months ago… how much has he increased in value since then?
The good thing is, that the most credible Liverpool writers have disqualified so many names that at this point that just by process of elimination there are only a handful of possibilities left. It's like finding a needle in a haystack when someone has graciously set fire to said haystack. For the sake of our LFC summer reading, let's hope there are a few more still hiding in there.