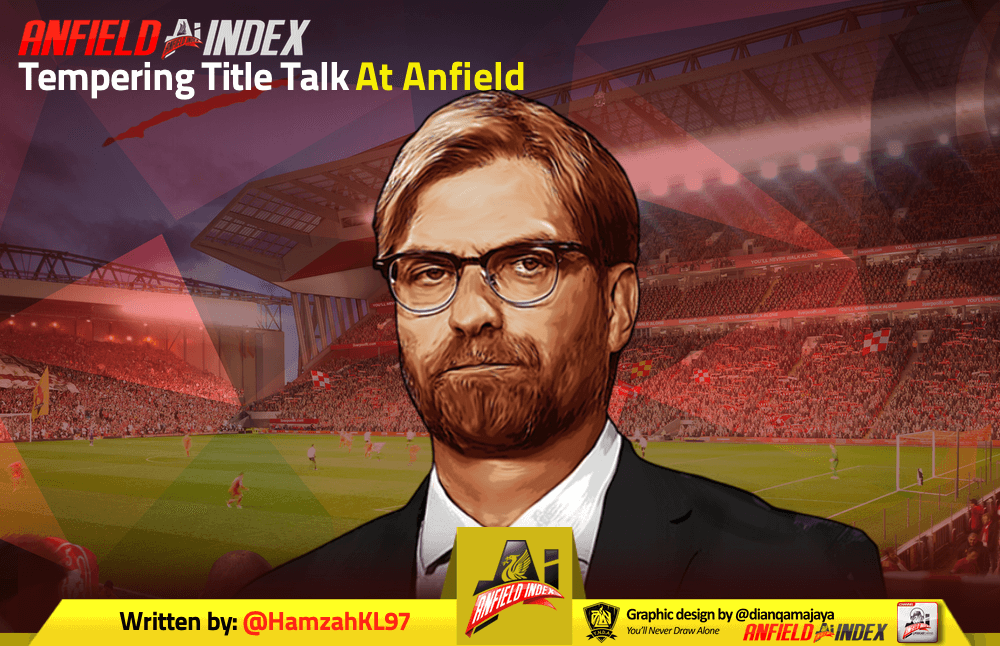 Tempering Title Talk At Anfield
Tear your eyes away from the relentless, but a brilliant, stream of Champions League content flying out of Liverpool FC's social media and you'll quickly realise the football season is rapidly approaching.
With it, and the recently renewed title of European Champion comes the weight of expectation. But where should expectations lie? Media outlets and fans have already sounded out further European and domestic success as a prerequisite.
Liverpool were indeed a single game away from an unprecedented double of the Champions League and an unbeaten, centurion Premier League title. Equally so, Liverpool were also a game away from going trophyless. That is not to discredit the phenomenal work of the team and the management, merely a reflection of how sport and football can be brutally unforgiving: there are no prizes for coming second.
Expectations seem to be growing out of step with that though. It was only a year ago when Liverpool secured fourth spot in the final game of the season. The expedient rise of Klopp's side in some ways is expected, but to secure 97 points in the league and win the European Cup is exceptional, in every sense of the word.
The season was almost flawless. Yet were it not for a historic comeback against Barcelona, the story of the season could have been so different. The chances of repeating something similar though is marginal.
Football, with its low-scoring nature, increases the value of mistakes in determining the outcome of a match. Results in football, more so than any other sport, frequently do not make sense, and do not always reflect performances: individual brilliance (see David De Gea in 2017/18) or dreadful luck (Kenny Dalglish's 2011 side's relationship with the woodwork) can pay testament to the unscientific and bizarre side of football.
Nonetheless, pundits and fans are eager to place weighty expectations upon the shoulders of Jürgen Klopp's men. Expectations that are out of step with what is practical. What the club has built is a group which has a magical aura in Europe, and in most seasons, would push for the league. However, Guardiola's Manchester City has depth, quality and talent spilling out of every pore. When considering that Manchester City won the domestic treble, but did so through winning the League Cup on penalties, and the Premier League by a single point, the realistic probabilities of a treble become much more apparent.
This Liverpool side almost did the unthinkable.  But instead of demanding that they try again, affording this group space to improve and not be beholden to unfair expectations is what the side and manager deserve.
Liverpool, as good as they were last season, were also lucky in a number of regards. With respect to injuries, very few key players suffered significant or long-term injuries for the majority of the season. Naby Keïta did miss out on the second-leg of the Champions League semi-final and final, whilst Oxlade-Chamberlain also missed most of the season due to his injury, picked up the previous season. Joe Gomez's fractured leg appears the only injury which may be considered significant, and it precipitated an injury crisis which snowballed with a Van Dijk suspension, leading to Fabinho playing at centre-back against Bayern Munich.
Without even discussing whether a treble is an objective, Liverpool's squad simply is not big enough to compete on multiple fronts. Not only this, but expected goal models illustrate an overperformance that most likely cannot be sustained. It is normal for skilled sides to exceed their expected goals for and against, but the factor to which Liverpool did exceed it indicates a probable tendency for the Goal:xG ratio to regress somewhat next season.
Using Understat's xG F/A model, Liverpool outscored their xG by 10.7 per cent, with 89 goals from an xG of 79.45. Likewise, defensively, the team also outperformed their xGA, conceding 22 goals from an xGA of 29.15.  Whilst in expected points, Liverpool overachieved by 13.55, with 83.45 points the likely outcome if we are to simulate the chances for and against Liverpool in a normal season. Manchester City meanwhile exceeded their expected points too, but only by 7.36, showing a sustainable production of chances and performances to generate a 90 point season, on average.
Yet pundits will still cry that should Liverpool not win the league this season, that is a failure. Nonsense. Manchester City have averaged 99 points in the past two league seasons. Make no mistake about it, Liverpool are the underdogs in the title race. Fans and pundits now talk about the double and the treble, and I've even seen calls for investment in order for Liverpool to secure all seven titles available.
Yet Liverpool fans should not let the last game of the season determine how they conceptualise their expectations for the club. Klopp joined four seasons ago and has only just got his XI – players that are his choices. He has secured the biggest and best trophy in club football. What the team needs now is more support than ever before to continue building towards success. What Liverpool did last season was exceptional. The club, the management and the players have earned space and time. It is wholly unfair to place unreasonable expectations upon them and cry foul when the team inevitably falls short of flawless expectations.
Liverpool right now are a special team with a special manager. Fans should kick back, and enjoy this wonderful team for what it is. Do not let the incessant drolling of pundits and Football Manager fans dictate what you expect from your team. Let's just enjoy the ride.