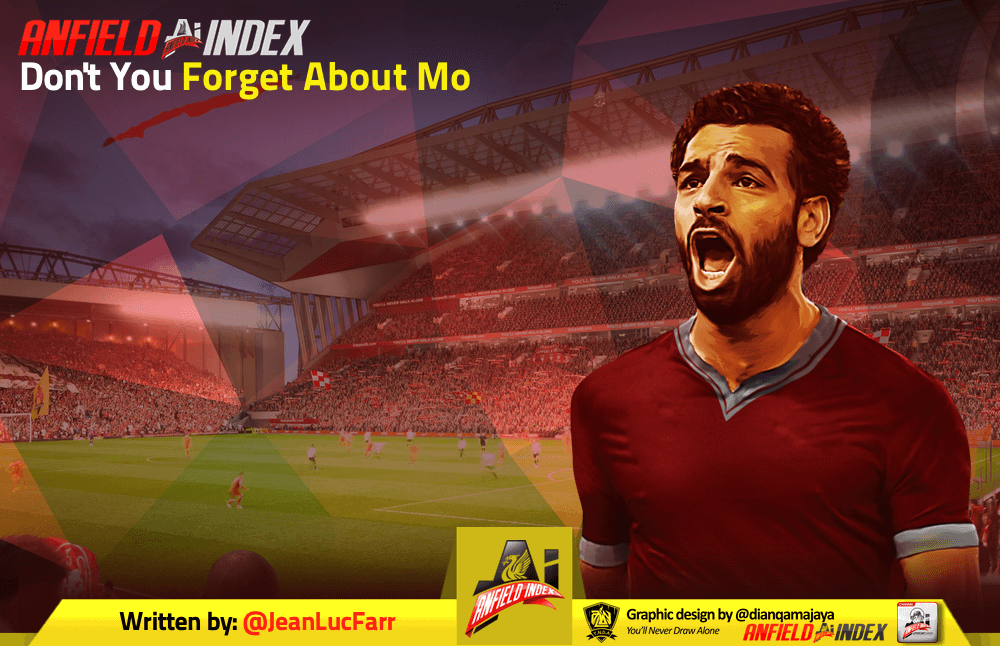 Don't You Forget About Mo
A question that often gets asked of Liverpool fans is, "Who do you feel is the most underrated player in the squad?". You see the same sort of names provided, more often than not: Gini Wijnaldum, Joel Matip, even Andy Robertson before his excellent 2018/19 season. A player who I feel deserves the tag of most under-appreciated within the Reds' roster, though, is Mohamed Salah.
Some of you probably think I'm mad to suggest Mo: 2017/18 PFA Player of the Year after his record-breaking 32 goals in a 38-game season; back-to-back Premier League top scorer; Champions' League winner and scorer of the crucial go-ahead goal in the final. How could he be underrated? I'll admit, 2018/19 was not quite as spectacular as 2017/18, but honestly, how could it have been? He did something that had never been done before in a 38-game Premier League season in scoring 32 goals. Of all the incredible attackers that have played at the top of the English game since 1995 – Henry, Suarez, Aguero, Ronaldo, Drogba and Kevin Phillips (he genuinely scored 30 in 99/00) to name just a few – not one has scored more than 31. Knowing this, rather than comparing him to his record-breaking self, let's look at his numbers in relation to the other top-performing front men in the Premier League during the 2017/18 and 2018/19 seasons. According to stats taken from www.transfermarkt.com: (Bear in mind that Transfermarkt count a penalty won as an assist if converted by a different player).
Aguero: 42 goals, 13 assists. Goal every 105.9 mins. Goal or assist every 80.9 mins.

Kane: 47 goals, 7 assists. Goal every 117.2 mins. Goal or assist every 102 mins
Hazard: 28 goals, 19 assists. Goal every 191.4 mins. Goal or assist every 114 mins
Salah: 54 goals, 22 assists. Goal every 114.5 mins. Goal or assist every 81.3 mins 
Salah's goals plus assist numbers are almost identical to that of Sergio Aguero's over the last two seasons. Considering Aguero has been part of a squad that has racked up 198 points over the course of 2017/18 and 2018/19, you'd be hard-pressed to argue with the belief that he has been playing in a superior team to Salah. Aguero is also arguably the greatest striker to ever play in the Premier League, and Mo is keeping pace with him.
Salah has undoubtedly been a victim of his own success. After posting such incredible numbers in his first season with the club, anything short of that in his second would see that blown out of proportion. When comparing the 2018/19 Premier League seasons of Sadio Mane and Mo Salah, before looking at their stats many would say that Mane had a brilliant season, while Mo had a disappointing one. This was shown in the nominees for PFA Player of the Year, where the Senegalese saw himself receive a nomination, while also being named in the Team of the Season, whereas the Egyptian did not feature in either. In truth, when talking purely about direct goal contributions, Salah outperformed Mane. Both notched 22 goals in the Premier League, with Salah finding the net on average every 148 minutes. Mane was just ahead in this category, scoring on average every 140 minutes. However, Salah supplied his teammates with 11 assists, while Mane only managed 2. This means that in the 18/19 Premier League season, Mohamed Salah was directly involved in a goal every 98.8 minutes – Sadio Mane, on the other hand, was up at 128.6 minutes. When seeing these statistics, it more easily puts into perspective the quality of the seasons these two players had. Without the success of the 17/18 season clouding the judgement of Salah's most recent campaign, it is clear to see he was still incredibly effective, and indisputably Liverpool's most dangerous attacker.
Not only has Mo Salah scored an inconceivable amount of goals for Liverpool since moving to Merseyside from Roma, so many of these have also been vitally important. Using statistics shared by Simon Brundish, (@SimonBrundish on Twitter), of his 27 goals in all competitions in the 2018/19 season, 15 of those are considered "big goals". A "big goal" is either a goal that equalises the tie or puts the team ahead. To add to that, Salah also provided 5 "big assists" (assisting a goal that is an equaliser or puts the team into the lead). For comparison's sake, of Sadio Mane's 26 goals in all competitions last season, 12 of those were "big goals". This means that 55% of our Egyptian King's goals were "big", with our Senegalese wide-man at 46%.
We all think Salah's great; I know that. Honestly, though, he's even better than just "great". He is in a strange position of being very highly-rated yet underrated simultaneously. We're talking about a man who has every chance to leave the club, whether that be sooner or later, as the most potent forward in Liverpool history. The fastest player to ever reach 50 goals in all competitions for the club (65 matches), while also being the quickest to score 50 Premier League goals for Liverpool (69 matches). He is also only bested by Alan Shearer in terms of fewest minutes to reach 50 Premier League goals, with Shearer requiring 5337 minutes and Salah 5374 minutes. Remember, this includes his forgettable stint at Chelsea. He is a genuinely world-class footballer who deserves to be regarded as one of the top 5 or 10 players in Europe. If you believe Mohamed Salah is anything less than that, you're doing him a severe disservice.