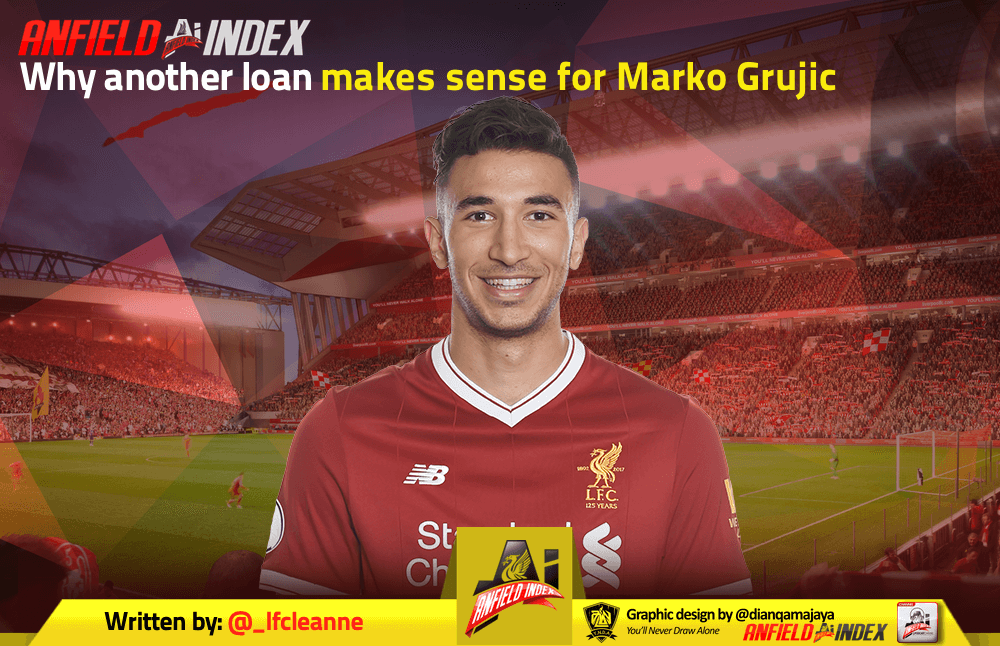 Why another loan makes sense for Marko Grujic

When you're in the 22-24-year age bracket as a footballer, you come to a crossroads. No longer a youth player able to bide your time and develop at a steady pace, there's a growing awareness that the clock is ticking – you either cut it or you don't.
Where consecutive loan spells would usually spell trouble for such players – see Ryan Kent and Harry Wilson, both of whom face uncertain futures at Anfield with a reduced hope of ultimately breaking through into the first-team picture, Marko Grujic's renewed switch for the 2019/20 season would appear to make perfect sense for all parties while marking a clear route into Klopp's long-term plans.
Grujic, who was signed back in 2016 for £5.1m, became a standout performer for Hertha Berlin last season, scoring five goals and registering one assist in his 23 appearances.
Utilised in a double pivot, he offered an injection of drive into the midfield, displaying a strong work rate and willingness to push forward as well as a good reading of the game, stifling opposition attacks.
Averaging just below five interceptions per 90, his influence at both ends of the field saw former-manager Pal Dardai label him as "the best midfielder I've ever seen in my time at the club".
"He was tall, too, but very safe on the ball despite that, and he always knew when to calm down the team, when to go into a duel and when to move forward. You either have that ability or you don't." – Pal Dardai
What's more, a strong physical presence has seen the Serbian international mould into a steely, combative enforcer much in the same way Fabinho's arrival has added a layer of security to Liverpool's defensive third. Having already established himself as a lynchpin, bedding into his surroundings and diminishing any period of acclimatisation, Grujic will be perfectly placed to take further significant steps in his development, ironing out the rough edges towards a wider, upward trajectory.
In contrast, a return to Liverpool would've threatened stagnation on the bench given the club's gluttony of midfield options at present. Fabinho, Naby Keita, Jordan Henderson, Gini Wijnaldum, James Milner, Adam Lallana and the returning Alex Oxlade-Chamberlain will all be battling it out for three places, which would have stunted the 23-year-old appearances, leaving him sat on the periphery without the required game time to continue developing. Thus, it would appear to be a win-win situation for Liverpool, enabling the player to play week in, week out while Klopp retains depth in options to switch between seven highly-experienced players.
Fast forward one year and the picture would look a lot rosier for Grujic. The likely departures of Adam Lallana and James Milner, both of whom have just one year left on their respective deals, would leave a clear opening in the squad that could pave the way for the 6'3″ midfielder to make his mark in 2020/21.
Should that fail to come to fruition, Liverpool's strategy will at least have minimised any possible losses, with the Bundesliga side paying a £2m fee up front with a possible £500,000 bonus, meaning the club have already recouped most of the original fee paid to Red Star.
Albeit a relatively unknown commodity to Liverpool fans having only played 52 minutes of Premier League football, the Serbian is blessed with the necessary physique to deal with the rigour of the Premier League.
Showing good awareness and a desire to burst forward, a well-rounded game sees him well placed to enjoy another season of progressive improvement in the Bundesliga. A year on, he will return to Liverpool a player with a plethora of senior appearances, ready to step in and fill the void left by possible departures.