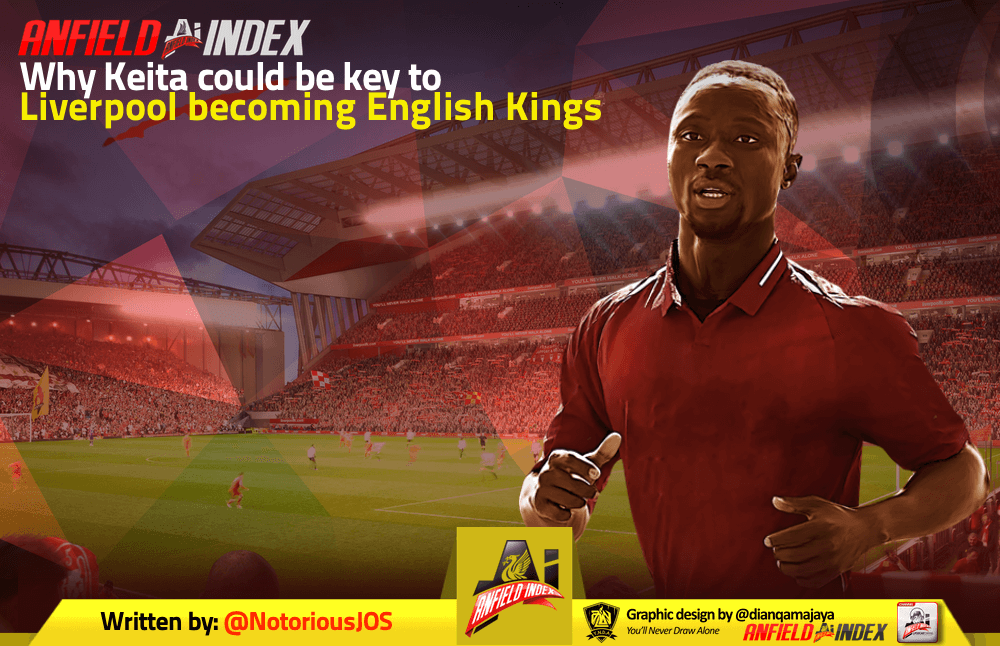 Why Keita could be key to Liverpool becoming English Kings
In the context of a football match, a midfielder receiving the ball, dawdling on it, eating a few seconds of time before laterally recycling it is no big deal. It happens umpteen times in the course of every game.
In the case of Naby Keita's Liverpool career, however, it could be symbolic of the Guinean fully acclimating to both Jurgen Klopp's tactical demands and the pressure's associated with playing for a worldwide footballing institution such as the Reds.
In a must win clash against Chelsea in the league at Anfield in April, Keita produced a solid performance in a midfield three, alongside Fabinho and Jordan Henderson. The former RB Leipzig midfielder was prominent on the ball, causing Chelsea issues by doubling up with Sadio Mané on the left hand half spaces.

His most telling contribution, though, came after an extended spell of Chelsea pressure where Eden Hazard — so often the bane of Liverpool — had narrowly missed two chances.
With a palpable nervousness amongst the Anfield crowd, Keita could have easily succumbed to the enormity of the occasion and acted rashly. A much spoken about weakness of Klopp's early Liverpool team's was their inability to control matches, especially in big, adrenaline heavy games where the pressures and the raucous crowd can warp a game in a slug fest.
Receiving the ball from Joel Matip, Keita gestured to both his teammates and the crowd to calm down. Swapping passes with Jordan Henderson, the Guinean then indulged in two step-overs, drawing Ngolo Kante towards the ball, before passing to Henderson.
While it was not a glowing endorsement of Keita's varied skill set, it was indicative of his understanding of the intricacies of Jurgen Klopp's midfield and his confidence in wearing one of the heaviest, pressure-laden jerseys in world football.
Liverpool typically look to build attacks through their full-backs, a contributing factor to Trent Alexander Arnold and Andy Robertson's notching 23 league assists between them last season. To compensate for the full back's high starting positions and aggressive ambition with the ball, The Reds' advanced midfielders in their 433 shape are tasked with covering the lateral spaces vacated by the free-roaming Alexander Arnold and Robertson, so as not to be susceptible to counter attacks.
James Milner and Georginio Wijnaldum are particularly savvy in covering for their full backs and are a contributing reason — along with the quality and leadership of Virgil van Dijk, the unforeseen improvement of Joel Matip and the all-round excellence of Alisson Becker — why Liverpool were the meanest defence in last season's Premier League.
For all of the selflessness of Milner and Wijnaldum — and Henderson — to be a conduit for the attacking full backs and Sadio Mané and Mohamed Salah stationed high on each flank — there are legitimate qualms about their capability to add the creativity that's needed to break down deep-sitting, defensive teams. This is not a criticism of these players, more of an admission that creativity isn't their forte as footballers.
Ultimately, with only one loss, too many draws killed Liverpool's title hopes. Klopp's Men drew seven matches; three of which were away to their "top six" rivals, Manchester United, Chelsea, Arsenal and another away to their local adversaries, Everton.
In the Everton and Manchester United games, in particular, Liverpool's lack of cutting edge in the midfield saw them fail to notch against two deep-block teams, which was frustrating as the prominent narrative at the time was both teams were definitely there for the taking.
Keita started none of these matches, as he — in a similar process through which Fabinho went through — sat games out while he got accustomed to Liverpool's tactical blueprint on the training ground. The only one of the big away games the man nicknamed Deco started in the league last season was Liverpool's 2-1 win away to Spurs.
Including the Chelsea game and up until his injury at the Camp Nou in the Champions League semi-final, Keita enjoyed an excellent end to his debut campaign in England. Goals in big games against Southampton and Porto, as well as a goal against Huddersfield,  gave Liverpool fans a glimpse of the attacking prowess of the Guinean.
Keita had started the season well — supplying a hockey assist for Salah in the season's opening game against West Ham and, had it not been for a wasteful effort from the Egyptian, almost laying on the assist of the season away to Crystal Palace. The 24-year-old spun Andros Townsend with an outrageous turn before hitting a pinpoint 60 yard pass accurately into the path of Salah, who, in an untypical rash attempt at goal, lifted the ball over the bar.
The middle part of the campaign was less impressive for Keita, with injuries and inconsistencies in performances seeing some questioning the former RB Leipzig man's quality.
His form, however, should be viewed through the prism of him adapting to a new league and attempting to master the English language, and have an appropriate context applied to it. But the way he finished it — exhibiting his tactical intelligence and trademark dribbles and incisive passing — whet Liverpool fans appetites ahead of next season.
Keita's defensive capability and hunger to put in a shift to help his rearguard won't surprise those who followed his career in Germany. In the 2016/17 season, the Conakry born midfielder attempted 3.08 tackles per game, successfully completing 2.05. The key differential, however, is that Ralph Hassenhutl's Leipzig played a 4222 shape and Liverpool typically play a 433 formation.
Defensive coverage and positioning in a 433 is different to that in a double pivot formation — this is a reason why Fabinho was eased into Liverpool's team, having to learn the ropes as a 6 in a 433 after spending years playing centre midfield in Monaco's 442 shape — but it appears Keita has to got to grips with the off-ball demands in Klopp's favoured shape.
The Anfield side will hope Keita provides a more reliable midfield supply line to their prolific forward line, Roberto Firmino, Mané and Salah. A fully settled Keita, along with Alexander Arnold and Robertson producing similarly effective creativity, will add a new dimension to Liverpool's attack and could well help with turning draws into wins.
By all accounts, Liverpool will have a quiet summer in the transfer market. And with Milner, Henderson, Fabinho, Keita, and Adam Lallana vying for three midfield berths, the Reds are highly unlikely to add another midfielder to their ranks this summer. This middle third transfer inactivity will see Keita given the chance to build upon his impressive end to the season.
With the tactical penny appearing to have dropped and more confidence in himself and his surroundings Keita — offering his distinctive, slaloming dribbling style and the defensive coverage Klopp wants from his interior midfielders — could be a key player in Liverpool's mission the end their 30-year title wait.