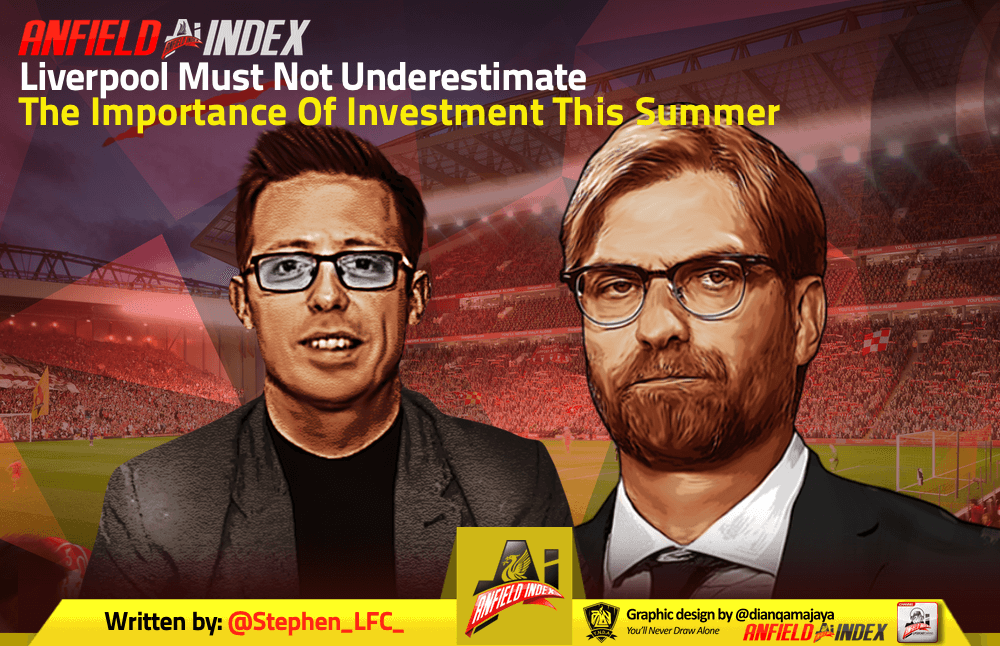 Liverpool Must Not Underestimate The Importance Of Investment This Summer
It's been a fairly interesting pre-season so far.
Premier League champions Manchester City have also been heavily linked with Spanish international Rodri, a 23-year-old central midfielder currently learning his trade at Atletico Madrid.
Another of Liverpool's rivals, Manchester United, completed the signing of right-back Aaron Wan Bissaka from Crystal Palace – who has drawn many comparisons to the Reds' own full-back Alexander Arnold. The Red Devils have also been linked with Leicester centre-back Harry Maguire, who could be another to join in a big money transfer.

In fact, just as I am writing this article, Tottenham have just announced the signing of central midfielder Tanguy Ndombele from Lyon – which has been touted by many observers and even rival fans as one of the potential coups of the summer transfer window thus far.
So, whilst most of the Reds' rivals have already begun to announce their hefty intentions for the season ahead, Liverpool, meanwhile have gone slightly under the radar thus far in the transfer window compared to recent years.
Before anyone reading this article criticises me for an overreaction, I am not at all implying that there have been no links so far regarding potential transfers on social media or in the media outlets. Nicolas Pépé, Bruno Fernandes and Ousmane Dembélé have just been a few names on the lips of many Liverpool fans.
Last year, it was Nabil Fekir who appeared to be a dead cert to join Jurgen Klopp's side in the summer. However, the deal collapsed after the Reds had cast doubt upon his injury issues. Yet there hasn't been any such repeat this year, with Liverpool instead playing it cooler than in recent seasons.
Whilst it would be silly to begin overreacting when we are only a few days into pre-season, the lack of activity on the transfer front has raised concern upon many supporters. And, they could have a valid cause of concern.
Last season was undoubtedly Liverpool's most successful season in the Premier League era since its inception in 1992. However, nor does any fan need a reminder as to how it ended. In the cruelest and devastating fashion, Klopp's side were pipped to first spot by Manchester City, who went on to win the domestic treble.
Fortunately, the Merseysiders did avoid another season without a trophy by winning their sixth Champions League in Madrid – ending a seven-year wait for silverware. And the general consensus is, that a large overhaul is not required. After all, it would be foolish to suggest that a team that finished with 97 points and a European Cup in the cabinet needs to spend riches during the off-season.
However, just before the Champions League Final in Madrid, owner John W Henry did make a solemn promise to Klopp that money would be available to spend in order to end the 30 year wait for a league title next May. And there is a feeling that, if Liverpool don't invest adequately in the squad this summer, the quotes from Henry will be used as a stick to beat Fenway Sports Group with at the end of the season.
It would seem illogical to stagnate whilst others continue to strengthen on their positions last season. On three occasions the Reds have found themselves in similar positions but failed to take advantage.
In the summer of 2002, the team was ready to take the next step. They had finished 2nd, albeit to an Arsenal team under Arsene Wenger that were at the peak of their powers. There was a strong belief in the camp, that a few quality signings could be enough to usurp the Gunners as league champions. El Hadji Diouf & Salif Diao seemed like excellent acquisitions having caught the eye at the World Cup that summer, but Bruno Cheyrou less so. The end result was hugely disappointing, as Houllier's men finished 5th.
Seven years later, perhaps owing to the shoddy ownership of the club, Liverpool were not able to mount another title challenge having finished runners-up and finished four points behind fierce rivals Manchester United. Alberto Aquilani was their answer to the loss of midfielder Xabi Alonso, but he never had any influence on the side due to injuries and the Reds finished in 7th place – leading to the departure of Rafael Benitez.
Although less may have expected a serious title assault in 2014/15, it was still a presentable opportunity for Liverpool to consolidate on the improvement shown the previous season in which they came a slip within their first league title in 24 years. As star striker Luis Suarez left that summer, money was squandered on duds such as Lazar Markovic, Rickie Lambert, Mario Balotelli and Javier Manqullio – but only finished 6th in the league; a far cry from the side who had produced free-flowing attacking football the year before.
It would be especially sickening to see a Liverpool side throw away such promise like in the aforementioned years, given that the aura around Anfield after that night in Madrid on 1st June was so positive and upbeat.
Whilst the current side under Klopp does not by any means require a mass exodus this summer, investing for squad depth could prove to be the difference for Liverpool next season – and end Manchester City's reign of dominance in English football over the past few seasons.
It's worth noting that Liverpool were incredibly fortunate with injuries last season; they seldom suffered severe injuries to key players bar the loss of Joe Gomez in December. Therefore, it is vital that they have a sufficient Plan B in each position if they are to challenge on all four fronts next season.
Another left back to provide insurance for injuries to Andrew Robertson would be ideal, given Alberto Moreno's release from the club earlier in the summer – who had previously served as a backup option to the Scot.
Furthermore, Liverpool do look slightly light in midfield; although Fabinho, Wijnaldum, Milner, Keita and Henderson have all proved their worth over the last year in their own ways, an injury to either could potentially have ramifications on the Reds' season.
Another central midfielder would be desirable, and Fernandes from Sporting has been linked with a potential move. The Portuguese international managed 50 goals and assists in 53 appearances last season, which is certainly no mean feat and could prove to be an excellent option in attacking midfield; Liverpool could do worse than sign a playmaker this summer, to provide another potential area for assists along with the current full-backs Alexander-Arnold and Robertson.
Finally, another key area which currently lacks sufficient depth are the wide positions. Although Liverpool possess world-class wingers in Sadio Mane and Mohamed Salah, there aren't many options for them other than Xherdan Shaqiri that can deputise in these positions when neither of the aforementioned duos arent available.
Nicolas Pepe, who I mentioned earlier in the article as a player who has been reportedly coveted by Jurgen Klopp, seems a suitable candidate to take upon this role. At the age of 24, he will certainly only develop under Klopp's tutelage – and his ability to create goalscoring opportunities (only Teji Savanier created more in Ligue 1 last season) could be a very useful attribute in games against deep-block opposition.
To conclude, in this article I'm not suggesting we need to be panic buying every player in the market – nor should we overly panic at the lack of investments at this stage of the transfer window. However, if local reports are correct regarding the reluctance to invest in the side this summer, Liverpool would be wrong to underestimate the importance of building on an excellent season.
It is unlikely that Klopp will head in the same direction that Houllier, Benitez and Rodgers did in 2002, 2009 and 2014 respectively – but if Liverpool are to sustain their performance in 2019/20, we will need to see more of the excellent business and hunger to build on the previous campaign that we saw last summer from the board & the manager.