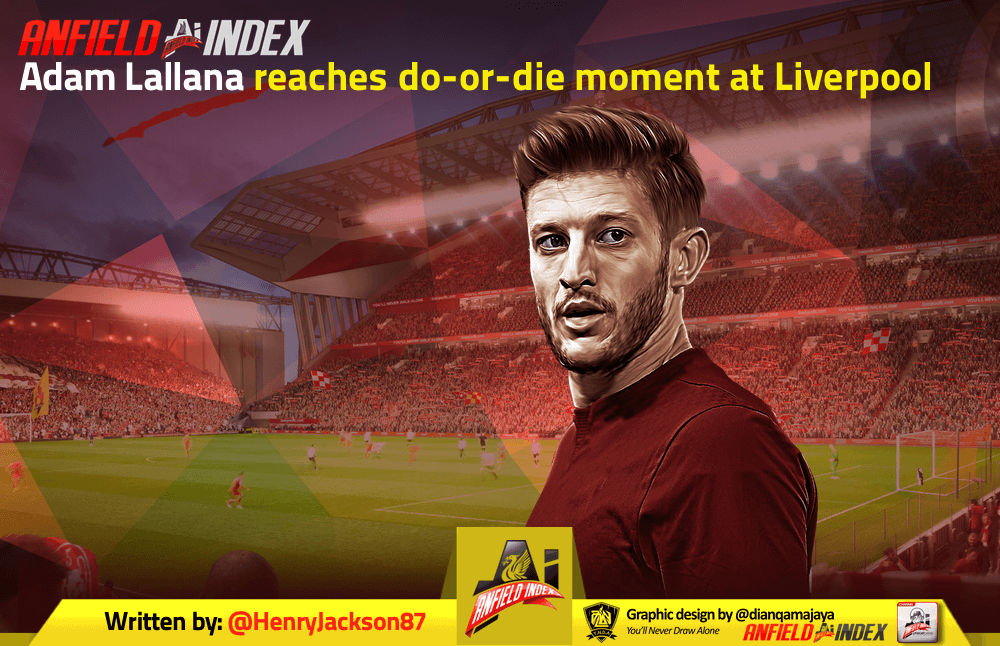 Adam Lallana reaches do-or-die moment at Liverpool
Adam Lallana is one of those Liverpool players you dare not criticise.
He has a legion of followers who have admired him from the moment he traded Southampton for Liverpool and any negativity in his direction is treated with ire.
In many ways, he is the reverse Dejan Lovren, who for all his numerous faults as a centre-back, only has to misplace one pass before his detractors unfairly appear with pitchforks in hand.

It's now five years since Lallana arrived at Anfield and his impact has diminished with each passing week, month and year.
There was a point when he was somewhere close to being a key man, particularly during the early part of Jurgen Klopp's reign,  when his ability to keep the ball and press opponents into submission proved effective.
His goal return, while far from eye-catching, went up each season after he joined, having scored six in 2014/15, seven in 2015/16 and eight the year after that.
Lallana chipped in with key contributions at important times, too, from that memorable last-gasp winner at Norwich City to a crucial effort in the Europa League semi-final win over Villarreal.
When he played well, Liverpool often did.
Although he still wasn't without his critics even at that point – in contrast to his admirers, some had it in for him from minute one – it was hard to have too many qualms with his overall input.
As time has passed and Liverpool have grown into a completely different animal, however, Lallana has been left behind.
This is now a Champions League-winning Reds outfit generally regarded as one of the two top sides in Europe, possessing arguably the world's best goalkeeper, centre-back, left-back and attacking unit.
It's no longer the team that was pushing for top-four finishes and proving entertainingly inconsistent three years ago, back when Lallana was a regular starter.
This is now a team that has established international players sitting on the substitutes' bench, and some renowned names not even making matchday squads.
Injuries have evidently played a part in Lallana's decline, in fairness, and as pre-season approaches and summer transfer business remains at the forefront of supporters' minds, you are left wondering what the 31-year-old has to offer.
For many, now is the time for him to be moved on, most likely to former club Saints or a similarly mid-table outfit such as Bournemouth. But it looks unlikely.
Klopp continues to have faith in his old next-door neighbour, with reports suggesting he will once again be a part of the squad next season.
Is it a case of the manager showing too much faith in Lallana? Is it one of the very few blind spots this brilliant manager has? It could certainly be argued that that is the case.
Of course, Klopp works with him every day, and he knows more about football than you or I, but no manager in the history of football has got every single decision right, have they?
Pre-season is the time for Lallana to prove his worth, especially with so many key players not returning until the tour of the America midway through this month, at the earliest.
In fact, only five senior figures will report for the first training session of the summer on Saturday: Joel Matip, Fabinho, James Milner, Alex Oxlade-Chamberlain and Lallana himself.
He has to show in these coming weeks that he is in good condition, rather than the injury-plagued individual that has made just 31 appearances over the past two seasons, and only nine starts.
On top of that, some of the past substance that used to be provided, albeit still not regularly enough, has to return.
Staggeringly, Lallana hasn't scored a single goal or registered an assist for Liverpool since scoring on the final day of 2016/17, in a top-four-clinching victory over Middlesbrough.
Those defending him can point to a lack of playing time as an argument for this drought or claim that it's not his primary job in the team – look at it whichever way you want, it is an atrocious statistic for somebody who is meant to provide quality in the final third.
Looking at Liverpool's squad, it is difficult to see how Lallana is going to play any significant role when he and his high wages could be shipped off instead.
Fabinho, Milner, Oxlade-Chamberlain, Jordan Henderson, Gini Wijnaldum and Naby Keita are all far significant midfield options, both in terms of quality and staying fit, barring one unfortunate and serious injury for Oxlade-Chamberlain.
A new attacking midfielder could easily still arrive this summer, too, and his worth as a front-three player is almost zero.
Sure, rotation is required and injuries will come and go, but is Lallana really a sufficient man to bring in these days? When has he backed that up in the last two years, barring one good performance at home to Burnley?
Harry Wilson, whose Liverpool future remains unclear, is a superior option now, and even he is not good enough for the Reds moving forward.
The hope is that Lallana proves his numerous critics wrong and produces a vibrant, injury-free pre-season that suggests he may still have a role to play. Don't bank on it, though.
That next injury feels like it is waiting to occur, as is the next forgettable cameo performance, and it feels inevitable that he will go out in a whimper at Liverpool, as his contract expires next summer.