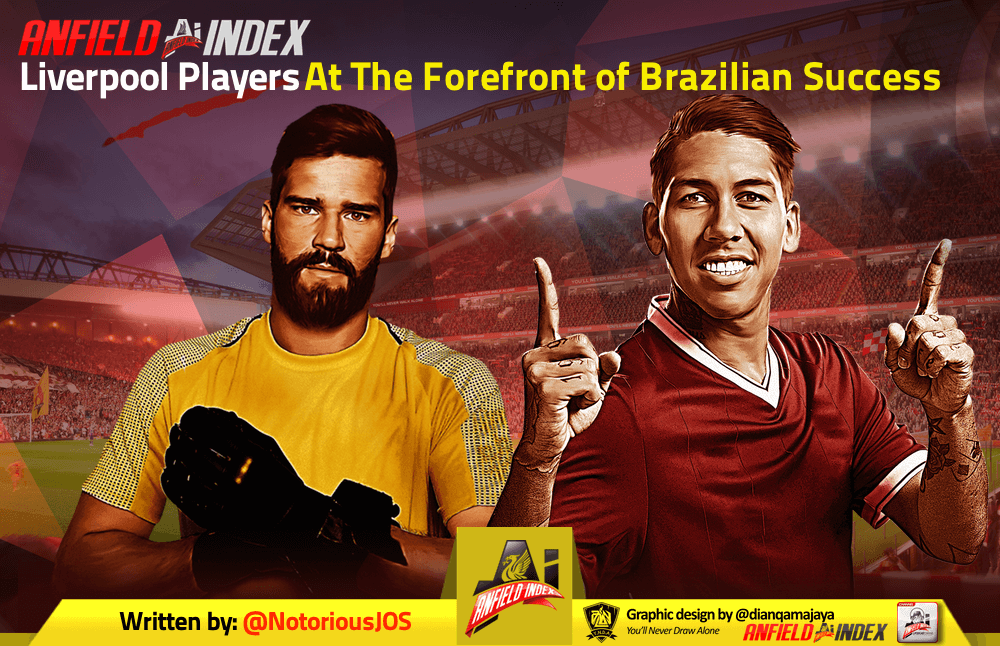 Liverpool Players At The Forefront of Brazilian Success
Brazil sailed through to the Copa America final with a 2-0 victory over their eternal rivals, Argentina, on Tuesday night, thanks in no small part to Liverpool players.
It is a testament to Liverpool's growth in recent years that they have players playing in key roles for a footballing powerhouse like Brazil.
Goals from Manchester's City's Gabriel Jesus and Liverpool's Roberto Firmino further extended Lionel Messi's wait for international silverware with Argentina.
The diminutive Barcelona number ten tried his hardest to shift the trajectory of the game, and if it wasn't for Liverpool's Alisson Becker in the Brazilian goal he may well have.
With the game poised at 1-0 in the 65th minute, Messi lurked over a free kick. The serial Ballon D'or winner had bulged the net times from dead ball situations this past season for the Catalan giants, including one — albeit it with the aid of the slightest of deflections — against Liverpool in the first leg of the Champions League semi-final.
With the precision and placement that are hallmarks of his game, Messi hit the free kick flush and towards the right-hand corner of Alisson's goal.
More often than not, a free kick of such accuracy would have beaten the goalkeeper. Most keepers aren't Alisson, however.
Not only did the former Roma number one make the save, he did so in the blase, casual manner of someone picking a box of cereal off a shelf in a supermarket.
Such saves — where his positioning is so solid that he just has to jump, rather than dive — are the Brazilian's forte. In Liverpool's win over Burnley at Turf Moor last December, the former holder of the world record transfer fee for a goalkeeper made an eerily similar save. Not only that, but his subsequent act of quick distribution got Liverpool on the front foot and they soon scored the pivotal third goal. The 6'4" stopper has now gone nine consecutive games without conceding, a run of games stretching back to May and encompassing club and country
Unsure if Alisson being so blase and casual makes it look that way or whether it's just hit with too little power pic.twitter.com/horEpFmLOL

— John O'Sullivan (@NotoriousJOS) July 3, 2019
At the other end of pitch, another Liverpool player was similarly decisive. Roberto Firmino hasn't always been an automatic starter for Brazilian coach Tite, but his form throughout this edition of the Copa America should cement his status as one of the first names on the Selecao's team sheet.
A goal and an assist for the former Hoffenheim forward saw his tally for the tournament rise to two goals and three assists; which see's him out on his own as the player with the most goal contributions in the Copa America.
Firmino's selflessness, intelligence and manipulation of space has seen Sadio Mané and Mohamed Salah thrive to the extent that they've won or shared the last two Premier League golden boots.
Now, Firmino's work is finally getting recognition on the international stage. With Neymar to return, the man Liverpool fans affectionately dub Bobby could be a cornerstone of any future Brazilian success.
When Brazil named their squad for the tournament, it was noticeable that Fabinho was omitted.
The ex Monaco midfield lynchpin enjoyed an extremely strong end to his debut campaign in English football, becoming a key component of a Liverpool team who won their sixth Champions League crown. Liverpool's defence was the strongest in last season's Premier League, and the Brazilian's strength, physicality and tactical and positional intelligence was a contributing factor to this.
Far from your typical midfield destroyer, the 25-year-old also offers playmaking capabilities — which could be seen in all their glories as he delicately laid on an assist for Sadio Mané against Manchester United in a victory at Anfield last December.
Fabinho's form and the fact he can play right back — somewhere he's played extensively for his national team — made his exclusion from the squad all the more inexplicable.
With a non-international window afflicted pre season, Fabinho should start next season in a similar vein of form to which he ended last season. Such displays will mean the Liverpool number three is soon back in the international fold.
The Champions League is a tangible measure of Liverpool's development under Jurgen Klopp, but the spine of the five times world champions having a heavy Liverpool influence is another feather in the cap for all associated with the club.