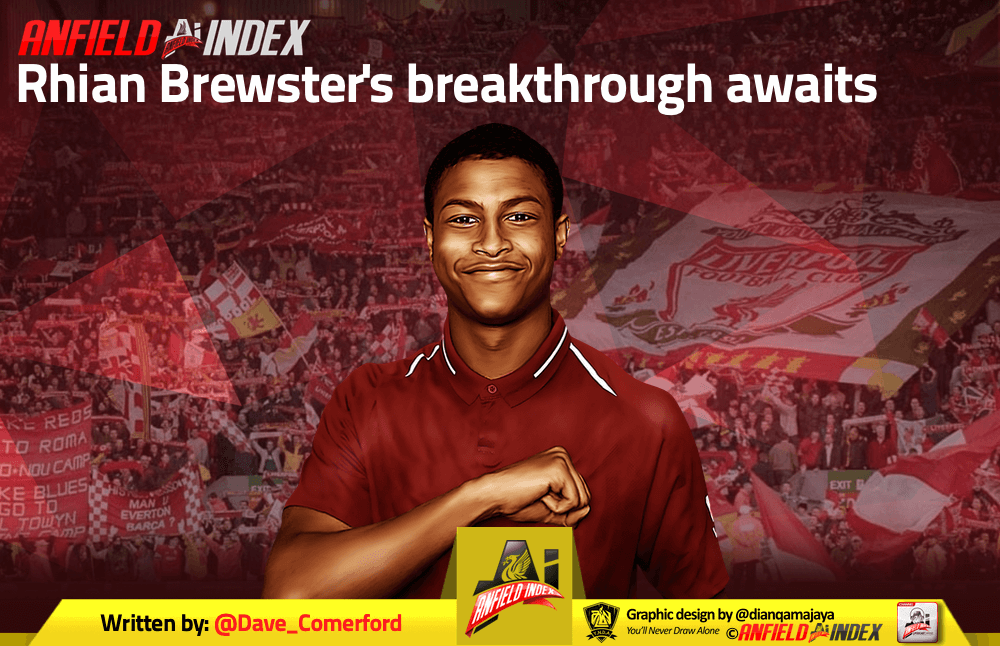 Rhian Brewster's breakthrough awaits
Rhian Brewster has yet to make a senior appearance for Liverpool, but he is poised to assume an important role in a Champions League-winning squad.
On his return to Melwood on Saturday, Jurgen Klopp stressed that the young forward was a key part of his plans for the upcoming campaign. It is an arrival which has been teased for years, but at last it is imminent.
One of the reasons Klopp chose not to recruit another striking option last summer, even as Daniel Sturridge and Divock Origi flirted with the exit door after a period of mediocrity, was his faith in Brewster, who will now jostle with Liverpool's European hero for the role of Roberto Firmino's deputy.

Of all the club's young talents on the fringe of the first-team, Brewster has generated the most buzz, and it's not out of the question that, given the opportunity, he will see his reputation soar to the level of Callum Hudson-Odoi or Phil Foden.
Supporters have a conception of his immense promise but perhaps not of the finer details. So I've done some research not only into Brewster the player, but also Brewster the man, and the results are very encouraging.
What the numbers say
Much of the excitement surrounding Brewster is the result of his performances in the U17 World Cup two summers ago, with which many may be familiar.
Remarkably, he bagged seven goals across his side's three decisive games, following up back-to-back hat-tricks against the United States and Brazil with a goal against the Spanish in the final. England won the tournament and he won the Golden Boot, as well as the Bronze Ball.
Those rampant displays were only the culmination of a spectacular run of form at U-17 level. In all, Brewster scored 20 goals over his 23 games – a frightening tally.
At club level different facets to his game become apparent. For Liverpool's Under-18s, Brewster mixed five goals with four assists in 11 appearances before seamless graduation to the Under-23s, for whom he has been directly involved in 18 goals – nine of each.
This fine balance between creating opportunities and taking them bears hallmarks of Roberto Firmino, a player upon whom Brewster notably said he models his game.
Origi has maintained an impressive strike rate at Liverpool but lays on relatively few chances for his team-mates, and soon that might make Brewster a more natural replacement for an injured Firmino.
It's also worth noting Brewster's versatility. He has played eight of his 36 games for Liverpool's youth teams as either a so-called 'second striker' (in behind the main frontman) or as a left-winger.
We're not quite sure how Klopp intends to use him at this stage – perhaps he will look to utilise the various strings on his bow.
What the observers say
Of course, you have to take the public statements on Brewster's development with a pinch of salt. Coaches are unlikely to reveal any underlying problems, but the Englishman's fast-track to the first-team legitimises their glowing appraisals.
The assessment of Dan Seymour, a coach who oversaw Brewster at the tender age of seven, is telling. Inevitably there is an emphasis on the player's 'exceptional' talent, on his ability to beat players for fun and thrill onlookers as he did so – he was urged to 'terrorise' after being 'kicked black and blue', but perhaps more interesting is the insight into his character.
The 'humble' youngster, Seymour said, always 'lived in the moment' and refused to 'rest on his laurels', demonstrating determination rather than complacency.