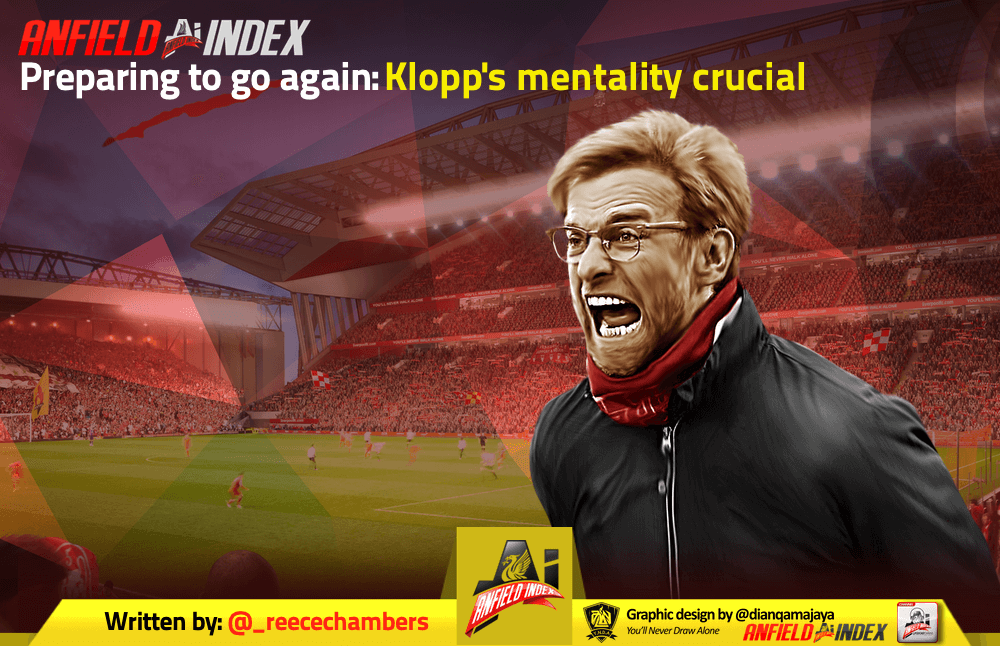 Preparing to go again: Klopp's Mentality is Crucial
The Reds have been back at Melwood for a few days but it still seems crazy to think about the new season. It only seems like two minutes ago that Reds were bouncing around in Madrid, and then back in Liverpool.
But this is it. A new season. Last season's success answered so many questions that people had of this Liverpool team – and Klopp himself. He finally won a final, but now his challenge is different. He has the task of making this side into one of the greatest the club has seen. And to do that, Liverpool must become serial winners.
Ahead of a new season, fans and pundits obviously differ in their predictions and this season is no different. On one side, you have the optimist: it's our year, it's our time to go one better and lift that long-awaited Premier League trophy. On the flip side, you have the pessimist: last year was incredibly exhausting, and there is no chance of achieving 97 points again.
No matter which side of the fence you sit on, or even if you sit right on the fence, there is no doubting that Klopp is the key man this season. Liverpool have quite clearly got the players to perform at the very top of club football, but it will be down to Klopp to motivate the squad and push them to the next level.
The biggest issue looming over Anfield ahead of the 2019/20 season is quite clearly that first Premier League title. 97 points last year was the third highest of all-time, only bettered by Man City's 17/18 record 100 points season and title-winning 99 points last season.
That psychological task of challenging Man City again won't be an easy ride. Their ability to keep winning under Guardiola is relentless. And it is perhaps that relentless will to win that Klopp will have to develop if this Liverpool side is to get even better.
Klopp is a manager based on a few key principles – support, freedom and expression. He wants his players to express themselves. Yes, he understands the importance of tactics, but it is ultimately up to the players to perform on the pitch.
Such a style of management is something that may have to be altered this season. If Klopp wants these players to turn into club legends, he will have to install the relentless will to win that Guardiola has done in Manchester.
Indeed, amassing 97 points over the course of last season shows that Klopp need not change huge amounts. But, it is that crucial final hurdle to ensure domestic success that has evaded Liverpool for too long.
Essentially, if this team wants to fulfil their full potential, they have to maintain last seasons' standard and continue to improve. Against a side like Man City, improvement is the only answer to ensure domestic success this season.
Before the season kicks off on August 9th, Klopp's main task will be managing the squad. International duties and injuries further complicate what already is a huge important pre-season campaign.
All of the front three have had little break since the Champions League final. Salah and Mané have been playing in the Africa Cup of Nations, whilst Firmino finished Brazil's successful Copa America campaign on Sunday.
For Salah, he now enters a much-needed rest period before the start of the new season. However, Mané's Senegal are in the AFCON quarter-finals and could be playing, if they reach the final, until July 19th.
Therefore, Klopp and his staff will have to juggle the responsibility of giving three of his most crucial players a rest. But he will also be acutely aware that he needs all three fit for the start of the season.
As a result, the summer has been a period in which very few of Liverpool's most valuable players have had a substantial break. Klopp, then, will have to work smartly with his staff to ensure that all of the players have rest before the start of the season.
Most importantly, though, will be Klopp's task of mentally preparing his players for a season in which more silverware is a must.