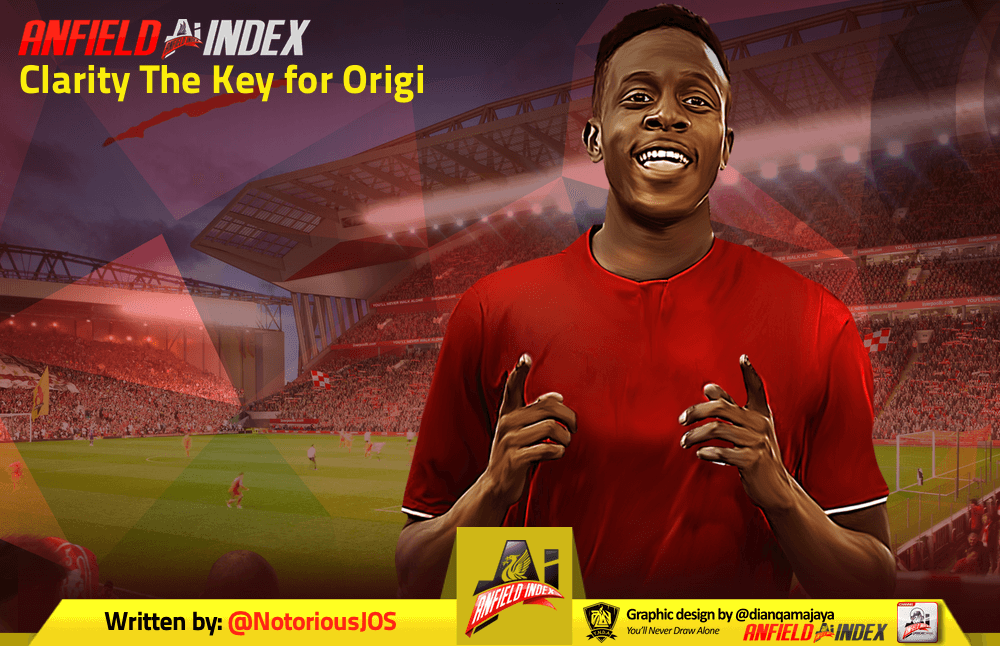 Clarity The Key for Origi
After weeks of conjecture, Divock Origi recently penned a contract that will see the Belgian remain at Anfield for the foreseeable future.
Origi, who scored twice in Liverpool's Champions League semi-final victory over Barcelona and the sealing goal in the Reds' Champions League final victory over Spurs, had been linked with, among others, Real Betis.
The former Lille academy product began the season well off the first team, barely even making matchday squads ahead of the likes of Daniel Sturridge.

The trajectory of Origi's season and possibly career changed irreparably in the Merseyside derby at Anfield in December, however.
The Belgian found himself on the end of a mistake of ridiculous proportions from Everton goalkeeper Jordan Pickford to head home the late winner in a 1-0 Liverpool victory.
Gradually, the 24-year old's first-team minutes started to increase after his Derby heroics. Origi scored for the Reds in their 2-1 FA Cup third round away defeat to Wolves in January, in a game where Jurgen Klopp elected the make wholesale changes.
The common narrative among supporters was that Origi, who only had a year left on his deal, would soon depart the club. Liverpool, it was presumed, would only be too happy to cash in on the Belgian while he still held a transfer value.
After all, by all accounts, the club were receptive to letting him depart last summer only for Origi to turn down the overtures of Wolves.
The former Wolfsburg loanee stayed to fight to his chance, however, and his commitment had an irreparable impact on Liverpool's recent history.
With Mohamed Salah and Roberto Firmino missing through injury, Liverpool — who were already 3-0 down from the first leg — were given a snowball's chance in hell of progressing to the Champions League final over Lionel Messi's Barcelona.
Origi started in a rejigged front three, alongside Sadio Mané and Xherdan Shaqiri, and scored twice in a 4-0 win that will be indelibly preserved in the club's folklore. His all-round performance that night was far from exemplary, but the physically imposing Belgian exhibited a prescience and eye for goal that will never not have a place in football.
Origi's European odyssey didn't run its course beneath Anfield's floodlights that night in May. A month later he cemented himself in the annals of Liverpool FC history as his low, left-footed strike put the icing on the cake in Liverpool's 2-0 Champions League final victory over Tottenham Hotspur in Madrid.
Now he has renewed his deal, Origi will look to build upon the cult hero status he has built amongst the Reds fans. There are many who doubt the Belgian of Kenyan descents ability to lead the Liverpool line for a prolonged period of time.
There are validity to these claims, as the benchmark has been laid down by the brilliant trio of Mané, Firmino and Salah and Origi has failed to set the world alight in his loan spells at Lille or in Germany with Wolfsburg.
The 6'1" forwards new deal gives him something that he has lacked in his career since he agreed to join Liverpool in the summer of 2014: stability.
On and off the pitch, the last five years have been tumultuous for Origi.
Two bad loan moves at Lille — where he was named in the French "worst XI" of the season — and at Wolfsburg did not help his development.
Then, after impressing in what has been his only extended run in a Liverpool shirt, a horrific tackle from Everton's Rogelio Funes Mori sidelined Origi for months with an ankle ligament injury. It was a horrible way to end a promising run of form that saw the Belgian score home and away in Europa League quarter-finals away to Borussia Dortmund.
Football pales into insignificance relative to life and death and Origi had to endure the death of his best friend in football, his compatriot Junior Malanda, in 2015. The passing of a friend is difficult for anyone and it was another trying episode in Origi's recent past.
The Belgian's new deal provides a clarity his career has been missing to this point and the security it offers could see him work on the imperfections of his game that he will need to improve to push Liverpool's incumbent front three.
Origi knows what his role will be, and he knows what he needs to improve upon.
His focus will be clear and interrupted, with the whirling distractions of where his future may lie. In this era of Football Manager and FIFA, we take footballers humanity for granted. They are people and more often than not people flourish in environments where they are happy.
He will train regularly under Klopp — a coach famed for his ability to improve players — and with Mané, Firmino and Salah, and this is surely fertile ground for any young forward to improve.
With a bumper fixture list next season, there will be considerable opportunities for the Belgian to hone what he has learned on the training ground.
Big, strong and quick, Origi is liable to be timid on the pitch, despite his physical blessings. The Belgian plays like a player smaller than he is, acting more like a Thierry Henry than the Didier Drogba lite he could be. Perhaps with experience will come the nous to use his frame like he ought to; bullying opposition players with his superior physicality.
With the career security, he has lacked, allied with the confidence in his ability that should only be increased by his new deal, Origi's pivotal role in the history of Liverpool FC may not have ended in Madrid's Wanda Metropolitano stadium.