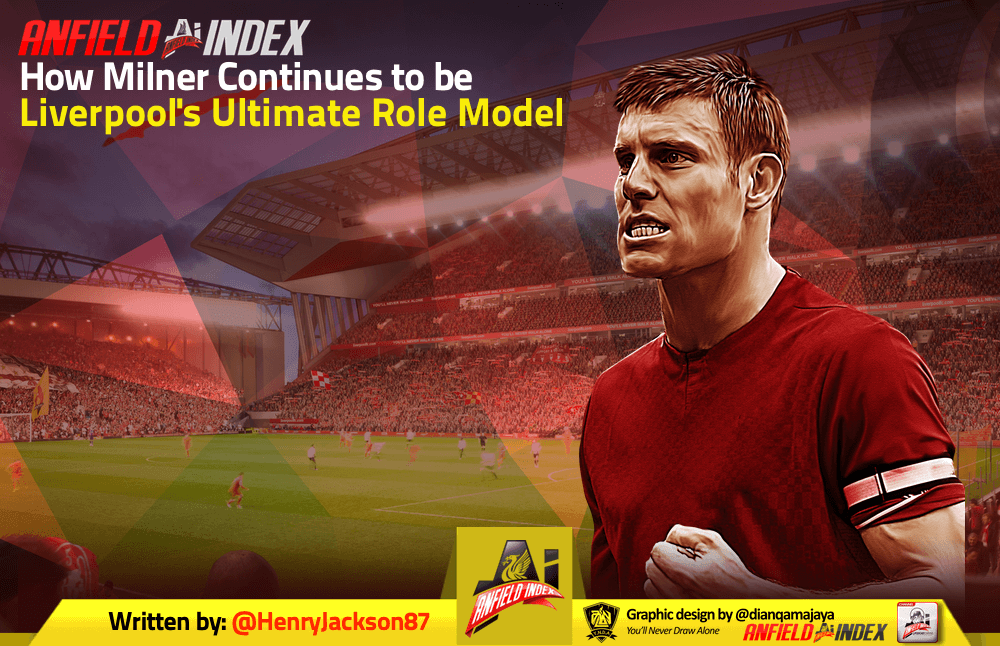 How Milner Continues to be Liverpool's Ultimate Role Model
Who else remembers James Milner's arrival at Liverpool four summers ago? It's easy to forget it, in truth.

When Brendan Rodgers took him to Anfield on a free transfer ahead of the 2015/16 season, it wasn't a signing that felt game-changing, exciting or fashionable.
At 29, there was an argument that the midfielder's best days were behind him, following a stint at Man City in which he proved to be an invaluable utility man.
Liverpool signing him almost epitomised that period for the Reds – one of the best teams in the country didn't want him, so they passed him on to a side the next tier down.
Milner has spent his entire career proving people wrong and altering the perception of him, however, so it is no great surprise to see him do precisely that for Liverpool.
In those four years since he moved from Manchester to Merseyside, the 33-year-old has grown into a cherished figure at Anfield.
In a squad that has occasionally felt immature, Milner has been the father figure, leading by example, showcasing his professionalism and also his underrated technical quality.
When vital penalties have needed to be scored, he has delivered. When time has needed to be wasted, he's been the man to rely upon. When a player has been required to fill in an unnatural role, Milner has been the ideal candidate for the job.
He is a calming presence who provides a feeling of warmth to supporters during tense occasions.
Milner enjoyed the greatest night of his long and extinguished career in Madrid last month, becoming a Champions League winner for the first time.
The veteran put every ounce of energy into Liverpool's European run and his tears after the semi-final victory over Barcelona were a rare show of emotion from someone renowned for being typically unemotional in his Englishness.
For most mere mortals who have been playing at the top level since they were 16, clinching Champions League glory may have felt like a logical time to call it quits and bow out in style.
Seventeen years of running himself into the ground is sure to have taken its toll and a return to Leeds United to see out his playing days would have been more than understandable.
But this is Milner we're talking about.
He may not possess the magic of Mo Salah, the coolness of Virgil van Dijk or the personality of Alex Oxlade-Chamberlain – his sense of humour is vastly underrated, mind you – but he is special in his own right.
As Liverpool reconvened for pre-season training last weekend, all eyes were on the dreaded lactate test – a gruelling gauge of a player's fitness after their summer holidays.
Milner's remarkable endurance has become the stuff of legend over the years and once again he took home the gold medal in the professional footballers' version of that horrific bleep test many of us will have done at school.
While his teammates ducked out at different stages, at least those who aren't still being afforded a summer break, he continued to blitz laps of the pitch.
It ended up being a straight fight between Milner and Joe Gomez, a player 11 years his junior, but the former was too strong, as those around him applauded.
We shouldn't be too shocked, such are his freakish levels of dedication, but as each year passes, the more impressive it becomes.
Any person who is 33 years of age is rightly considered a young man, but in footballing terms there is no denying that a player's career is winding down and younger teammates should have more to offer.
This is what makes Milner so extraordinary – he remains as fit as anyone, leading by example and ensuring everyone applies themselves to the best of their ability.
As another new season gets underway, he is showing his importance to the cause more than ever, highlighting why the thought of ever selling him this summer was ludicrous. Players of Milner's ilk are priceless.
His role at Liverpool should continue to become more of a squad one, as other key midfielders take centre stage, but you cannot teach what Milner has in his armoury.
He is intelligent, determined, consistent and inspiring, proving to be Jurgen Klopp's dream player. You only have to watch the manager gush over Milner to see how much he treasures his contribution.
We as fans don't see the vast majority of what goes on behind the scenes at Liverpool, but it's obvious to see that Milner's influence in the dressing room is enormous.
Frankly, how couldn't it be?
When you see an ageing player outperforming his younger colleagues in fitness drills, and often showing more mental fortitude and brains than any individual on the pitch, you are going to sit up and take notice.
Milner's contract expires next summer, at which point he will be 34. He will surely leave at that moment, possibly for an emotional farewell at Leeds, but there is another season of him to enjoy before then.
As the European champions aim to make themselves Premier League winners for the first time, having Milner around is only going to aid that bid.
Without him last season, Liverpool would likely have not achieved what they did and he will continue to be an incomparable figure in 2019/20.
He is the most unfashionable of role models in a lot of ways, but young players should use him as inspiration more than anyone.