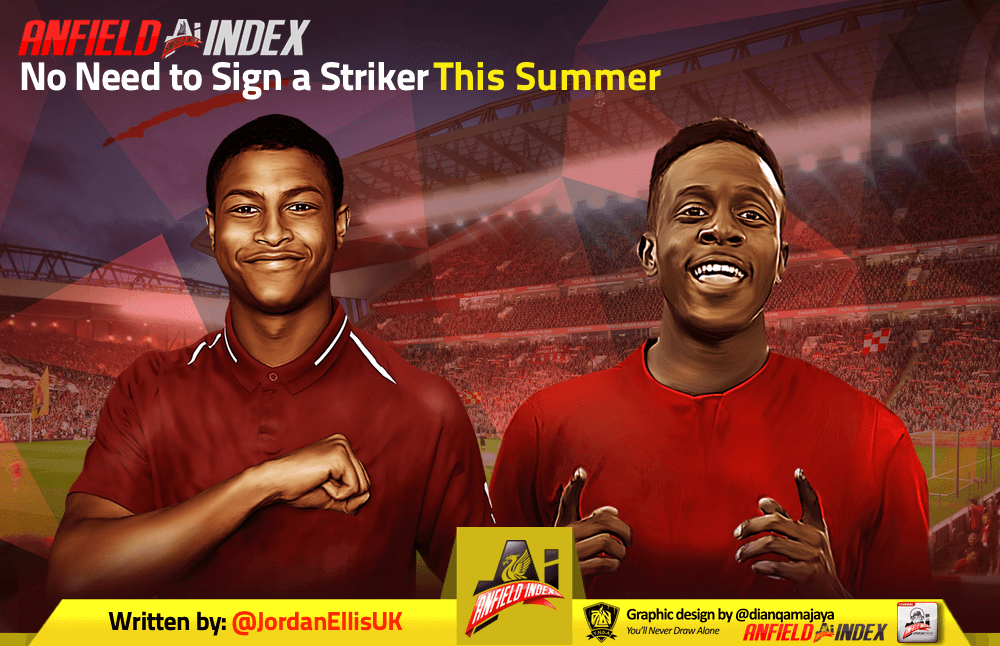 No Need to Sign a Striker This Summer

After enjoying a goal-laden season Liverpool are apparently in the market for a new striker, after losing Daniel Sturridge at the end of his contract with the club.
The club, despite scoring 115 goals in all competitions last season, are believed by some to be short at the front end of the pitch.
With Sadio Mane, Mohammed Salah and Roberto Firmino leading the line it's safe to say goals will not be a problem next season.
In-depth strength is a necessity to compete with Europe's elite, but it is something we already have at the club.
In Divock we trust
The man who has developed a cult-like status around Anfield through his heroics during the 2018/19 season is capable of providing the back-up needed at the top end of the pitch.
Divock Origi made 21 appearances scoring 7 goals last season, each more important than the last. He became a very reliable deputy to Roberto Firminio and is one player we can safely say earned his Champions League medal with crucial goals in both the semi-final and the final itself.
The 24-year-old Belgian striker has now committed his peak years to the club by signing a long-term contract. His current deal was due to expire next summer and despite the potential riches that await in free-agency Origi has tied himself to the club for the foreseeable future.
With such a commitment from the player, you can only assume he has been given reassurances by the powers that be about his role within the current squad. It's been no secret Origi has found the reduced playing time a struggle for most of his time at the club.
On the back of the strongest season of his career, he now has a real opportunity to become an ever-increasing fixture in Liverpool's first 11.
With tons of experience, despite his young age, Divock Origi can become a world-class player in the near future.
He's big, athletic and most importantly knows where the goal is. We'll certainly need him throughout the season should we wish to compete on all fronts.
It's up to him whether he reaches those levels or Liverpool need to look elsewhere for another elite level front-man.
Brewster's breakout season
Jurgen Klopp has promised an "important role" for Rhian Brewster in the upcoming season. The 19-year-old is highly regarded within the club and among most of world football.
This is despite having never made a senior appearance for the club. So exactly why is everyone so high on Rhian Brewster?
In 2017 Brewster was the catalyst for England U17's victory in the world cup. The London born striker netted 8 times throughout the competition including a couple of hat-tricks.
He was expected to play a role during the 2018/19 campaign but an injury to his ankle hampered much of his season. Now back to full fitness Liverpool have a ready-made replacement for the departing Daniel Sturridge.
Whilst he will be back of the queue in term of striking options, he can be guaranteed of his chance at senior level. It's just a question of can he cements a regular place in the Liverpool team?
He certainly has the backing of his manager and the fans who are always keen to see Melwood graduate's shine on the big Anfield stage.
Buying not a necessity
With two very viable options backing up the strongest front three in Europe, we have plenty of options and despite what some may say, serious strength in depth.
As we have already seen Jurgen Klopp is very particular about who he invites into his squad and his faith in Origi and Brewster is very clear as he seems to be making big plans for both in this upcoming season.
The transfer market continues to be over-inflated and whilst Liverpool have shown they are not shy of spending big money, it must be necessary. This transfer strategy has worked so far, why change now?
Unless a truly world-class striker, who fits Klopp's plan becomes available in the next month Liverpool will not be making any purchases in this area and that's absolutely fine. We already have everything needed to bring more trophies back to Anfield this season.