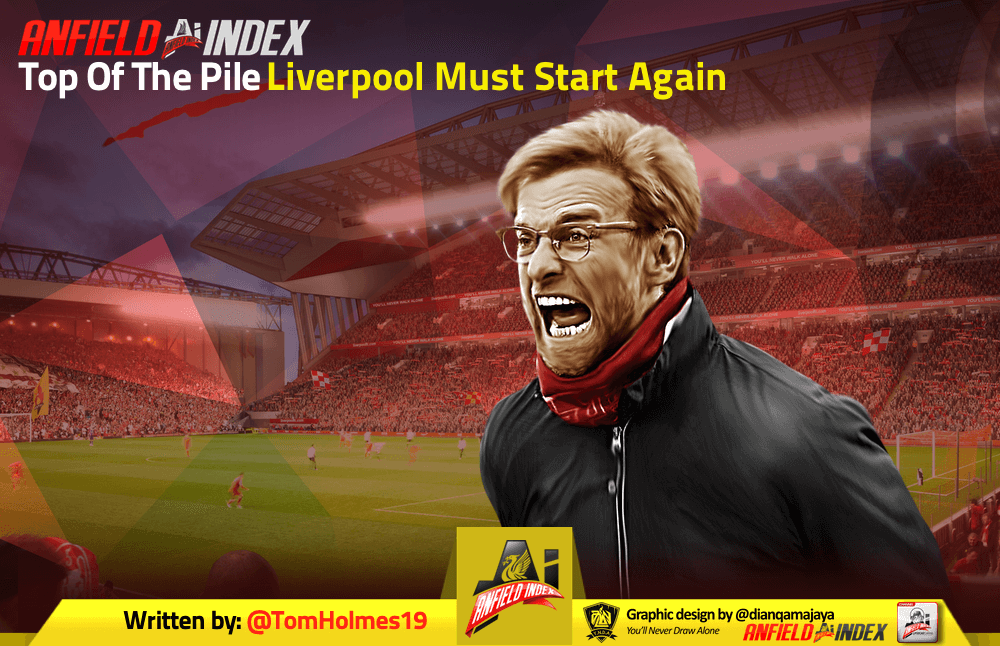 Top Of The Pile Liverpool Must Start Again

Liverpool are Champions of Europe. I still enjoy saying that. But even if it feels as though the dust has barely settled on a terrific and historic 18/19 campaign, the quest to match last season or even have a better one, in 19/20 has already begun.
Even though it's still a month until the Premier League begins in earnest, pre-season is already underway. The hard work has to start again, and nothing means anything. When the new season starts, everyone starts from 0 and Liverpool need to make sure that they get off to a flying start and keep up the feel-good factor bouncing around the club at the moment.
Getting Divock Origi nailed down on a new deal is merely the start of the work, with the club keen to include youngsters in the squad wherever possible, and there are some really exciting times ahead, as the likes of Brewster and the returning Alex Oxlade-Chamberlain will look to make a big impact on Liverpool's already winning team.
There is of course, still a little bit of work to be done in the market, but for Klopp, whatever happens, the bulk of his squad will be the same, and it's a case of continuing what worked so well last season.
But I guess with every new season, the questions rear up of exactly how good this team is and what their goals for the season should be. I find the former question to be of more interest than the latter, so to answer the second part briefly: win a trophy.
Liverpool's target this season has to be winning either the Premier League or the Champions League, and at least getting close in one of those competitions is the minimum I think now. This team has demonstrated without a doubt that it's amongst the best teams in England and in Europe, and it has the capacity to challenge on at least one front to a serious degree, so there's no reason to expect anything less than a serious attempt to win both, and winning one of them is a realistic target.
As for exactly how good this team is? I think that there's a genuine case to be made that this Liverpool side is the best team in Europe.
In terms of performance on the field last season, finishing with 97 points in the league, one less than City AND obviously winning Europe's premier competition sets the Reds in good stead. On paper, it's hard to argue that anyone had a more complete performance in both competitions.
In terms of teams that are better, I think that there's only two serious contenders to have a better team than Liverpool right now, Man City and Barcelona, both teams that won their own domestic leagues, City seeing off Liverpool by one point.
After all, beating a team over two legs is hardly definitive proof that you're a better team, especially when Klopp has made his team absolute masters of winning two-legged ties, having not lost a single knockout tie in Europe over two legs in his Liverpool tenure.
Both teams have more depth than the Reds, a factor which is extremely important when considering which team is better, but Messi aside, it has to be said that Liverpool's squad is more balanced than Barca's and seems to be in a much better position. Whilst Barca have tons of quality, there are not many positions on the pitch where Liverpool would trade their player for Barca's.
And the same doesn't just go with City, but with any team. Undeniably, City have greater strength in-depth, and their second XI is absolutely streets ahead of ours, and that means that you would still expect them to pip the Reds over a 38 game season. But in terms of strongest XIs, it's more of a tactical match up at this point between Klopp and Guardiola than it is one of quality.
Liverpool have an absolutely explosive team though, and sometimes it's easy to forget just how good it is. They currently have potentially eight starters that could be considered world-class, and a smattering of real quality surrounding them. Mo Salah has been the best attacker in England two seasons running, Sadio Mané has scored double digits from the wing five seasons running, and matched Salah for goals last year, and Roberto Firmino is so unique in his position that there simply is nobody like him in world football.
Away from the much-vaunted front three, Liverpool possess the best centre-back in Europe, probably the best goalkeeper in Europe, two full-backs who are clearly the best pairing in Europe and both have strong cases to be the best in their respective positions; and in Fabinho, they have an elite defensive midfielder who is amongst the top five in his position in the continent.
On top of that, they have two extremely proficient centre-backs in Matip and Gomez vying for one spot, Naby Keita who was one of the best two-way midfielders in Europe when he signed for the Reds and clearly has the potential to still be an elite CM, Gini Wijnaldum who has become an absolutely vital player under Klopp, the reliable and versatile Milner, and of course, captain fantastic Jordan Henderson, without even mentioning the solid back-up winger Xherdan Shaqiri and Champions League winning back-up forward Divock Origi. And as mentioned, we can still add Alex Oxlade-Chamberlain to the mix.
The squad isn't perfect of course, and there are still areas that Liverpool need to work on, but they've got the core of an absolutely elite European powerhouse, and the majority of that squad are players who don't tend to get injured very much.
But, as the lads get back into their work, this is a squad that has succeeded in the past and needs to kick on if it is to succeed in the future. Pre-season has started, Divock Origi is banging in the goals again, and really, it feels like we've never left.
Up the European Cup Winning Reds.