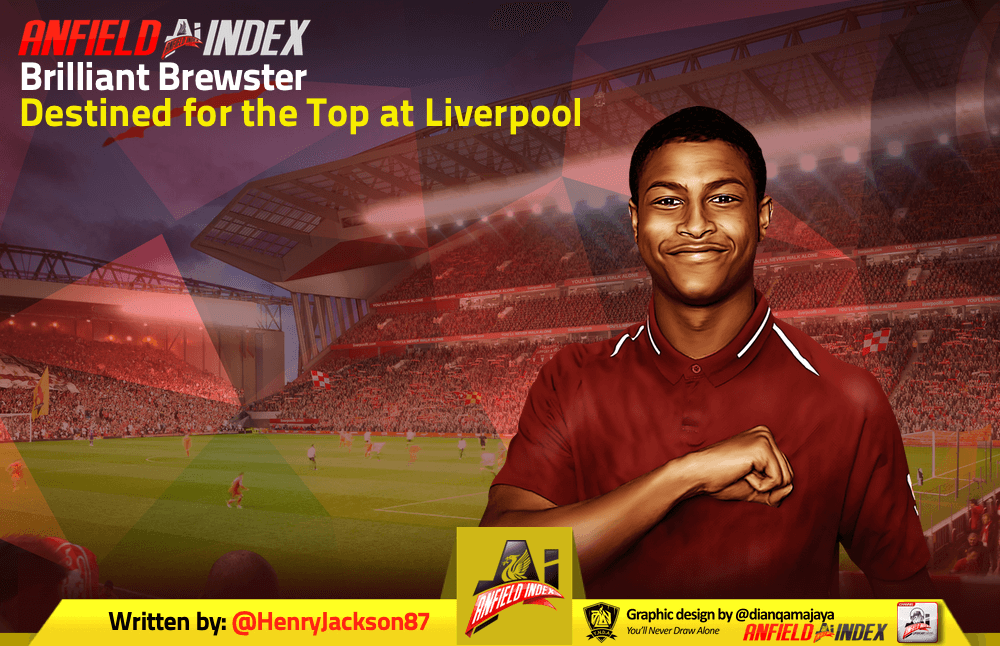 Brilliant Brewster Destined for the Top at Liverpool
Some sportsmen and sportswomen just have it, whatever 'it' is .
From the moment you lay eyes on them you can see a sprinkling of stardust – an element of genius that separates them from their peers.
Tiger Woods had it when he burst onto the scene, so did Roger Federer and Serena Williams, Lionel Messi and Cristiano Ronaldo.

Closer to home, it was clear within minutes of first seeing Robbie Fowler and Michael Owen that Liverpool had something special on their hands.
The prodigious talent and immense self-belief immediately stood out and there was no doubting that the pair were destined for the very top.
Cue Rhian Brewster, who may never reach the heights of those mentioned above, but most certainly has 'it'.
As Liverpool's pre-season got underway with a thumping 6-0 win over Tranmere Rovers on Thursday, the 19-year-old caught the eye more than anyone.
Thrown into first team action after missing over a year through injury, it would have been understandable for Brewster to feel his way back into the swing of things. It took him only five minutes to make his mark, however, laying on an assist for Nathaniel Clyne, who took home the Least Likely First Goalscorer of Pre-Season award.
Knowing he only had 45 minutes to catch the eye, Brewster continued to do exactly that, scoring twice before the break with typically opportune efforts. A perfectly guided header was added to by a poacher's strike that Fowler and Owen would have been proud of – he has that predatory instinct that all the great strikers possess.
It wasn't the goals or the assist that made you sit up and take notice most, though – it was Brewster's overall performance, which was brimming with swagger.
He often dropped deep, highlighting his ability to get involved in build-up play, and also drifted out to the left-hand side on occasions, bringing back memories of Thierry Henry at Arsenal. He looked quick, unpredictable and a superior physical specimen after time in the gym, and one beautiful flick to Harry Wilson, as well as a clever piece of skill to win a free-kick, outlined his flair.
It was the sort of cocksure brilliance that made Brewster a star at the under-17 World Cup two summers ago, in which he won the Golden Boot and the tournament with England. His work-rate was also noticeable at Tranmere, winning the ball back and mirroring the selfless off-the-ball artistry that has made Roberto Firmino such a hero on Merseyside.
Now of course, this was only a League Two side Liverpool were up against, in a pre-season friendly that was ridiculously one-sided, so there is no need for too much hyperbole surrounding Brewster.
This is no knee-jerk reaction based on one 45-minute performance, however.
The teenager has shown in the past that he could be a once-in-a-generation English talent, and it was fantastic to see that injuries have taken none of his potential away.
To miss over a year of football must have been a devastating blow, especially at a time when his stock was high and a first team call-up was mooted.
He has overcome those problems admirably, though, aided by the similarly stricken Alex Oxlade-Chamberlain alongside him in his recovery, and he is ready to explode.
While fellow youngsters such as Wilson, Ben Woodburn and Ryan Kent are unlikely to even stay at Liverpool this season, heading out on loan or even being sold, Brewster will be a regular first team player.
Klopp has confirmed this himself, saying after the Tranmere victory: "I told him already, he has an important role this year."
The manager did add that how much Brewster plays will be dependent on his own application, but it is clear that the German adores him already.
Age is just a number, as Owen and Fowler proved during their respective emergence in the 1990s, and Brewster is ready to be a key squad member immediately.
Some may argue that that is a reckless opinion, considering he is still yet to even make his competitive debut for Liverpool, but some players are destined to be success stories from the off.
Brewster can enjoy a similar rise to Trent Alexander-Arnold, and had it not been for that long injury absence, he would already be an established figure.
There are comparisons to be drawn with Joe Gomez in that respect, who lost a year of progress because of a cruciate ligament injury in 2015, when Klopp first became Reds manager.
There is a rawness to Brewster's game that is to be expected at 19, so patience will still be required, but such is his confidence and star quality, he will be a trusted presence in no time.
Over-hyping youngsters can end up looking foolish if they fail to reach their potential, but this won't be the case with Brewster.
He is the most exciting attacking player to emerge from Liverpool's academy in many years, and talent-wise, there isn't a huge difference between himself and Fowler and Owen at 19, even though they had achieved significantly more by that age.
Perhaps putting that level of pressure on Brewster is uncalled for in the eyes of some, but the really special youngsters thrive under such expectations.
We need to keep seeing Tranmere-esque performances from the striker this summer – if he continues to impress, expect to see lots of him this season, and beyond.