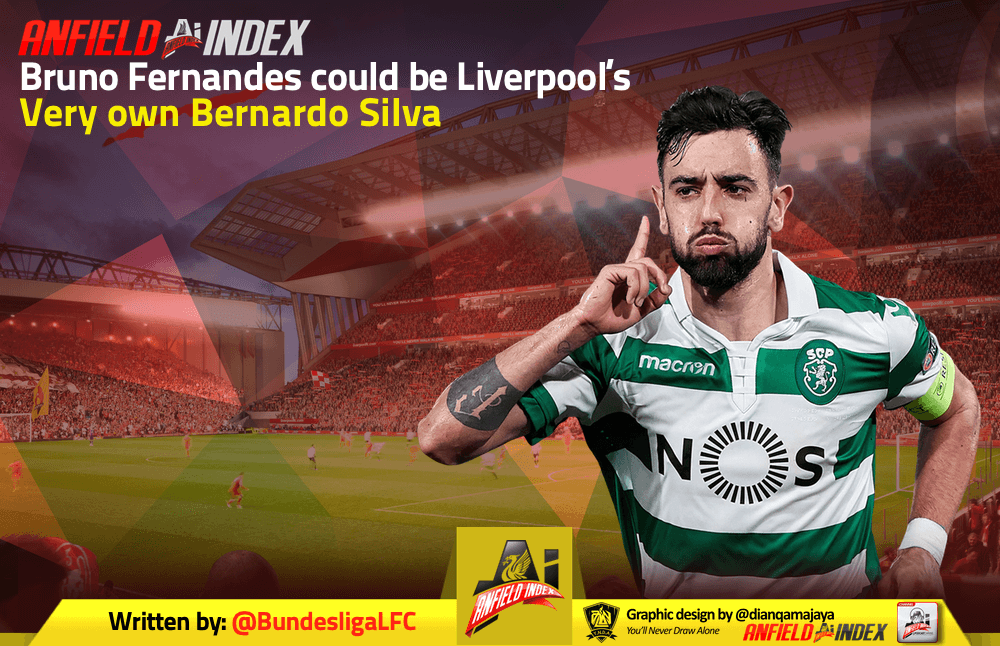 Bruno Fernandes could be Liverpool's very own Bernardo Silva

Bernardo Silva has crafted a reputation for himself as the opposition player every fan seems to want in their team.
It's understandable as to why this is the case. The Portuguese magician is a defensive forward. Everything Roberto Firmino is praised for, the City man does too. He's managed to combine work rate, flair and a robustness not usually associated with players of his style into what could be described as Pep Guardiola's perfect player. 
What he does for City can't really be quantified. He doesn't score many, just seven in the Premier League last season, neither is he an assist machine, finishing the league campaign with seven to his name. But what he does is appreciated by team-mates, fans and pundits. He was named in the PFA Team of the Year and there was an argument, a poor one at that, to suggest he should rival Virgil van Dijk for the PFA Player of the Year award. 
Every team could do with a Silva, though. Some might say Liverpool had a similar player back during the 2016/17 season when Adam Lallana was producing his best displays for the Reds. His output matched his work rate. Since then, however, that sort of midfielder has been missing on Merseyside. 
Alex Oxlade-Chamberlain showed signs of this but his role, for the most part, was to occupy a position on the right side to allow Mohamed Salah to drift into central areas. Whether the former Arsenal man can adapt to that free number eight/ fale-10 role is another question entirely. Heading into the new season he's a bit of an unknown really. 
Liverpool have been linked with plenty of attackers this summer but very few midfielders. The Portuguese press have tentatively suggested Burno Fernandes is a target but there's not been much more than that, with the majority of reports claiming he's heading to Old Trafford. 
That may eventually be the case but if there's a chance to sign the 24-year-old, Michael Edwards and the recruitment team should at least be exploring such a possibility. 
He could be Liverpool's very own version of Silva. 
They aren't identical but they do share traits. For starters, despite being viewed as attacking midfielders, both do a lot of defensive work. In fact, both do more work off the ball than they're given credit for. 
During the 2018/19 season, the City man regained possession 5.1 times per 90, with the majority of those coming in the middle third. Fernandes won 5.9 times but it is worth remembering he played in a Sporting side that doesn't dominate the league. He's busier because the capital club do more defensive work but that shouldn't take away from the fact he was doing the dirty work. 
Fernandes also makes more tackles and a similar amount of interceptions as Silva. All while playing more key passes per 90 (2.76 to 2.01), registering double the number of assists and scoring an incredible 0.61 goals per 90, 0.4 more than the City playmaker averaged.
He did so while playing primarily as an attacking midfielder for Sporting. What's even more impressive about Fernandes' goal return is that 0.52 of the 0.61 came inside the penalty area even though his reputation gives off the impression he's a long-shot merchant. 
Silva completes more dribbles (1.57 to 0.99), but Fernandes is incisive in different ways, namely his use of the ball. Close to 40% of his passes go forward compared to the City No.20 who averages 21%. 
There's no guarantee Fernandes immediately adapts to the rigours of the Premier League. There's no guarantee he'd ever get close to replicating what Silva manages. But in the right system, namely, the only used by Liverpool, he could be just as effective as his compatriot – a high energy, defensively diligent goal threat with plenty of scope to improve but the ability to make an impact from the off. For the right price, the Reds should be all in on the Sporting poster boy this summer.