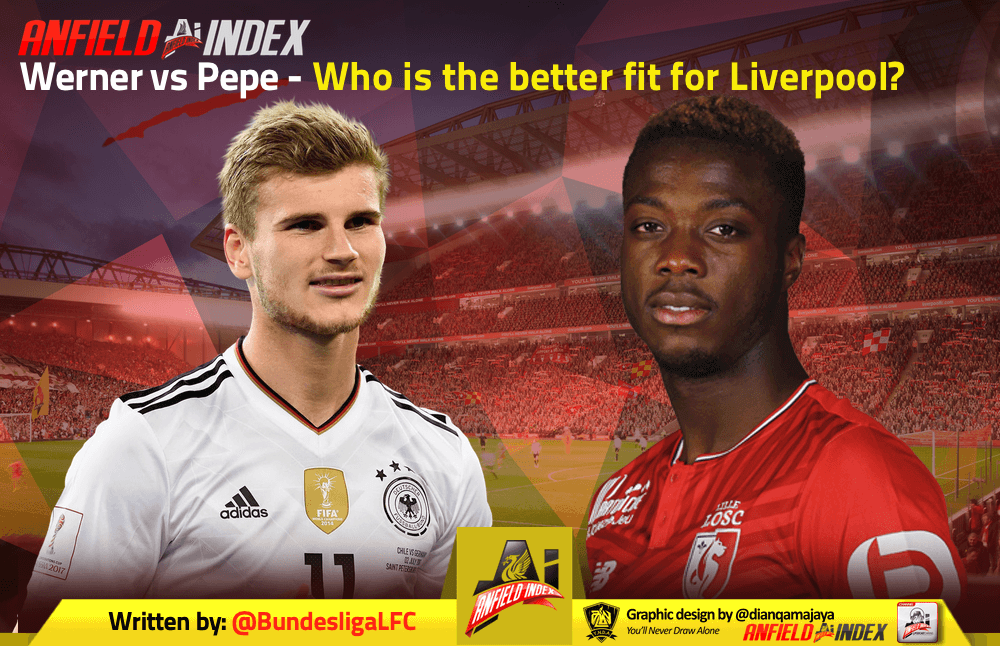 Werner vs Pepe - who is the better fit for Liverpool?
Not long ago now, Timo Werner was the man the entire Liverpool fanbase wanted the Reds to sign. However, with interest from Bayern Munich well publicised and RB Leipzig seemingly not keen on selling the German international on the cheap despite his contract situation, interest in him waned and a new player replaced him as desirable number one. 
Reports in France claimed Jurgen Klopp and the recruitment team at Anfield liked Lille's Nicolas Pepe. His 22 goal in Ligue 1 showing for Christophe Galtier's men helped Les Dogues claim the best of the rest title behind runaway champions Paris Saint-Germain. 
It was an unexpected season for Lille but the perfect storm of Galtier finding a way to unleash his attackers almost as underdogs enabled them to stun the likes of Lyon. They even hit PSG for five during a famous victory at Stade Pierre-Mauroy. 

Pepe was the poster boy for this. Interest in him, rightly, spiked with Liverpool joining Manchester United, Bayern and Inter in adding him to their summer wishlist. 
As things stand, he's still the player Liverpool fans seem to want this summer. But the club seemingly doesn't agree. Melissa Reddy of ESPN, Dominic King of the Daily Mail and a number of the Liverpool Echo journalists have all denied interest in the 24-year-old. 
However, as many have rightly pointed out online, the press denied interest in Xherdan Shaqiri, they said Danny Ward would start the 2018/19 season as Liverpool No.1 and claimed Alisson wouldn't be signing for the club. 
It's not unheard of for the clubs stance to change which immediately dates the information the journalists have. That isn't to suggest that is the case this time around but those who want Pepe will hold onto that hope. 
But just because he's the flavour of the month doesn't necessarily mean he's the perfect forward for the Reds. 
Pepe ticks plenty of boxes. He's a reliable goal threat, as alluded to by his underlying numbers such as expected goals and expected goal contribution, he's versatile, able to play anywhere across the forward line, and he's the right age for a stereotypical Michael Edwards signing. 
He doesn't, however, fit the price profile. Lille are believed to want in excess of €70million for the prized asset. Liverpool have shown they aren't against paying big fees to land players they feel are worth it. Those individuals tend to be borderline world-class though. Pepe is a lot of things but he's not in the same stratosphere at Virgil van Dijk or Alisson. 
Listen to the Alisson Becker Kings of Europe episode on AI Pro now!
The former Angers man improves Liverpool's squad options but he's far from a guarantee in any sense. Firstly, his numbers don't match up with what Salah and Mane posted pre-Liverpool. Secondly, both the aforementioned players were signed to go straight into the starting XI so the Reds parted with, at the time, high fees to land them. 
The market changed when Neymar made his world-record move to Paris Saint-Germain so of course players are now more expensive than ever before. But Liverpool still have budgets in place. They aren't going to be bullied by selling clubs, regardless of how much they want the player. 
Liverpool aren't Manchester City. They aren't going to pay €70million for a squad player and nor should they. The club didn't get into the position they're in now by following the market trends. Especially not when there's better value for money out there. 
This then brings us back to Werner. Recent reports suggest he'll spend another season with RB Leipzig under new manager Julian Nagelsmann before moving to Bayern Munich on a free next summer. It sounds like a likely scenario but until a deal is agreed, there's a chance Liverpool can trump the Bavarian giants. 
With just 12 months left on his deal, it's unlikely he'll cost anywhere close to the €70million Lille want for Pepe. The 23-year-old German international isn't as versatile as his Ivory Coast counterpart but he can still play a number of roles. 
He played on the left for VfB Stuttgart. He's been deployed in a two-man attack since he made the move to the Red Bull Arena and he's lead the line as a No.9 for the German national team. 
Unlike Pepe, Werner would arrive with a proven track record. Since the switch to RB Leipzig, he's averaged 16 league goals per season with an expected goals average of 15.16. Not only is he a potent goalscorer, but his output is also sustainable. 
It's only when comparing his record to Pepe's that you realise just how reliable he is. Pepe's averaged 17.5 goals since the switch to Lille in the summer of 2019 but penalties have boosted his numbers. Without them, his average drops to 12.5 with an expected goals average of 14. 
Werner has an extra season under his belt and he, slightly, outperforms his underlying numbers whereas Pepe underperforms it. When this is analysed it because clear why Liverpool would be so reluctant to part with such a fee to land the Lille man. As things stand right now, Werner would be the better value for money option.