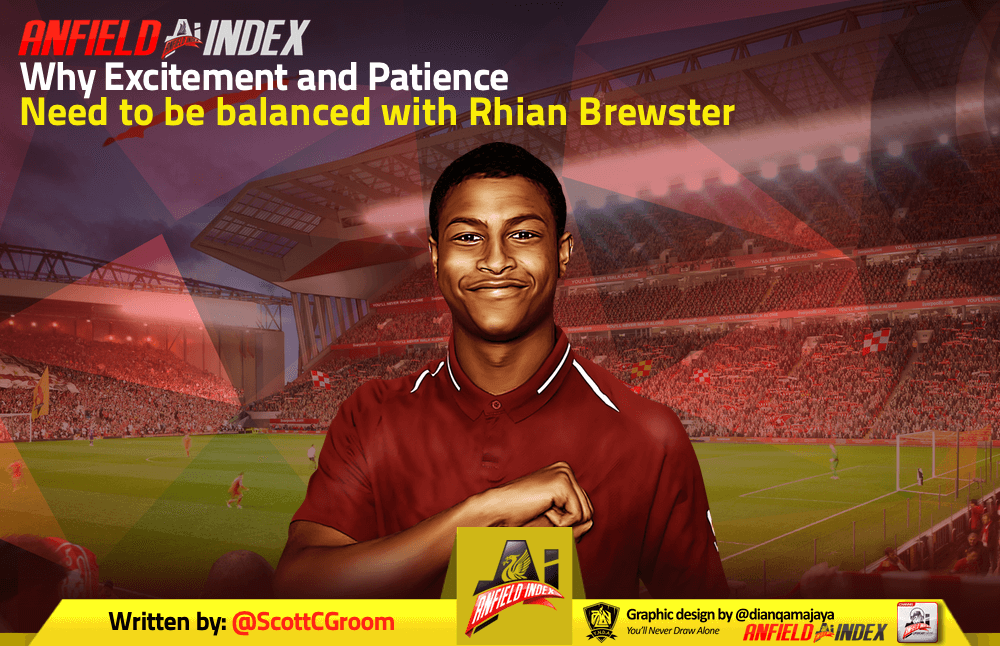 Why Excitement and Patience Need to be balanced with Rhian Brewster
As if Liverpool fans weren't already licking their lips at the prospect of Rhian Brewster playing a part in Jürgen Klopp's plans for the upcoming season already, they certainly are now after the teenager striker bagged a brace in the Reds' first pre-season friendly against Tranmere this week.
While many will be quick to point out that yes, it's only pre-season and yes, it was only Tranmere Liverpool were up against; there's no denying that Brewster looked sharp, dangerous and like a man who really knows where the net is.
Perhaps some extent of the excitement surrounding Brewster this season stems from the fact that he missed out last term due to a nasty ankle injury.

Fans have had to wait a year longer than anticipated to see the academy's next 'big thing' finally roll off the production line, perhaps heightening the Brewster buzz.
Thursday's cameo will have done little to douse the flames of the fire, and instead fanned them, with the 19-year-old scoring twice in the first half at Prenton Park.
But fans are well within their rights to be impressed by Brewster, who showed good movement, awareness and more technical skill than it would first appear to tuck home Harry Wilson's deflected cross for his first.
The second was also pleasing in the fact that it was a true poachers goal, reacting first to Milner's parried shot to score from close range.
In addition, he showed how pacy, skilful and his nuisance-nature in the eyes of defenders in a good showing so early on ahead of the new season.
So yes, this combined with everything we already know about Brewster has further whet our appetites for more of him.
But this excitement needs to be matched not so much with trepidation, but with realism and a sense of grounding.
With Liverpool not looking tremendously likely to be signing too many players this window (if any at all), there is a degree of pressure on the unproven teenager.
An injury to the likes of Roberto Firmino, in particular, will mean either Origi or Brewster is thrown into the limelight – but there needs to be patience shown towards him.
He is only 19, and although Klopp clearly trusts him as he's made him so prominent in his squad. Yet you cannot forget that he is still a kid.
We can be all too quick to either judge or heap praise on youngsters which can make or break these types of players.
The pressures of being at a big club are inescapable, and some would argue that if you can't cope with that, you don't deserve your place.
But similar patience needs to be shown to Brewster that has been afforded to the likes of Trent Alexander-Arnold.
He was shaky at the start of his run in the team, but patience prevailed and now he's hailed as one of the best right-backs in world football.
While I'm not saying or promising that Brewster will reach similar heights, he needs the chance to be able to get there.
So while it's good to get excited about the prospect of seeing Brewster's fate unfold, we shouldn't be putting too much pressure on his young shoulders.
Let's just enjoy the ride.