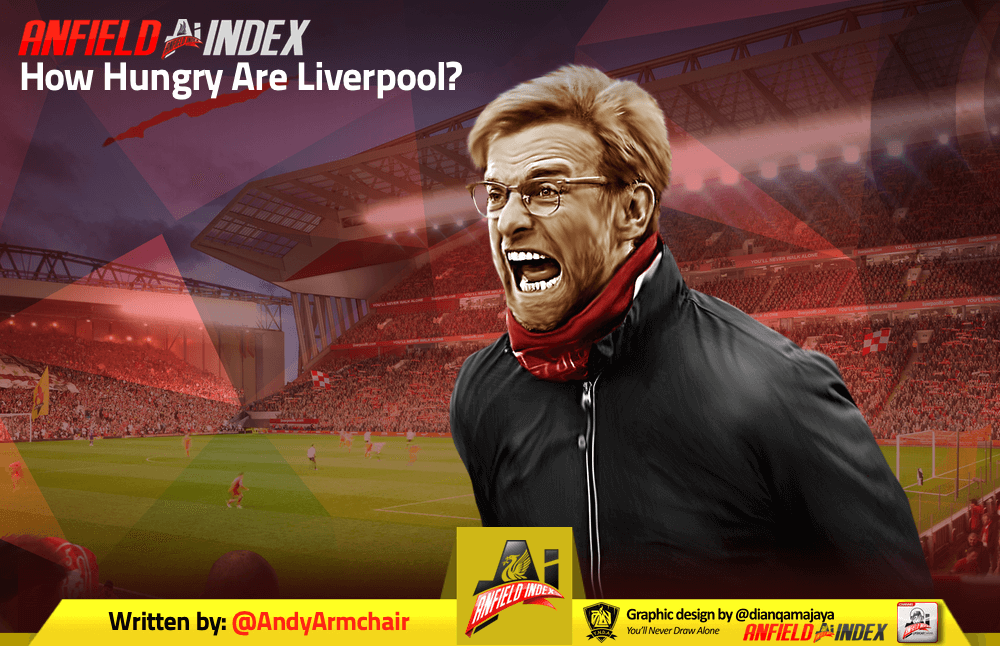 How Hungry Are Liverpool?
The Champions League final in Madrid was an incredible night and was certainly the best way to cap off a fantastic 2018/19 season. I was on the streets of Liverpool with hundreds of thousands of others the following day to witness Jürgen Klopp and his team parade the famous trophy and bask in the glory they'd earned. After the heartbreak of the previous year's final in Kyiv, and after just falling short in the Premier League title race despite racking up 97 points, it was particularly satisfying to end the season with a sixth European triumph.
Importantly though, it mustn't be the final destination for this team. There were so many narratives heading into the final, from Klopp and his record in finals to Mo Salah righting the wrongs of Kyiv and more besides. Despite all the demons being banished and the multitude of backstories that came together in those amazing scenes in Madrid, winning the Champions League should not be the culmination. It should be just the beginning.
The club and its fans have rightly celebrated becoming European Champions again. There would have to be something wrong with you not to want to celebrate such an achievement. However, I believe pre-season is the moment to reach back into the era of Ronnie Moran and say it's time to put those medals away, forget about them and go win some more.

The dressing room stories of Moran are the stuff of legend, but aside from them being wonderful anecdotes of Liverpool's lengthy era of dominance, they act as an insight into the mentality of the club during that time. It was the mentality of serial winners, an insatiable hunger to succeed and lift trophy after trophy.
There was no resting on laurels, no standing still. It's a part of why the club was able to sustain success for such a lengthy period of time. Shankly's vision of building Liverpool into a "bastion of invincibility" came to fruition and it continued through Bob Paisley, Joe Fagan and Kenny Dalglish.
Liverpool fans have yearned for a return to such dominance for almost three decades. It's said that timing is everything and it appears that this could be the time for Liverpool to reclaim their throne. Chelsea, Arsenal and Manchester United are some way off a title challenge for a variety of reasons. Meanwhile, Tottenham are undoubtedly a good team but lack the depth and financial ambition to push further than their current position.
That just leaves Manchester City, and although their financial strength and acumen of Pep Guardiola look almost insurmountable, it's reasonable to question for how long. Guardiola, like Klopp, is very intense and has never stayed beyond four years. Key players in that fantastic City team are also ageing whilst most of Liverpool's are approaching their peak.
City have won back-to-back Premier League titles on unprecedented points totals, so overcoming them will be no small task. Indeed, it will be difficult for both teams to maintain their current levels. All the more important for Liverpool to seize this opportunity and press on.
After the events of last season, the club find themselves in a position of strength. Title challenges in the Premier League era have been few and far between for Liverpool and it's tempting to glance back at the two most recent second-place finishes and think of the drop-off in the following campaign. Whilst they do act as warnings that finishing second on the back of a genuine title challenge doesn't automatically mean the good times are back, there are clear differences to consider.
The 2008/09 team under Rafa Benitez lost a key player in the shape of Xabi Alonso and there was also the battle behind the scenes between Benitez and the toxic ownership of Hicks and Gillett. The 2013/14 team under Brendan Rodgers also lost a crucial player in Luis Suarez, as well as having a defence built on quicksand and much-feted conflicts between Rodgers and the 'transfer committee'.
By contrast, there are no key players leaving the current squad and the harmony from top to bottom in the club is well documented. That harmony is an important factor, with a strong dressing room spirit a vital ingredient to the football Klopp employs. The character, as well as talent, of a potential transfer target has to tick all the boxes and Klopp has spoken about the human element being important to him.
This undoubtedly plays into recent recruitment being so positive. The build-up to this point under the stewardship of Klopp has been one of steady and sustainable improvements. The risk of slipping away as rapidly as those aforementioned seasons under Benitez and Rodgers is unlikely. However, the warning of complacency is still pertinent.
The opportunity that presents itself and position of strength the club currently enjoys must be taken advantage of. The way Klopp and his team responded to the heartbreak of Kyiv speaks volumes of their character in dealing with adversity, and their desire and sheer determination to succeed.
So yes, many questions have been answered, but now they are posed with a new one: do they have the hunger to add that Champions League triumph?
I don't doubt that the will of everyone within the club is there to do so. Amassing 97 points in the Premier League and becoming European champions certainly suggests that the quality is there too. Strength in depth in certain areas is a potential issue though.
With Alberto Moreno gone, there's a genuine lack of cover at left-back. In attack, there's little to replicate the front three, should we sustain injuries. We've been quite fortunate in that regard, but with the extended international campaigns for Roberto Firmino, Sadio Mane and Mo Salah, the risk is there. Daniel Sturridge has now left and although Rhian Brewster looks a fantastic prospect, he's unproven at this level of competition. Divock Origi will always have a special place in my heart and I was pleased to see him sign a new contract, but it is optimistic to expect him to extend his goal-scoring exploits beyond those brief appearances during the run-in.
A left-back and multi-functional forward are the obvious additions this squad needs and who knows, perhaps even one or two more should any fringe players depart.
Humanity is one of Klopp's biggest strengths, but loyalty to every member of the squad should not cloud the potential to win more trophies. A degree of ruthlessness and added internal competition for places were a part of what drove those great Liverpool sides to keep on winning.
In the era of the famous boot room, Liverpool were ravenous to add to the trophy haul. Can everyone connected with Liverpool Football Club match that hunger and turn this exciting team into serial winners? Time will tell, but this summer is an opportunity to demonstrate that the club is not willing to stand still and simply smoke cigars off the back of Madrid.