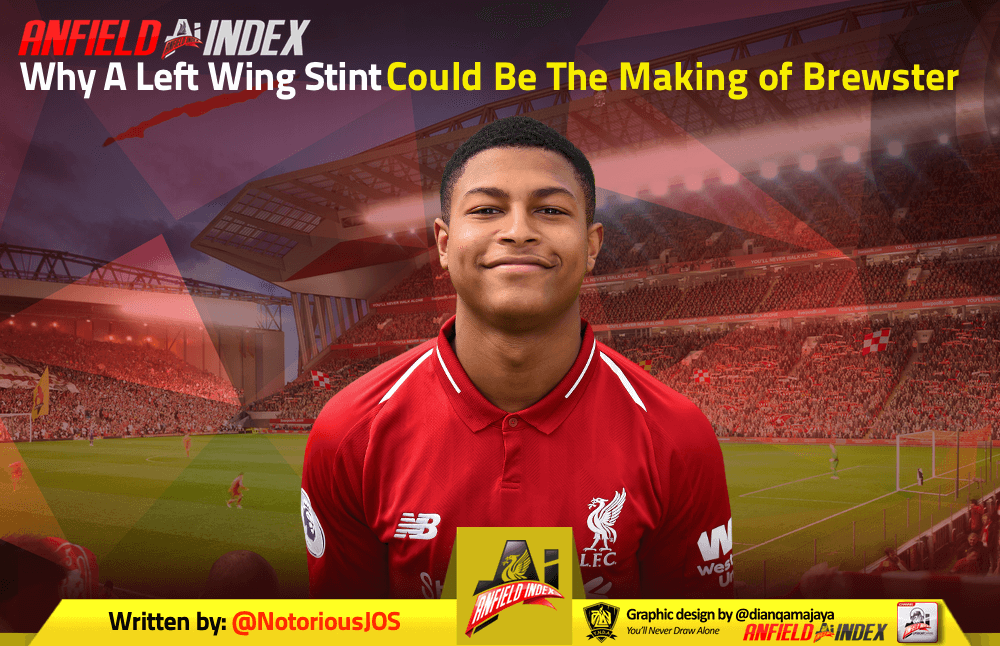 Why A Left Wing Stint Could Be The Making of Brewster

Rhian Brewster's encouraging pre-season continued last Sunday as the forward scored for the second consecutive game in Liverpool's 3-1 victory over Bradford City. 
Following on from his brace against Tranmere Rovers, the 19-year-old has now registered three goals in his first two senior outings for Liverpool. 
The level of opposition must be taken into consideration when appraising Brewster's performances, with Tranmere — recently promoted to England's third tier — and Bradford, a League Two club, clearly not providing the most arduous of tests. 
There is, however, a common thread of encouragement in the U17 world champions' performances so far. While his build-up play has looked sharp — an assist for Nathaniel Clyne versus Tranmere is testament to this — Brewster's spatial awareness, movement, prescience and instinct inside the 18-yard box looks to be at a razor-sharp level. Such intelligence and natural inclination for goal is applicable in any footballing scenario, regardless of the level of the opposition. 
The former Chelsea academy product showed his incisive movement in all its effectiveness with his first goal versus Tranmere last week. James Milner's low driven cross across the face of goal was rediverted across the face of goal by Harry Wilson with a fizzed pace. As quick as a flash, Brewster came alive and directed a header into the top corner. 
It was the finish of a footballing predator and Liverpool's number 24 soon doubled his tally with another goal rooted in 18-yard box opportunism. James Milner's shot from distance was parried by Tranmere's goalkeeper and Brewster was positioned — like all good striker's ought to be — in the right area to tap home. 
The Golden Boot winner at the 2017 U17 World Cup repeated the trick days later versus Bradford City. Alex Oxlade Chamberlain's long shot was saved by the Bradford keeper, who did well to divert the ball away from goal. Nevertheless, from the acutest of angle's, Brewster managed to bundle the ball over the line. 
It is clear that Brewster has goalscoring acumen in spades, but to develop his game even further a stint playing on the left-hand side, rather than as the centre forward, of the attack could be beneficial. 
Ajax, one of the foremost footballing academies in world football, are known for playing their young players in every outfield position in order to enhance their tactical understanding and to broaden their skillset. The Amsterdam club's youth development scheme is emblematic of that of Dutch football in general and Georginio Wijnaldum's capability to play any midfield role effectively is an endorsement of this. 
 Jurgen Klopp, too, has shown he is no stranger to playing footballers in unfamiliar positions in order to broaden their tactical and positional nous and to add more technical tools to their bag. Robert Lewandowski was deployed off a striker during his opening season under Klopp at Borussia Dortmund before being moved further up the field to become the team's focal point to an extremely successful extent. At Liverpool, the German coach has utilised Alex Oxlade Chamberlain as a central midfielder, after years of playing both as a winger and wing-back at Arsenal. 
Playing on the left hand side could help Brewster understand the defensive side of the game, having to assist his full-back — defensive work rate and robustness are attributes Klopp values in his forwards, with Roberto Firmino a shining example of this — and being involved in pressing more as he will be playing deeper down the pitch as usual. 
There could also be the added bonus of learning how to time runs from the outside coming in and manipulating the space between full-back and centre half. This channel of football real estate was a favoured haunt of Thierry Henry and attempt to learn to exploit it by playing on the left-wing would only bolster Brewster and, by extension, Liverpool. 
Playing on the wing's typically means a player is stationed deeper on the pitch than the number 9 and this could mean Brewster would be involved more in the build-up phases of play, which would be another lesson in the nuances of constructing a goal. 
With the interminable African Cup of Nations still running and Sadio Mane's Senegal contesting it's final, there will be an opportunity for Brewster to ply his trade on the left-wing in the early part of the season as Mane's absence is guaranteed by his rest period after his international commitments end. 
For Rhian Brewster to be the best centre forward he can be, a stint plying his trade on Liverpool's left-wing could be a key developmental learning curb.